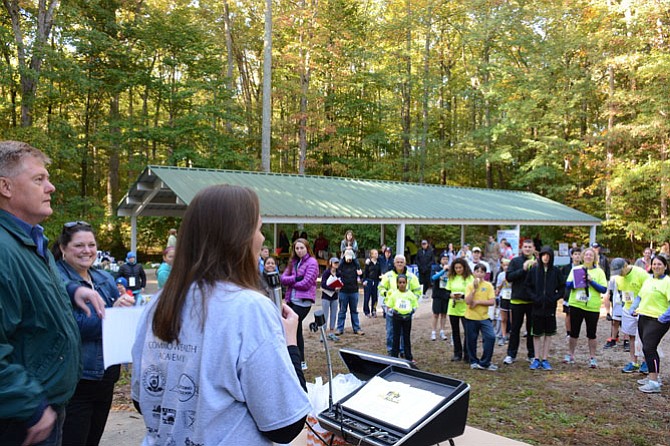 Photo Gallery
Decoding Dyslexia 5K 2015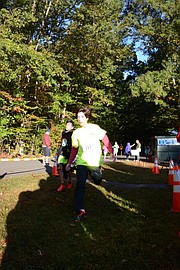 Click Photo for Flash
When Fairfax resident Calvin Rizek was in first grade, he remembers not being able to read along with the class, but "just flipping pages, like everyone else."
Rizek's older brother Jack had already been diagnosed with dyslexia, a common learning disability affecting a person's ability to read and spell effectively. Their parents sought help outside the school system for Jack, turning to a private tutor. At one point when Calvin was hanging around during his brother's lesson, the tutor observed that Calvin might be dyslexic as well.
After he was tested and identified as having dyslexia, Calvin used remediation and tutoring, both in his Title I elementary school and with the tutor, to help him better understand how to link sounds and words. Now a high school senior, Calvin hopes to attend Virginia Tech and one day become a pediatrician so he can help other young students with dyslexia and attention-deficit hyperactivity disorder.
As Jack and Calvin's mother Joan fought for services in their schools, she became involved with Decoding Dyslexia Virginia, the local branch of a national advocacy organization with the aim of raising awareness of the disorder and providing people with more information about the resources available. That group recently hosted its first Decoding Dyslexia 5K Run for Dyslexia at Burke Lake Park on Oct. 11.
"Parents are stumbling through it," Joan said. "We want to bring other parents to resources faster than we found them."
Craig Wong of Herndon grew suspicious when his daughter in third grade was having some problems with spelling. Some Internet research led him to believe she might have dyslexia. He had her tested with a professional psychologist through an online resource, who confirmed she had the disorder.
"I talked to my daughter's school," Wong said, "and I could tell they weren't really familiar. They didn't seem to be very proactive about what tasks, what action steps to take."
Wong heard about Decoding Dyslexia Virginia and attended a meeting.
"All these parents had the same issues I did," he said, "people in the school system who didn't speak the vocabulary, not in special education, principals of schools, it was very odd.
"I asked something," Wong continued, "what should I expect from my school system? Other parents started nodding, murmuring behind me, and said that was a great question. There were lot of parents in the same situation."
FRUSTRATED with what he saw as a lack of remediation opportunities through Fairfax County at his daughter's school, Wong enlisted private tutoring, then worked one-on-one with his daughter and helped her improve her language skills by designing a computer game for her that functions much like using flash cards.
Wong's daughter is now in seventh grade and on or above grade level for all topics, but not all parents have the time or resources to pay for such extracurricular activity.
Workshop on Dyslexia
There will be a workshop hosted by the Office of Special Education Instruction for parents of middle and high school students with dyslexia on Oct. 20 from 7-9 p.m. at the Dunn Loring Center, 2334 Gallows Road, as well as a workshop for parents of elementary school students with dyslexia on Nov. 13 from 10 a.m.-12:30 p.m. also at the Dunn Loring Center.
For more information on Decoding Dyslexia Virginia and upcoming events, including the 5K, visit decodingdyslexiav....
Shannon Duncan of Falls Church had a similar experience with her youngest child, whose headaches in second grade became "struggling like crazy" in third grade with spelling and reading. Duncan and her friend and neighbor Lisa D'Ambrosio-Irons co-organized the Decoding Dyslexia 5K, which drew over 150 participants from around Fairfax County and Alexandria.
Duncan said they worked with her daughter's school and couldn't get any helpful services so they had her privately screened. In four months, she had gained half a reading level. Improving identification and remediation capacities within the school system is one of the goals of Decoding Dyslexia.
"That's our hope," she said. "We've been talking to Fairfax County administration: My kid is fine, she's going to be OK, but based on the fact that I was educated, spoke the language of the system, had the time and wasn't at work 24-seven."
Fairfax County School Board chairman Pat Hynes acknowledges putting more focus on dyslexia in the schools is "long overdue."
In accordance with a proclamation from Gov. Terry McAuliffe (D), the board is recognizing October as "Dyslexia Awareness Month."
Hynes, who was previously a teacher in Fairfax County, said she found there to be a "great buffet" of curriculum development materials available, but maybe not enough direction.
"What can happen," she said, "is we don't always provide professional development that's focused in the way that it needs to be. You'll see in our Strategic Plan we're getting tighter with our early literacy."
SUPERINTENDENT Dr. Karen Garza has also required all elementary school administrators and instructional staff be trained to recognize dyslexia symptoms and warning signs.
"Early on, she recognized FCPS was not where it needed to be in terms of services for students with dyslexia," said Braddock District school board representative Megan McLaughlin.
Springfield District representative Elizabeth Schultz said the disorder was the first topic she brought up when meeting with Garza after she arrived from Texas.
"A small hurdle can turn into an enormous obstacle," Schultz said. "I've struggled, as a parent of students with learning disability and dyslexia -- what does any other parent face?"
Garza has also met with parents from Decoding Dyslexia on several occasions over the last three years. "She really welcomed the advocacy," said McLaughlin, "and invested a lot of time trying to work with DDVA to understand the granular level of their children's experience and the collective information they have."
McLaughlin added that a new staff position is being "repurposed" from elsewhere in the system, who will be dedicated to overseeing dyslexia services.
"Decoding Dyslexia is a perfect example of an advocacy group holding a school system accountable," McLaughlin said. "We have better education research, better understanding, now it's time to step forward and provide the necessary services."
"I appreciate what they're doing now," Duncan said. "There are so many parents who want the change to occur immediately. I have hope, though understand it physically is an impossibility, in a system this large. Teacher training needs to be pretty extensive, it needs to be multisensory, cumulative and simultaneously delivered. Teachers currently are coming from zero.
"Six years ago, dyslexia was not uttered," Duncan continued. "Those words were not shared. Fairfax County is definitely trying to change, right the ship. But it's going to take a long time for it to turn around and head in another direction."