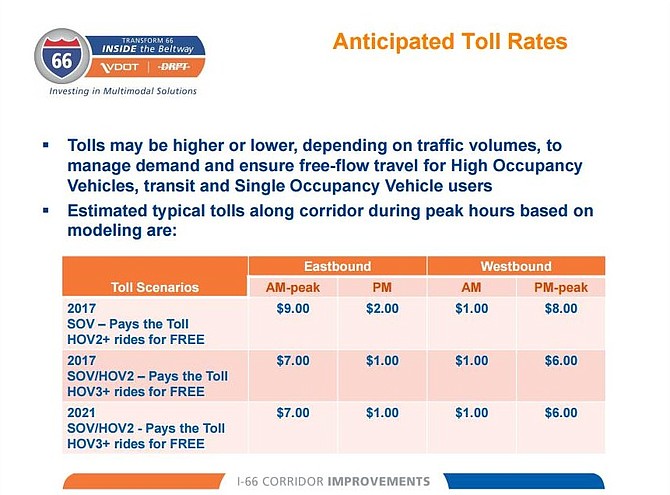 On Oct. 5, VDOT held one of several ongoing meetings discussing a new Multimodal Project to reduce traffic on Route I-66, the only interstate in the country limited to HOV usage during rush hour. The new Multimodal approach would seek to move up to 40,000 commuters, by year 2040, onto Route I-66 onto buses, into van and carpools, and onto parallel routes, with the ultimate goal of regulating and reducing travel time for commuters.
The fare for dynamically-priced toll lanes would change based on traffic volume at different times during morning and evening rush hour peaks, 5:30-9:30 a.m. and 3-7 p.m., and during off-peak times, tolls would not be collected.
Job growth in Tysons and the Dulles Corridor are increasing congestion in both directions, and goal of the tolls would be to alleviate that gridlock. Without any action, VDOT predicts that the use of I-66 would only increase over time.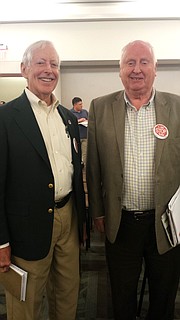 "I am unsure how tolls are going to improve congestion," said Thomas Cranmer, a civil engineer present during the meeting. "[VDOT] provided no cost details. The only reply was it would be about $50 million."
The rate changes to the tolls are to help maintain speed along I-66 by regulating traffic flow. Some cars normally traveling on I-66 are expected to use Routes 29, 50 and 7, which run parallel to I-66. These roads, however, are already congested. VDOT describes the possible increases in traffic along these roads as modest.
Road-widening was also discussed as a future solution, but only if the tolls did not effectively alleviate congestion over the course of the next five years.

"With tolls you're going to drive commuters to Lee Highway, Arlington Boulevard and Wilson Boulevard," said Charles McAndrew, a member of the Fairfax County Taxpayer Alliance Board. "I'm not sure we can wait five years out, we should consider widening the roads now."
And according to a 2006 study, 42 percent of commuters said they were late to work at least once a week because of heavy traffic flow, and tolls are also expected to increase the use of public transportation.
The Commonwealth of Virginia and the Northern Virginia Transportation Commission (NVTC) will work together to implement the new project.
"In early 2016, NVTC will issue a call for projects and approve criteria for project selection. Priority will be given to projects that have the ability to move more people through the I-66 corridor in 2017," according to VDOT.
Robert Whitfield, a member of the Fairfax County Taxpayers Alliance, expressed concern that the I-66 Multimodal Project will be run by NVTC. NVTC is exempt from House Bill Two (HB2), legislation requiring that the Commonwealth Transportation Board (CTB) make public how they select new projects to fund with tax dollars.

"They are trying to avoid a comprehensive evaluation," said Whitfield.
Improved bus services and metro transportation are other factors to be considered if tolls are added. An increase in parking demand is another issue VDOT expects to look at.

On the current track, tolling construction is expected to begin in 2016, with the new tolls operating by the summer of 2017.