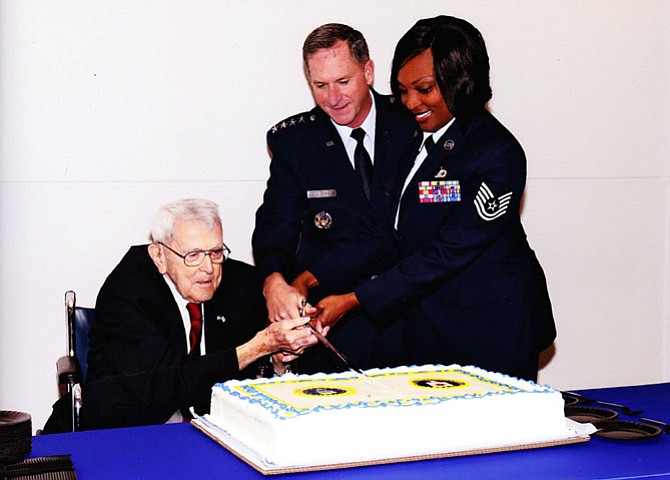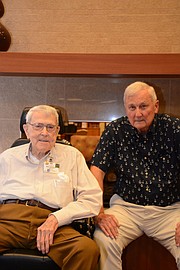 All Billy McLeod ever wanted to do was fly. The 93-year-old Springfield resident was born and grew up in Pensacola, Fla., a younger brother to two sisters who married U.S. Navy pilots.
The day after the Japanese bombed Pearl Harbor, McLeod attempted to enlist in the Army Air Corps. He wasn't initially cleared medically, but eventually joined what would become the U.S. Air Force, on April 2, 1942.
The Air Force was created through the National Security Act of 1947, as was the Central Intelligence Agency.
To celebrate the 68th birthday of those two organizations, the Associate Director for Military Affairs recently hosted a party at the Central Intelligence Agency headquarters. McLeod was invited as an honored guest, determined to be the oldest living original member of the Air Force.
In his 30-year career, McLeod flew in World War II, Korea and Vietnam, piloting tactical jets and nuclear-capable bombers. He was recognized with the Legion of Merit, Distinguished Flying Cross and Air Medal with four Oak Leaf Clusters, among other awards. But McLeod remains humble about his time in the armed forces.
"It was very routine, very standard," McLeod said. "I'm no hero, I never shot down anybody and I was always lucky to make it back to base."
After leaving the military, McLeod worked as a banker for six years, then became director of the United Way in Lowndes County, Miss., a position he held for 17 years.
"I'm the only guy I know who's gotten to do exactly what he wanted all his life," McLeod said.
Twelve years ago, McLeod chose to move closer to his son Larry in Alexandria. He took up residence in the Greenspring Village retirement community.
Larry said having his dad close allowed them to have a relationship unlike anything they had while he was overseas flying.
"I've had more time with him here than I ever had in my life," Larry said.
Larry was there when his dad helped the youngest airman in the U.S. Air Force cut the birthday cake at the party at Langley. Vice Chief of Staff of the U.S. Air Force Gen. David Goldfein gave a keynote address and honored McLeod.
"I'm very thankful they didn't just dismiss him, tried to honor him when the opportunity arose," Larry said. "There was a sense of pride, I thank God that he was able to use dad as he has."
Of the multiple aircraft McLeod has flown, his favorite is the iconic P-51 Mustang. Though he didn't see combat in it -- it was more for administrative flights -- he still remembers the plane fondly.
"It was beautiful," McLeod said.
"He loved the power, the speed, the aerobatics capability," Larry said.