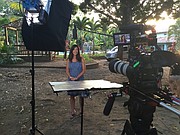 An Arlington-based real estate agent is getting a brush with fame. While recently in Roatan, Honduras, for scuba diving lessons, Stacy Hennessey of McEnearney Associates, Inc. made a quick decision buy a house that she can rent to vacationers.

"I travel a lot and I'm always on the lookout for properties," said Hennessey.
Her purchase caught the attention of producers of HGTV show, "House Hunters International," which chronicles the adventures of home hunters and their real estate agents as they purchase homes around the globe. The show explores local cultures and the intricacies of international real estate purchases.
Hennessey admits the process of buying a house abroad can be daunting. "The paperwork was all in Spanish," she said. "Make sure to work with a real estate agent that knows the laws, neighborhoods and where is a good investment if you are looking to own a vacation rental."
Finding a reputable property management firm to market and maintain one's investment is also an important part of the process. "That is essential, so is making sure you get insurance" she said. "Make sure you find out all the utility costs and whether there is a well for water ... and a backup generator."
She recommends that potential investors do their homework before purchasing. "Learn whether you need to pay cash and whether you will own clear title," said Hennessey. "Some countries don't allow foreigners to own property directly but Honduras does."

One suggestion she offers is visiting the website Vacation Rentals by Owner (VRBO) website to get a sense of the real estate market in a chosen area.

"Also, look at the flight schedules going to the chosen location so you know how much traffic and how many tourists come to the island," said Hennessey. "There are some cases where you can fly to a location easily and return easily at some times of the year, and other times when it can take you 20 hours to get back."
Hennessey said the features she found most appealing about the property she purchased is the fact that it is waterfront and its close proximity to restaurants and shopping. She also loved the locals. "People are so friendly there," she said. "When you pass someone on the street they always say hello no matter what color your skin is or what you do for a living."
Hennessey, who is in the process of renovating the home, says the show is expected to air in February.