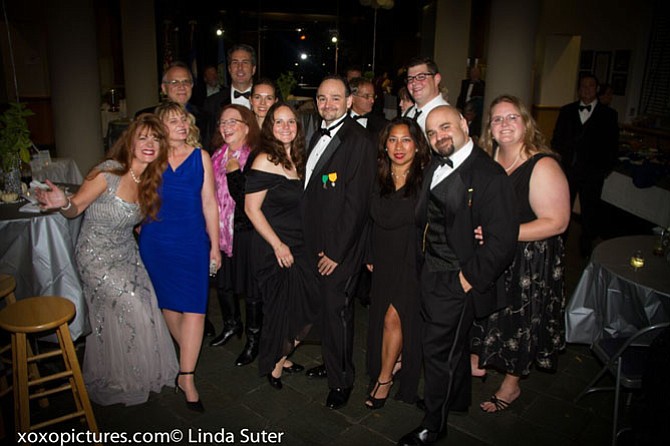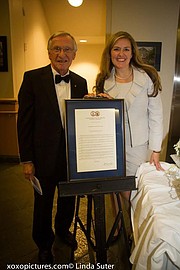 On Saturday, Oct. 3, the Council for the Arts of Herndon hosted a black-tie benefit to celebrate thirty years of supporting the arts and arts education in the Herndon community. The silent and live auctions alone raised nearly $6,000 to benefit the Council for the Arts programs and scholarships. Other funds have not yet been tallied.

Guests were offered the opportunity to bid on auction items, including a chance to meet screen legends Ed Asner and Christopher Lloyd, learning to fly with flight simulators, a luxurious pearl necklace by Aspen Design Jewelry, tickets to a Capitals Hockey game, and a multi-piece antique silver tea service. During the silent auction, the Queen of Herndon, Elma Mankin, offered up tickets to raise money for the Herndon Band Relief Fund.
Volunteers and CAH Board Members transformed the Herndon Municipal Center into a spectacular banquet hall with the help of Meadows Farms Nursery's loaned flowers, tea lights and sparkling papers and balloons. As they arrived, guests were ushered into the room to live music by pianist David Battis. A gourmet buffet of sedini pasta, various cheeses and other delicacies, marble cake and fresh fruit was presented by Zefferelli Ristorante and Jimmy's Old Town Tavern Catering.
Local comedienne Amy Skiavo acted as the MC for the evening, regaling the crowd with her wit and flair. Speakers included CAH Board President and former Herndon Mayor Mike O'Reilly, Town Councilmember Sheila Olem, Herndon Mayor Lisa Merkel, and former CAH scholarship recipients photographer Katie Baroody, student and opera singer Mary Galvin and architect Stephanie Gepford Stein. The evening's auctioneer was Del. Ken Plum (D-36).
After the auction items were won and the speakers honored, flutists from Herndon Regional Wind Ensemble presented an arrangement of classical pieces. The Bad Influence Band finished up the evening, prompting guests onto the dance floor for the rest of the night. Former CAH President Rick Thoesen showed off ballroom dancing skills that had not been known to the newer members of the Council.