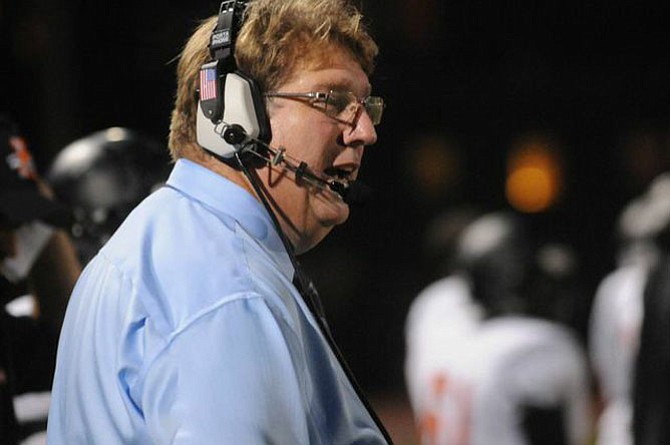 For the first seven weeks of the 2015 season, the Hayfield football team won or lost by a margin of 15 points or greater. While the Hawks won more than they lost, posting a 5-2 record, Hayfield never found itself in a pressure-packed end-of-game situation.
That changed on Oct. 23, when the Hawks traveled to Arlington and needed a fourth-and-goal stop in the final minute to secure a victory against Yorktown and remain tied for first place in Conference 6. The Hayfield defense came through, with senior cornerback Terrell Wheeler intercepting a pass in the end zone to clinch a 21-14 victory.
"We needed that game against Yorktown," Hayfield head coach Eric Henderson said. "We've been either winning lopsided or losing lopsided and I felt like we needed to battle though something."
For the Hawks, the fourth-quarter test of fortitude might have arrived at just the right time.
Hayfield, now 6-2 overall and 5-0 in the conference, will wrap up the regular season by facing the other two teams in contention for the Conference 6 title. This week, the Hawks will host South Lakes, which sits at 6-2 overall and 4-1 in the conference. Kickoff is at 7 p.m. on Friday, Oct. 30. The following week, Hayfield will travel to Vienna to face a Madison team that has won seven in a row and is currently tied with the Hawks atop the conference standings at 5-0.
While Hayfield will be tested, the Hawks, who are on a five-game win streak, will provide their own challenges.
"I think we've kind of found our formula," Henderson said. "It took us a couple of games."
That formula: Give the ball to running back Myles Ross and let the senior make plays.
Ross is Hayfield's all-time leading rusher. This season, he has carried 178 times for 1,545 yards and 17 touchdowns. Last week against Yorktown, Ross had 39 carries for 335 yards and two touchdowns (updated stats).
He also plays defense and has three interceptions.
"I think he's one of the best players I've ever coached," said Henderson, whose Northern Virginia coaching stops include Lake Braddock (assistant), West Potomac and T.C. Williams. "He goes both ways, he doesn't get a lot of breaks. ... If he's not on the field, we're not as good [as we are] with him on the field. He's what we do offensively."
Clearing the way for Ross is an offensive line composed of junior left tackle Greer Jones (5-10, 285), senior left guard Adam Johnson (6-5, 330), junior center Jack Blevins (5-10, 260), junior right guard KD Diokane (6-3, 300) and senior right tackle Juan Cruz (5-8, 250).
"They're a real physical bunch," Henderson said. "They remind me of some of the crews I had at West Potomac ­­­ kids that like to get after it. They work well together. They communicate well."
Hayfield is No. 9 in the latest VHSL 6A North region power rankings. Madison is No. 4 and South Lakes is No. 10. The top 16 teams make the playoffs.
Henderson said the Hawks divided the season into three parts. The first part was a tough three-game stretch during which Hayfield battled injuries and struggled against some tough opponents. After a 21-0 season-opening victory against Edison, Hayfield lost to Tuscarora 40-14, and was blown out by South County 70-29.
The second part was a four-game stretch where the Hawks tried to figure out what they do well. Ross was the answer, and Hayfield defeated Washington-Lee, 35-16, McLean, 43-28, Fairfax, 40-20, and Langley, 39-21.­
The third part is a playoff push during the final three games of the regular season. The Hawks survived a tough test against Yorktown, winning 21-14. Hayfield's next two games will determine if they are conference champions.