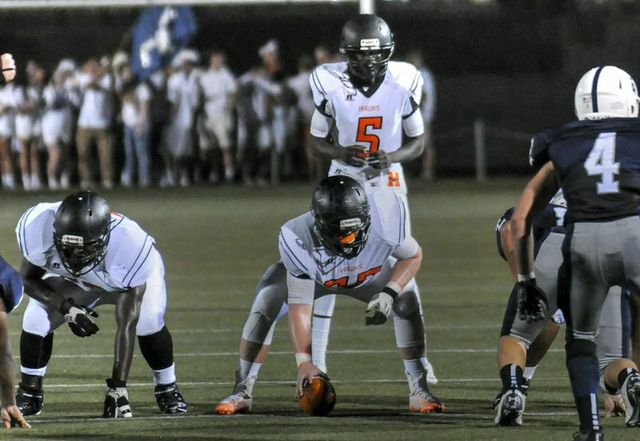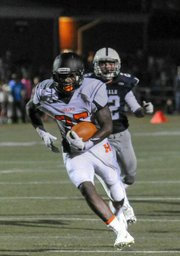 Midway through the fourth quarter of Friday's contest against Washington-Lee, Hayfield quarterback Sheldon Isaac slipped a pass between a pair of defenders and into the hands of receiver Tyler Hodge for a 21-yard touchdown, putting the finishing touch on another stellar offensive performance.
This time, however, big-time statistics translated to victory for the Hawks.
After starting 0-3 against a brutal early-season schedule, the Hayfield football team produced a season-high point total and earned Eric Henderson his first win as head coach of the Hawks, beating W-L 49-20 in Arlington.
Isaac completed 22 of 30 passes for 351 yards and three touchdowns against the Generals. He also scored a rushing touchdown.
"It feels good," Isaac said. "We've been working for a long time so it feels good to get the first win."
Isaac, a 6-foot-3, 180-pound senior, passed for 947 yards in Hayfield's first three contests, but the Hawks started 0-3, losing to South County (Stallions are 5-0), Westfield (2013 6A North region runner-up) and Centreville (2013 6A state champ). On Friday night, Hayfield scored on its first play from scrimmage, an 8-yard run by Isaac, and led for the remainder of the game.
"It feels so good to win a game," a Hayfield player said on the sideline with the Hawks comfortably ahead during the fourth quarter. After the game, players celebrated with the school band.
Did facing tough competition in their first three games help the Hawks prepare for the remainder of their season?
"We knew we were playing very [good] teams, but we knew we could also play better," Isaac said. "It was something to put on our shoulders to say we could play better. Going into the next seven games, we knew we can turn it on, we can turn it up."
Henderson said Hayfield benefitted from early-seasons tests.
"I've told the kids all week, we've run the crucible," Henderson said. "[The] three games that we played, it just tempers you and hardens you and gets you more focused. To the kids' credit, they kept their heads up and they kept plugging along and they did a great job this week. They could have laid down and died at any point. I thought they kept fighting against Centreville, I thought they kept fighting against Westfield and I thought they fought against South County, so it's not like they gave up. We're just not there yet, but we will be."
Isaac's right arm figures to be of great assistance as Hayfield tires to climb out of a 1-3 hole. A first-year varsity starter, Isaac won the job during 7-on-7s in the offseason.
"He worked incredibly hard in the offseason --- really watched a lot of film, did all the 7-on-7s, worked out with the wide receivers on his own, he just really took to the offense," Henderson said. "… You could see early in the summer, he just started figuring it out. … He throws with a lot of confidence right now."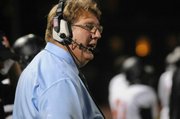 Henderson spent the previous two seasons as an assistant coach at Lake Braddock. He was the team's offensive coordinator in 2013, helping his son, quarterback Caleb Henderson, direct the Bruins' spread attack. Prior to assisting at Lake Braddock, Eric Henderson was the head coach at West Potomac, where he led the Wolverines to a share of the 2011 Patriot District title with Caleb as a standout sophomore signal caller.
During the offseason, Caleb Henderson, now a freshman on the University of North Carolina football team, helped teach his father's potent spread offense to Isaac. So far, so good for No. 5, who is averaging more than 300 yards per game.
"[Coach Henderson] loves to pass the ball," Isaac said. "I just happen to be in the right situation at the right time."
Isaac's top two targets Friday were Hodge, a 6-foot-2, 210-pound senior, and Frank Pannell, a 6-foot, 190-pound senior. Hodge caught seven passes for 164 yards and two touchdowns, while Pannell finished with seven receptions for 99 yards and a score.
"Wasn't a big mystery [that] 35 (Hodge) and 4 (Pannell) are their best two receivers," W-L head coach Josh Shapiro said. "It's hard to simulate their speed [in practice]."
Isaac's first touchdown pass was a 30-yard toss to Hodge with 8:58 left in the second quarter, giving Hayfield a 14-0 lead. Isaac hit Pannell with a 10-yard scoring strike with 3:34 remaining in the first half, giving the Hawks a 21-0 advantage. His third touchdown pass was a fourth-quarter dart to Hodge into double coverage.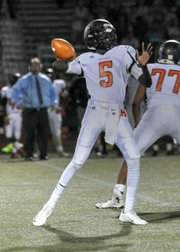 "It was funny, because [Hodge] was supposed to run a different route, but he adjusted," Isaac said of his final touchdown pass. "[We] have a lot of chemistry and we just connected. He made a great catch."
Hayfield also got a big night on the ground from senior running back Myles Ross, who carried 21 times for 115 yards and three touchdowns.
Washington-Lee quarterback Ronnie Fecso completed 17 of 33 passes for 198 yards and two touchdowns. He was intercepted once.
Generals running back Daquay Harris carried 22 times for 73 yards and caught a 7-yard touchdown pass. Henry Casey finished with six receptions for 91 yards, and Gene Jones caught four passes for 39 yards and a score.
W-L freshman Owen Carey returned a kickoff 77 yards for a touchdown.
"When you've got a better athlete running in space and our kids weren't as physical as they needed to be to disrupt their timing, it's a recipe for [failure]," Shapiro said. "… When it comes down to it, we didn't have an answer for 35 and 4. The quarterback threw the ball well, we didn't put him on the ground [and] they kept a clean pocket."
Hayfield (1-3) will host Wakefield (4-0) at 7:30 p.m. on Thursday, Oct. 2. W-L (2-2) will travel to face Falls Church (4-0) at 7:30 p.m. on Thursday.