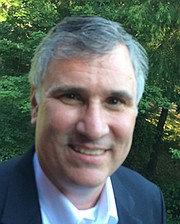 Neighborhood: Oakton
Education: Cornell University, bachelor's in Labor Relations; and Northwestern University, law degree.
Occupation: Commercial real estate attorney
Family: Wife Kerry and children Maddie, 23, Tommy, 19, Teddy, 15 and Wendy, 12.
Money raised: About $7,000
Website: www.tomwilsonforschoolboard.com
Tom Wilson of Oakton believes he stands for the will of the people and is the best person to speak for them as Sully District's representative on the Fairfax County School Board.
"I'd like to see the School Board be more respectful of parents, citizens and teachers and what they have to say," he said. What especially upset him was the board's decision not to discriminate against children with gender-identity issues and to amend the school system's associated Family Life Education (FLE) curriculum.
"Last spring, the School Board voted to implement change to Family Life Education, and hundreds of people protested and the board received thousands of emails," said Wilson. "But when I asked a board member why there wasn't a decision to delay the vote, he said they already had all the information they needed to make their decision. He said, 'We don't make decisions based on mob rule.'"
He and Kerry, his wife of 25 years, have four children, Maddie, 23, Tommy, 19, Teddy, 15, and Wendy, 12. Wilson has a bachelor's in labor relations from Cornell University and a law degree from Northwestern University. He's a commercial real estate attorney and has been endorsed by the Fairfax County Republican Party.
He says his leadership skills come from being an Army officer during Operation Desert Storm, and his analytical abilities come from being an attorney. "I'm able to work on complex, real-estate transactions," he said. And, said Wilson, that'll come in handy when dealing with "an enormous, complicated" school system with 186,000 students, almost 200 schools and a budget approaching $3 billion."
"I have the ability to dig in and deal with complex issues and stakeholder interests," he said. "We need to bring professionals to the board who can think comprehensively about an operation this size so our school system will continue being the benchmark for the country."
Stressing that the school system's budget goes up every year, Wilson said the board's challenge is to "work with the superintendent and staff to best utilize these funds. And there's a projected, $100 million budget shortfall for FY 2016. So the response is to raise the issue of cutting sports, music and arts. But the real issue is planning — and they were off on their enrollment projections for this year by about 2,000 students."
He said that miscalculation equals some $30 million to education funding, so "the board should be more accurate in its enrollment forecast, as well as in its capital-expenditure projections." When these predictions are wrong, said Wilson, it causes the superintendent to dig deeper, so "we need the inclusion of an auditor general to analyze the programs and functions and tell us if they're meeting their expectations and if their costs are justified. Although some things, such as special education, many not be able to be quantified in dollars."
Regarding teacher pay, he said, "Four years ago, this school board promised the teachers a 1-percent market increase in their pay, but they couldn't afford to do that. But had they projected correctly on enrollment, they could have. The dollar focus needs to be on teachers in the classrooms, where learning is taking place. An auditor general would help in this respect, and we also have to pay our teachers competitive salaries."
"This board's employee is the superintendent," continued Wilson. "And it needs to holds the superintendent's feet to the fire to make sure promises are kept to teachers, parents, students and taxpayers. Right now, there's a dysfunctional relationship between the Board of Supervisors and the School Board."
Noting that both he and his children are products of FCPS, he said he's "protective of it. And it takes a school board that's professional, engaged, extremely hardworking and willing to press the hard issues and be creative [in its solutions to problems]."
For example, said Wilson, bus drivers have said they haven't been asked to provide bus-utilization numbers of how many students take the buses. "Not all high-school students ride the bus," he said. "I've heard many parents say many virtually empty, high-school buses roll through their neighborhoods. With the largest bus system in the country, how do we not maximize their use to make sure they work more effectively? We need to examine the actual ridership of the buses, as well as every program in the schools and what they do."
Basically, he said, "It takes creativity and hard work to deal with a comprehensive and complex school system. And as an attorney for 20 years, I believe I have the skills to do that. You need to listen to people and be willing to change your mind as you get more information."
Wilson said the board must have the skills, commitment and ability to make the school system great for the next generation. "We need the best teachers to maintain our high, academic standards and all the other services FCPS provides," he said. "It'll be a tough challenge for the board, but I have a passion for it and am committed to it."
How Sully School Board Candidates Are Viewed: Wilson's Supporters
Sean Duffy, of Reston, has known Tom Wilson for seven years. Besides being a friend, he's a teacher at Waples Mill Elementary and taught two of Wilson's children, Wendy and Teddy. And he considers Wilson a person of good character.
"He's a nice guy, pleasant, engaged, calm, active with his kids and a family man," said Duffy. "I'm glad he's running [for School Board]. He's even-keeled and not adversarial. Tom's a fair and listening individual who would work well with the other board members."
As for David Newman, of Fairfax, he's known Wilson for six or seven years, through work. "Tom did some legal work for me for a commercial real estate project," said Newman. "He's friendly, approachable, good at problem-solving and communicating in a lot of different settings."
He said Wilson's thorough and is also skilled at working with people of different personality types and skill sets. For example, said Newman, "Because he was our legal counsel, we put a tremendous amount of responsibility on his shoulders. He understood our needs and addressed them well. He dealt with complex, legal documents with substantial budget implications and was creative in coming up with a solution so both sides could achieve what they wanted."
Besides that, said Newman, "Tom has a good heart; he's a family man with good morals and values. And if he gets on the School Board, he'd have the best interests of the schools and children at heart — they'd be his top priority. And when it comes to dealing with complex issues and varying points of view around the table, I can't think of a better guy."
Meanwhile, Oak Hill resident Dennis Moyer has known Wilson since the mid-1990s. Both men are commercial real estate attorneys, and Wilson joined one of Moyer's former law firms almost 20 years ago.
"His character is first-rate," said Moyer. "He's straight forward, upright and honest and is a family man. I know him mainly in a professional setting, but I'm sure his integrity follows through in his personal life and other affairs."
And, continued Moyer, "Tom illustrates that every day in the practice of law, where it's critical to maintain your reputation for honesty and integrity and not cut corners. He's a terrific person and only does what's appropriate and by-the-book. And he brings that [attitude] to work every, single day. Professionally, Tom's a person I refer a number of matters to. Because of the kind of lawyer and person he is, I know that he'll do a good job, so he's my go-to guy."
In addition, Moyer said Wilson's always been interested in community and civic affairs and is "vitally interested in kids. He feels strongly about family and education and was a volunteer coach for his daughter's rowing team. So I think the School Board would be a natural combination of his interests in both the community and children."