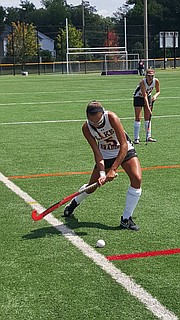 The host Lake Braddock field hockey team struggled during the first day of the Blast ALS tournament on Aug. 26, suffering shutout losses against Fairfax and Centreville. On the second day, the Bruins responded with a 1-all tie against rival Robinson and a 1-0 victory over Oakton.
"I feel that we didn't start out playing our best, but improved our play significantly each game," head coach Marie Bounds Bullock wrote in an email. "The girls worked hard to make the needed improvements and it showed; the results of each game got better and better."
After opening the season with a 3-0 loss to Fairfax and a 1-0 defeat against Centreville, Lake Braddock tied Robinson, 1-1, on Aug. 27. Senior midfielder Emily Berst scored the Bruins' goal, with an assist by sophomore forward Allison Ormsby. Lake Braddock's final game of the tournament was a 1-0 win over Oakton, with a goal by Ormsby. The assist went to senior midfielder Annina Zelkin.
Zelkin is "highly skilled and has a powerful shot," Bullock wrote. The senior is committed to Yale.
Junior midfielder Haley Hopkins, a first-team all-conference and second-team all-region selection last season, is also expected to be a key contributor for Lake Braddock.
"Haley is an extremely talented player," Bullock wrote. "She will be a distributor and one of our main ball handlers in the midfield and on the forward line."
Lake Braddock defeated Langley in overtime on Monday and lost to Westfield 3-0 on Tuesday, bringing its record to 2-3-1.
The Bruins will open Conference 7 play against Mount Vernon at 7:30 p.m. on Thursday, Sept. 10.
"One of our goals is to win our conference," Bullock wrote. "There is some great competition in our conference so it will be a challenge, but one that I think we are up for."