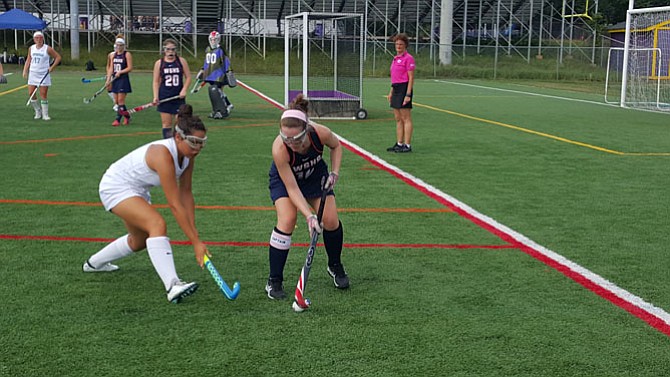 The Centreville field hockey team opened the 2015 season in dominant fashion.
Competing in the Blast ALS tournament Aug. 26-27 at Lake Braddock Secondary School, the Wildcats won each of their four games while not allowing a goal, outscoring opponents 7-0.
"Overall it helps create the mindset of adaptability, confidence, trust and a feeling of success," head coach Demby Banbury wrote in an email about Centreville's tournament performance, "all within the mindset that every day is a learning day and we need to keep moving forward."
On the first day, Centreville defeated Oakton 1-0 and Lake Braddock 1-0.
Against Oakton, senior Caroline Kelly scored with an assist from sophomore Paige Richbourg. Junior goalkeeper Kylie LeBlanc had 10 saves and senior goalkeeper Regina Weiss finished with five.
Against Lake Braddock, Kelly scored with an assist senior Nicole Kang.
During second-day action, the Wildcats beat West Springfield 2-0 and Mount Vernon 3-0.
Kelly finished the tournament with four goals. Senior Jessie Summers scored two goals, and Kang finished with one goal and two assists.
LeBlanc had 14 saves for the tournament and Weiss totaled 12.
"I truly except all of my players on and off the field to be top players," Banbury wrote, "but needless to say I am fortunate to have Kylie LeBlanc (junior) and Reggie Weiss (senior) to play in the cage as strong field generals. Lauren Potts (senior) has really stepped it up with her finishing attitude and consistency as a defender. I am looking for strong play out of Paige Richbourg (sophomore) and Nicole Kang (senior) with their athleticism and field sense/field hockey knowledge. Both Amanda Culclasure (junior) and Sidney Kiefaber (sophomore) have improved tremendously and will contribute with their ball handling skills, along with the speed of Jaimi Pollack (sophomore) and closing ability of Caroline Kelly (senior)."
Banbury is in her fifth season as Centreville head coach. The Wildcats failed to qualify for regionals last year, losing to Robinson in the opening round of the Conference 5 tournament.
Centreville lost to Woodson 2-1 on Tuesday, dropping its record to 4-1. The Wildcats will host Marshall at 4:30 p.m. on Friday, Sept. 4.