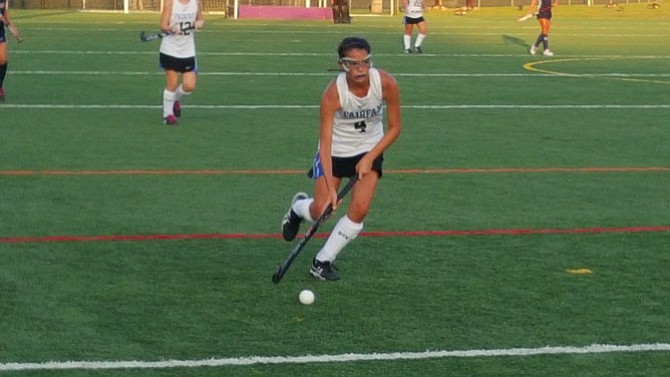 Following a 1-1 tie against Woodson during the second day of the Blast ALS tournament at Lake Braddock Secondary School, junior forward Emily Deivert described the pressure of playing for the Fairfax field hockey program, which has won six consecutive Conference 6/Liberty District championships.
"Six years of people are going to come back and look down on us if we lose it," Deivert said, "so we really have to just work hard and try to get back to where we were every year."
Fairfax has compiled a 108-27-1 record during the previous six seasons and last year won its first region championship since 1993. This year's team, however, returns just six players, including four starters, making the task of winning a seventh straight conference/district title a challenging one for the Rebels.
"Nobody's crying any tears for us [while we're] rebuilding and we know that," head coach Amber Beaudoin said. "Every time we come out to play, people are trying to put a nick in the [region championship] banner, and we know that. It's been hard because, essentially, we're a JV team right now."
Deivert and junior midfielder Molly Tenerelli are two of Fairfax's returning players. Deivert totaled four goals and two assists during the two-day, four-game Blast ALS tournament, including a three-goal performance during a 4-1 win over Mount Vernon.
"She's really a game player," Beaudoin said about Deivert. "She's not a particularly awesome practice player ­­­ we're working on that. When she comes out to play a game, she's really, really tough ­­­ tough to beat. ... Molly Tenerelli has been really carrying us. ... She used to be playing an outside position, now she's playing inside, so it's an adjustment."
Senior midfielder Victoria Brzezynski, sophomore midfielder Sydney Keating, senior midfielder Kat Pugh and senior goalkeeper Alexis Thomasson are also returners.
Fairfax finished the tournament with a 2-1-1 record. The Rebels beat Lake Braddock 3-0 and lost to Oakton 1-0 on the first day, and beat Mount Vernon and tied Woodson on the second day.
Junior forward Jillian Creel had two goals and two assists for the Rebels, and freshman forward Alexa Brzezynski had one goal and one assist.
Tenerelli had two assists, Victoria Brzezynski had one assist and Thomasson totaled 15 saves.
Fairfax defeated South Lakes 5-1 on Aug. 31, improving its record to 3-1-1.
The Rebels will travel to face Langley at 7:30 p.m. on Tuesday, Sept. 8.
"They've got to come up to the level of play that we expect," Beaudoin said about the inexperienced Rebels. "It's been kicking and screaming a couple of times."