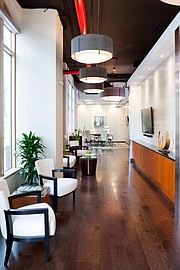 A new real estate firm specializing in urban development and custom single-family homes has opened in Arlington. Real estate professionals Ron Smith, Marty Schnider and Julie Zelaska announced the formation of Smith | Schnider. The firm, which is located at Liberty Center, offers both developer and custom home builder services
The principals boast more than 75 years of real estate development, marketing and sales experience. "Our platform offers a deep, comprehensive and complementary blend of talent in multiple disciplines … sales, marketing, development and finance … and an approach to advising on development that is sensitive to all aspects of project feasibility," said Marty Schnider, founding principal of Smith | Schnider.
The trio has been involved in prominent local real estate sales including Turnberry Tower, The Columbia Residences and Lionsgate at Woodmont Corner.
Smith, the company's founding principal, president and principal broker, worked as senior vice president of The Mayhood Company. Zelaska, principal and executive vice president, has worked at residential sales and marketing companies including The Mayhood Company, McWilliams Ballard and Van Metre Companies. Schnider, founding principal, manages the day-to-day operation of his family real estate company, Fred Schnider Investment Group, LLC, which was founded by his grandfather Fred Schnider in the 1930s.