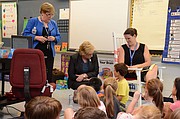 Though she visited several schools on the first day of the new year, Fairfax County Public Schools superintendent only received one welcome banner. That was from the articulate student leaders at Mantua Elementary School, who told her "sense of community" and "great teachers who encourage creativity" were among their favorite things about the school.
Mantua capped a full day of visits for the superintendent as she begins her third year with the school system. Her tour began at Hayfield Secondary School and included stops at Lynbrook Elementary School, Walt Whitman Middle School and J.E.B. Stuart High School.
Along the way, Garza said she was impressed with the "enthusiasm" and hearing the positive things students had "to say about going back to school."
Improved literacy across all school levels is one of the goals of the system's new strategic plan and Portrait of a Graduate education blueprint. Garza spoke with teachers and principals about their plans to develop students into stronger writers and communicators.
In Mantua's library, Garza experienced a project started last year where students learn to produce a QR code and link it to a video they make themselves about books they liked reading. Other students can then scan the code with library-provided iPads and essentially browse titles by reviews from their peers.
"It's exciting to see it take hold," Garza said.
Regarding the playing out of the first day of later start times, Garza said she'd heard generally positive feedback. "Largely people have been supportive of the change and we're grateful for that. It was a very smooth start."