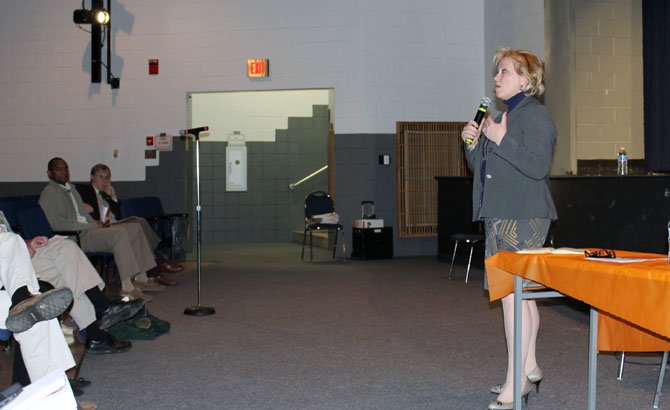 Superintendent Karen Garza continued her listening tour of Fairfax County Public Schools this week with a stop at West Springfield High School on Feb. 4.
Garza was joined by Springfield District School Board member Elizabeth Schultz.
The listening tour provided opportunities for community members, including teachers, parents and students, to voice their concerns about the school system.
Garza said that of the 196 schools in the system, she has visited 62 since becoming superintendent.
"My goal is to get to at least 100 this year," Garza said. "That is a daunting challenge, given all that is going on."
In her opening remarks, Garza addressed several issues affecting Fairfax County Public Schools, including closing the achievement gap. According to Garza, the school system will not truly be the best it can be until this gap is closed.
Garza also reminded audience members that the budget process is ongoing and as advertised, contains some difficult cuts.
"This is a rapidly public school system," Garza said. "By 2020, we'll be over 200,000 students."
According to Garza, the goal of the listening tour is to hear what community members have to say about the school system.
Those who decided to speak at the West Springfield stop of Garza's listening tour addressed several topics, including the budget, teacher pay, and changing the policy for inclement weather days.
Jessica Hernandez, a school based technology specialist at West Springfield High School, spoke about the challenges to administration and technology support.
Abigail Quinn, a teacher at Hunt Gardens Elementary School, used this stop of the listening tour to voice her concerns about working as a teacher in Fairfax County.
"Is this a job I can do for another 40 years? I wonder some days," Quinn said.
Quinn and some other speakers at the forum also addressed aspects of the school's capital improvement program. Quinn said she is currently teaching in a portable classroom.
Following these remarks, Schultz stressed her ongoing commitment to the capital improvement program.
"I am so committed to our capital and infrastructure needs," Schultz said.
After a student remarked on the several snow days that have already occurred this year, Garza commented that decisions to close the school system are made with the safety of employees and students in mind.
"You can never win with your decisions regarding snow days," Garza said. "It's really a judgment call."
Madeleine Deliee, a teacher at West Springfield High School, was one of the several speakers at the listening tour who addressed teacher pay.
"The salary is very much an issue, especially for starting teachers," Deliee said.
Garza's next stop on the listening tour will be Feb. 17 at 6:30 at Mark Twain Middle School in Franconia. Lee District School Board member Tamara Derenak Kaufax will join Garza for this stop of the tour.