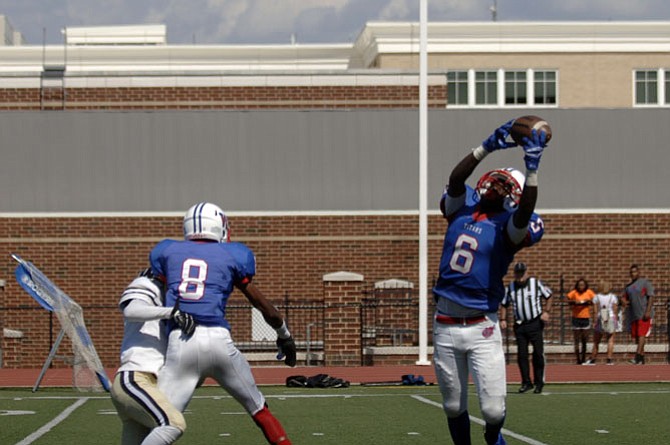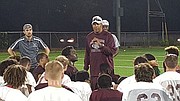 One year after laboring through a winless season, the Mount Vernon football team is off to a 2-1 start and the Majors are playing with increased confidence.
T.C. Williams is coming off back-to-back losses to physical, Conference 5 opponents, but first­year head coach Marc Matthie said the Titans discovered they have a formidable defense.
The two teams will meet at 7 p.m. on Friday, Sept. 25 at Mount Vernon High School. For the Titans (1-2), it's their Conference 7 opener and a chance to see if the team has improved after losses to Oakton (24-0) and Westfield (21-6). For the Majors, it's their homecoming game and a chance to earn a win against a 6A opponent after beating 5A foes Stuart (39-16) and Thomas Jefferson (40-18).
"It would be huge [to get a win] because it's a conference game," said sixth-year Mount Vernon head coach Barry Wells, whose Majors lost their conference opener to West Springfield, 47-13, on Sept. 11. "It's a 6A game, but it's a conference game. ... The environment is set for a really good [matchup]."
Mount Vernon went 0-10 in 2014 and entered the 2015 season on a 16-game losing streak. The Majors snapped that streak by beating Stuart in the opener on Sept. 4. After losing to West Springfield, Mount Vernon defeated Thomas Jefferson on Sept. 18.
Mount Vernon senior Josh McGrigg had a big night against TJ, catching eight passes for 160 yards and three touchdowns, carrying once for 48 yards and returning a kickoff 76 yards for a score.
For the season, McGrigg has 22 receptions for 398 yards and five touchdowns.
"There are people who aren't aware of how good Josh is, but when you see him in person, he's the real deal," Wells said. "... He can catch a short pass and take it the distance. ... He's electrifying."
Senior running back Hameed Oyedele, who is battling a foot injury, carried three times for 58 yards and two touchdowns against TJ. Sophomore quarterback Tim Heltzel completed 10 of 16 passes for 174 yards and three touchdowns.
What is one of the biggest differences between this year's Mount Vernon team and last year's group that went winless?
"Clearly, a little bit more confidence, and winning will do that for you," Wells said. "They're seeing some results from the work we've put in."
This is the first time Mount Vernon has won at least two of its first three games since 2008. Standing in the way of a 3-1 start for the Majors is a T.C. Williams team that hasn't scored an offensive touchdown since defeating Thomas Jefferson 65­0 in the season opener. The Titans were shut out against Oakton and scored on a 99-yard interception return by Colson Jenkins against Westfield. T.C. Williams was held without a first down in the first half of each of its last two games, and finished with 12 yards of total offense against Westfield, a program that has reached the region championship game each of the last four seasons.
After years of running the spread offense, T.C. Williams has transitioned to the wing-T under Matthie, who spent the previous five seasons as an assistant at Centreville. Matthie said the Titans are trying to figure out what they do well on the offensive side of the ball.
"I think we're trying to find our identity," he said, "and at times it can be difficult to find that identity when you're going against two of the top defenses in the region."
While the offense has struggled, T.C. Williams' defense has been a bright spot. The Titans held Oakton to 10 points through the first three quarters of their Sept. 11 contest, and shut out Westfield in the second half of Saturday's home opener.
"I think we have a really competitive defense in the northern region," Matthie said. "They can compete against any team. We obviously need to ... clean up some things ... but as far as effort and getting after it, I think we're doing a really good job."
Jenkins, a defensive back, intercepted two passes against Westfield. He returned the second pick 99 yards for the Titans' only points in the last two weeks.
"He did a great job," Matthie said. "Colson is a guy who has always been an athlete and now has taken some coaching. ... The first interception was kind of a trap defense and he executed it wonderfully. ... The second pick, that's just Colson being Colson. The ball is tipped and you're always looking around, hoping someone will make the play."
Matthie said linebackers Teyan Williams and Tyrese Randall are also playing well.
"They're bringing the lumber," Matthie said, "and being very encouraging and being leaders out there."
The Titans are hoping for the return of senior defensive lineman Chadi Abdalla, who missed the last two games after undergoing appendix surgery.
"I think it's just another opportunity to get better," Matthie said about Friday's game. "Mount Vernon to me is a much­improved team. Watching film, they're more physical than they were last year and they have some athletes that are pretty good."
Wells seemed to place more importance on the game.
"TC, it's a tipping point for us," the Mount Vernon head coach said. "A win here goes a long, long way, as opposed to being .500 and facing a tough game [against Wakefield]."