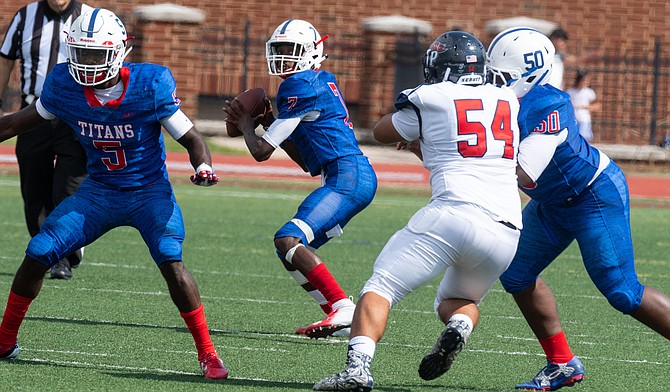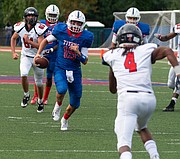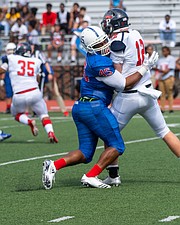 T.C. Williams defensive back Ricardo Ross intercepted a pass on the fourth play from scrimmage during Saturday's home game against Patriot but fumbled the ball back to the Pioneers during the return.
Later in the first quarter, Ross snagged another interception, but this one was wiped out by a penalty.
On the very next play, Ross intercepted Patriot quarterback Chris Sonnenberg for a third time and returned the ball to the Pioneers 9-yard line.
"I had to tell my team I owe them one," Ross said. "I went out there the next play and got it."
Ross, a junior safety, was part of a defensive unit that forced six turnovers, including five in the first half, and kept the T.C. Williams football team in the game. However, a struggling offense in search of consistency from the quarterback position and multiple special teams miscues played a major role in the Titans' 24-7 loss to Patriot on Sept. 22 at Parker-Gray Stadium.
TC has lost three straight games after starting 2-0, but the defense's performance on Saturday gave the Titans something to build on for the future.
"I thought the defense played, really, really well," TC head coach Jimmy Longerbeam said. "We had our backs up against the wall some and they did a great job taking the ball away."
The TC defense piled up takeaways, but the Titans were unable to capitalize.
Ross intercepted a pass on the game's fourth play but lost a fumble during the return. On the very next play, Patriot fumbled the ball and TC recovered in Pioneers territory.
TC drove down to the 20-yard line but ended up missing a 37-yard field goal attempt.
TC forced another turnover on Patriot's net possession – Ross' second interception – and took over at the Pioneers 9-yard line. But after three plays totaled a loss of one yard, a different Titan kicker came on the field and missed a 27-yard field goal attempt.
Patriot took a 7-0 lead on its next possession and led for the remainder of the contest.
Ross credited TC coaches and film study for helping him to be in the right place to intercept a pair of passes.
"Ricardo's kind of turned a corner," Longerbeam said. "What you saw today is what we thought he was. … As a ninth grader, he intercepted three balls in a game. He's got a great knack for the ball and he's got really, really good football instincts."
Mohamed Aly also intercepted a pass for the TC defense. The Titans recovered three Patriot fumbles, as well.
Offensively, TC continued its quarterback-by-committee approach while searching for a replacement for former starter Diondre Charlton.
Robert Longerbeam, a junior, started at quarterback against Patriot and completed 5 of 11 passes for 37 yards, and threw an interception on fourth and goal from the 7-yard line during TC's first possession of the second half. He carried the ball 16 times for 51 yards and scored TC's only touchdown on a 5-yard run on fourth down with 42 seconds remaining in the final quarter.
Longerbeam has experience at the position but hasn't played much in recent seasons due to injury.
He looked like "[a] kid who hadn't been quarterback for two years," Jimmy Longerbeam, Robert's father, said. "He made some good runs, didn't pitch it sometimes when he should have. Threw some balls into the ground. He was a quarterback as a ninth grader and broke his wrist. Last year, he broke his [right, throwing] wrist and had a plate put in, so he didn't play at all after the first game.
"… He just looked like a kid who hadn't played."
Jack Rossi, a senior who started the previous week against Robinson, also played against Patriot. He completed 8 of 16 passes for 58 yards and carried four times for 13 yards. Rossi was the varsity backup quarterback last season.
Ross, who caught three passes for 40 yards on Saturday, has also seen time at quarterback this year.
TC has a bye this week, giving Titans coaches two weeks to select a starting quarterback for their next game against West Potomac on Oct. 5 and, hopefully, for the remainder of the season.
"Right now, it's been quarterback by committee," Jimmy Longerbeam said. "The good thing about it is we've got basically two weeks to get that spot solidified. … We're hoping somebody will distance himself in the next two weeks. That's the goal."
TC running back Anthony Eaton carried eight times for 33 yards and caught one pass for nine yards on Saturday.
The Titans will play their next three games on the road, starting with their Gunston District opener at West Potomac at 7 p.m. on Oct. 5. After games at Hayfield (Oct. 12) and Edison (Oct. 19), TC will return home for its final two games of the regular season against Mount Vernon (Oct. 27) and Annandale (Nov. 3).