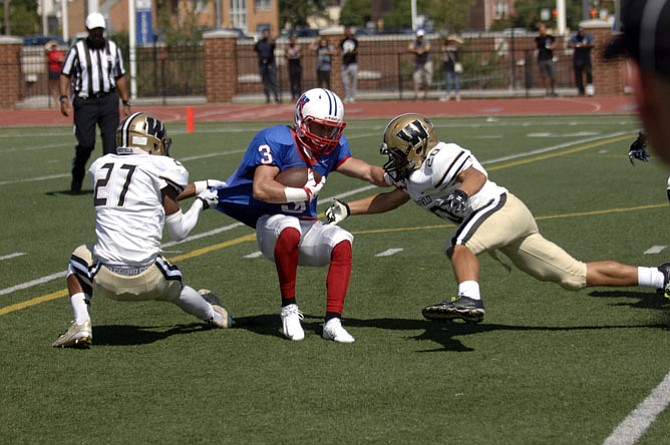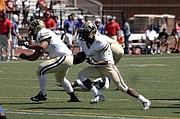 With six starters suspended and the previous week's loss to South County still fresh in his mind, Westfield football coach Kyle Simmons shared with the Bulldogs his desire to win Saturday's matchup with T.C. Williams.
"I told the kids before we left school today, I said it's been kind of a sour taste in my mouth all week after a loss," Simmons said. "I don't know that they got it, but I'm a low-carb eater and I said I sure would like to taste some sweetness in my mouth after a win today."
Later that afternoon, members of the Westfield defense delivered their head coach the football equivalent of a chocolate milkshake.
Westfield held T.C. Williams without a first down in the opening half and limited the Titans to 12 yards of total offense for the game during a 21-6 Bulldogs victory on Sept. 19 in Alexandria.
With temperatures in the 80s for a 1 p.m. kickoff, Westfield built a 21-0 halftime lead while holding T.C. Williams to minus-8 yards of offense, including minus-21 on the ground, in the first two quarters.
The Titans' only touchdown came on defense, when Colson Jenkins intercepted a tipped pass and returned it 99 yards with 7:05 remaining in the fourth quarter.
"I feel the defense played great," said Westfield senior linebacker and Navy commit Jack Clancy. "Obviously, negative yardage [in the first half], no first downs, you can't ask for anything better."
T.C. Williams picked up its initial first down on a 13-yard run by Charles Farmer, Jr. with less than 8 minutes remaining in the third quarter. The Titans finished with three first downs.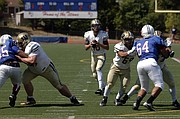 "Defense is lights-out," Simmons said. "They work hard, they prepare, they've got good players over there, [and] we returned a lot of guys with experience. They're doing what we really need them to do right now and what we're expecting of them. They're helping us hold on right now until we can get some guys back."
Westfield scored all of its points in the first half. Senior running back Terrell Monticue gave the Bulldogs a 7-0 lead with a 2-yard touchdown run with 2:25 left in the first quarter.
A sack on third down pushed T.C. Williams back to its own 1-yard line on its ensuing possession, and the Titans attempted to punt from their own end zone. Westfield linebacker Kevin Petrillo blocked the punt and the Bulldogs took over at the Titans 2-yard line. Two plays later, junior running back Taevon Chapman-Greene punched it in from 2 yards, extending Westfield's lead to 14-0 with 11:15 remaining in the second quarter.
Westfield's next possession ended with a 1-yard touchdown run by Chapman-Greene, who finished with 96 yards on 26 carries. He also caught one pass for 11 yards.
Westfield senior quarterback Tyler Scanlon completed 7 of 16 attempts for 93 yards and was intercepted twice by Colson.
Saturday's win came eight days after Westfield lost at home to South County, 26-19, while missing six suspended starters. Those six players also missed the T.C. Williams game. Simmons said two players will return for this week's game against Stone Bridge, and the other four will return two weeks after that.
"I was really proud the Monday we came back, I think it was Labor Day; everybody knew by that time what was going on and I was proud of the way the coaches and the kids remaining handled that," Simmons said. "We had a good week of practice and did the same this week. We've got some guys getting some experience and some reps that wouldn't normally be ...."
Westfield (2-1) will host Stone Bridge at 7 p.m. on Friday, Sept. 25.
"We have our confidence, we're not going to give up," Clancy said. "We're going to keep pushing forward and we're going to hopefully fulfill our season with a state championship."