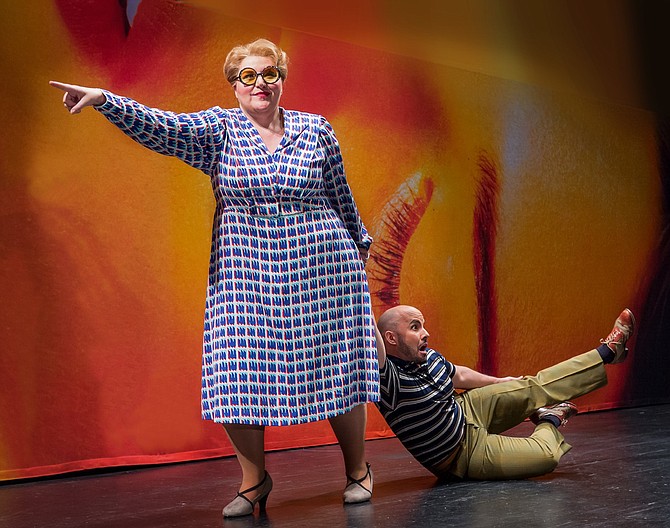 Have no fears of flying off into Offenbach's delicious musical parody of the legend of Orpheus pursuing his wife Eurydice into the Underworld. Be swept away with light, sparkling opera music and terrific voices as well as some naughty mythological Greek gods and a bored married couple. All sung in English with plenty of contemporary touches in this battle of wits and the sexes.
"Orpheus in the Underworld" is the season opening performance of Virginia Opera at the Center for the Arts. "Orpheus" includes the instantly recognizable galloping "Can-Can" that will energize not only the actors on stage but everyone in the audience.

The production "is full of satirical humor; basically a Comedy Central roast of all the Greek gods and goddesses," said Adam Turner, principal conductor and artistic advisor at Virginia Opera.
For "Orpheus," Turner is the chorus master for the over two dozen cast members. In this critical role, he makes sure the many voices from principals to chorus members, "blend together in what is a modern story that explores bad behavior."
Where and When
Virginia Opera presents "Orpheus in the Underworld," George Mason University, Center for the Arts, 4400 University Ave., Fairfax. Performances: Saturday, Oct. 3, at 8 p.m. and Sunday, Oct. 4, at 2 p.m. Tickets: $48- $98. Call 888-945-2468 or visit: http://www.cfa.gm...">www.cfa.gmu.edu. Note: "Orpheus in the Underworld" is sung in English with English supertitles. There is a pre-show discussion 45 minutes before the performance.
How is "Orpheus in the Underworld" so irreverent? The story revolves around the utter boredom of the gods on Mount Olympus who later become connected to the open marriage of mortals Orpheus (Javier Abreu) and Eurydice (Meredith Lustig). Eurydice wants "to explore her femininity and sensuality" noted Turner. She finds herself carried off to the Underworld by Pluto (Daniel Curran) and soon appears before uber-god Jupiter (Troy Cook). There is a key character named "Public Opinion"(Margaret Gawrysiak).

Offenbach's "Orpheus in the Underworld" is a quite modern take on values, politics, even class struggles and ethical conflicts noted Turner. "Orpheus" has many recognizable tunes beyond the "Infernal Gallop" which has become popularly known as the "Can-Can." And you may recognize a slowed version of the "Infernal Gallop" that represents the tortoise in the musical suite "The Carnival of the Animals" by Saint-Saens.

Add to all this, that Northern Virginia will soon be treated to Virginia Opera's expanded programing including in local schools, according to Robert Cinnante, recently appointed education and outreach director for Virginia Opera. "The Virginia Opera has a new strategic mission to become the opera company with the youngest opera audience in the America in the next decade." There will be outreach as well to young professionals and Millennials, so that "future generations of opera audiences grow."