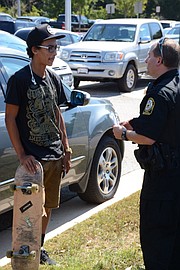 Adil Gour has been crossing the Virginia Railway Express tracks in Burke for three years. "It's convenient for me, instead of going all the way around," Gour said. All the way around in this case means taking Guinea Road to Roberts Road and south. On Sept. 17, Gour crossed the tracks and met a contingent of law enforcement, officers from both Fairfax County Police and the Norfolk Southern Railroad Police.
The two organizations teamed up that day to spread awareness of safety and laws surrounding railroad tracks, which are considered private property and are illegal to cross.
Gour was stopped by Norfolk Southern special agent Matthew Caplan out of Manassas, who explained the safety risks and legal repercussions of crossing to him.
"I do understand, the warning was fair," Gour said. But since he makes the trip three times a day, the ten minutes crossing the tracks saves him adds up. "If you want your Hot Pockets quick, are you going to use the microwave or the oven?" he said. "You're going to look for the easiest way."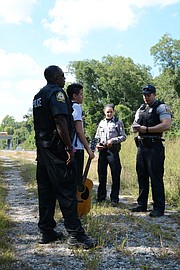 The Norfolk Southern Police are executing a year-long Trespass Abatement Program and chose to focus on five locations in Fairfax County this day because of the number of injuries and casualties involving railroad property locations seen here in the last two years.
The Norfolk Southern Railroad Police reported three fatalities in Fairfax County in 2014, two of which were juveniles. Other law enforcement-trespasser interactions that year included 19 who were warned and ejected (15 juveniles) and three arrests (2 juveniles).
Year-to-date in 2015, the railroad police said there are no casualties but a juvenile sustained multiple lacerations and a broken hand. Fifteen individuals were warned and ejected (11 juveniles) and there have been four arrests, all of which were juveniles.
Supervisory special agent George Kaufmann with the Norfolk Southern Police said the law enforcement group has been trying to approach as many individuals and local businesses as possible, including handing out 800 informational pamphlets to 74 businesses in the Burke area.
"If we can save one life, it's well worth the effort," Kaufmann said.
In addition to the Burke Virginia Railway Express station, another problem area is a spot on the same tracks next to Old Burke Lake Road where hundreds of students from Lake Braddock Secondary School are known to cut through and cross.
"They're just oblivious, ignorant," said Eric Ivancic, 2nd Lt. with the Fairfax County West Springfield District "Bike Team." "The complacency and the headphones are a dangerous recipe.
Members of the bike team and railroad police positioned themselves on either side of the Old Burke Lake Road cut-through to stop any students trying to cross.
Caplan said information was also being distributed to Student Resource Officers in the area for them to disseminate.