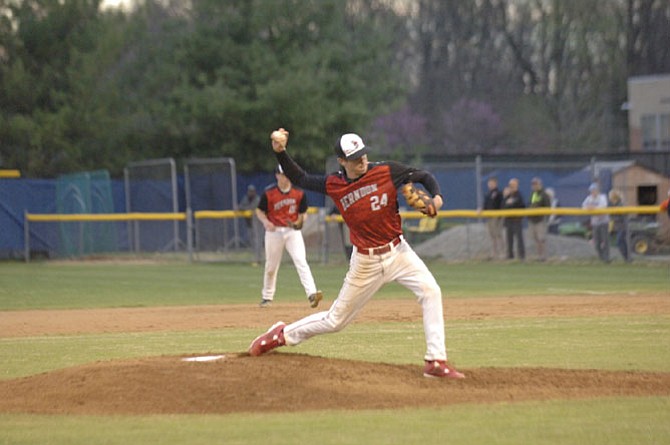 At first, Herndon pitcher Antonio Menendez wondered why his teammates weren't talking to him.
When he realized what was going on, the junior right-hander went out and gave the Hornets --- and everyone else in attendance --- something to talk about.
Menendez, a Wake Forest commit, threw his first varsity no-hitter and the Herndon baseball team defeated rival South Lakes 2-0 on April 2 in Reston.
Menendez said his teammates, following a baseball custom, weren't talking to him while he was in the midst no-hitting the Seahawks. However, the side­arm hurler didn't realize what was happening until late in the game.
"I didn't notice it until the bottom of the fifth inning," Menendez said. "I looked up and I started to think, 'Why is no one talking to me?' and I realized that I was throwing a no-hitter and I kept my mouth shut and didn't want to jinx it."
MENENDEZ walked two, hit two batters and struck out 10, including six in the final three innings. He did not allow a runner to reach third base.
Menendez threw 86 pitches, including 53 strikes, and tossed a first-pitch strike to 17 of the 23 batters he faced.
"To be honest, this was typical," first-year Herndon head coach Mark Rueffert said. "No-hitters aren't typical, obviously, but he's been throwing like this all year ­­­ keeping hitters off balance, mixing his pitches and he's always around the zone. I don't want to sound conceited or cocky, but I'm not surprised."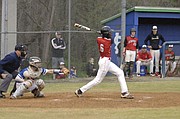 Herndon scored both of its runs in the top of the fifth inning. Junior shortstop Austin Boynton drove in the game's first run with a sacrifice fly, scoring third baseman Ryan Ferguson. With two outs, right fielder Jabbari Smith scored from second base on an infield single by center fielder Devin Vigneault.
Two runs were more than enough for Menendez, who pitches predominantly from the side, but will throw an overhand fastball and curve ball. He said his sidearm fastball has been clocked at 87 mph and his overhand fastball has reached 91 mph.
On Saturday, Menendez's slider was particularly effective.
"He mixed up his pitches well," said South Lakes shortstop and leadoff hitter Marty Gryski. "He can really spot any pitch, really at any time he wants. He was out there throwing 3-0 sliders, 2-0 sliders ­­­ even though he does throw hard, his offspeed puts him on another level."
Menendez said he "didn't throw anything besides sliders" in the bottom of the seventh, when he struck out a pair.
"Once people start swinging and missing like that, I just start continuing to get in their head, throw different pitches," Menendez said. "As soon as I can get in the batter's head, they have no idea what's coming and I feel like I own them as a pitcher."
The victory improved Herndon's record to 5-1.
Rueffert said pitching has played a significant role in the Hornets' strong start. Senior Graham Seitz, Herndon's No. 2 starter, was supposed to pitch part of Saturday's contest, but the coaches decided to let Menendez go for the no-hitter.
"I consult with my coaches on lots of things," Rueffert said, "and we didn't have to talk for very long about whether or not we were going to leave him in or how long we were going to leave him in [because of] how he was throwing."
SOUTH LAKES starting pitcher Brian Lawson suffered the loss. The senior allowed two unearned runs and three hits in 4 2/3 innings. He walked one, hit one batter and struck out three.
The loss dropped South Lakes' record to 7-3. The Seahawks are looking to build off the success of last season, when the team qualified for the region tournament for the first time since 2003. South Lakes' trip to regionals included a first-round upset of Conference 7 champion Lake Braddock.
"Our goal is to win a district championship," said second­year South Lakes head coach Morgan Spencer, a former Herndon assistant, "and get back into the region (tournament) and try to make some noise."
Herndon will host Broad Run at 6:30 p.m. on Thursday, April 7.
"A no-hitter against our biggest rival," Herndon catcher Alex Hurd said, "is [a confidence booster]."
South Lakes will travel to face Madison at 6:30 p.m. tonight.
"We're a really good baseball team," Gryski said. "We struggled tonight, obviously, but that's not how we play baseball here. It was a tough night."