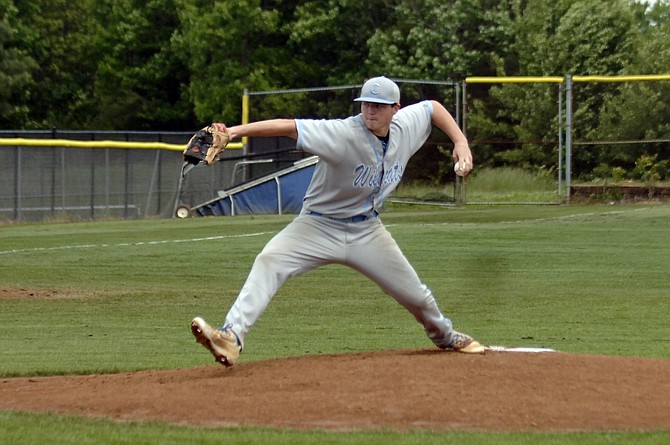 Starting pitcher Carter Egbers struck out 12 in six innings and the Centreville baseball team led 4-2 when Conference 5 Co-Pitcher of the Year Carter Bach came on to close out Herndon and extend the Wildcats' season.
Things didn't go as planned.
Bach, a tall left-hander who will pitch for Wake Forest, surrendered two runs in the top of the seventh and the game went to extras. While it would have been easy for the Wildcats to lose their composure after watching their ace fail to hold a lead, Centreville capitalized on some Herndon miscues the following inning and kept its season alive.
Centreville's Cristian Sanchez scored on a wild pitch in the bottom of the eighth inning and the Wildcats, seeded No. 3, defeated No. 6 Herndon 5-4 in the opening round of the Conference 5 tournament on Saturday at Centreville High School. The Wildcats secured a berth in the 6A North region tournament and will travel to face No. 2 Westfield at 6:30 p.m. on Tuesday in the conference semifinals.
Sanchez reached base on an error with one out in the bottom of the eighth. The next two batters were each hit by a pitch, loading the bases. With Chris Hannah at the plate, Herndon pitcher Antonio Menendez delivered a wild pitch that allowed Sanchez to score the winning run.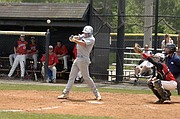 "It just shows that we'll never give up, regardless of what the situation is," Egbers said. "We could be down one, down 10, we're going to fight until ump says it's game [over]."
Egbers received a no decision, but put Centreville in a position to win. The junior left-hander allowed two runs on five hits in six innings. He walked two and struck out 12.
Centreville head coach Scott Findley described Egbers' performance as "absolutely phenomenal."
"He's really grown as a pitcher here in the past month, two months," Findley said. "He developed a changeup. … Last outing against them, he threw it some, but not like he threw it today. He threw it every fourth or fifth pitch."
Centreville scored four runs in the fourth inning, including an RBI single by third baseman Cameron Ray and an RBI double by Egbers. The first two Wildcat batters reached on Herndon errors.
Herndon managed just two hits through five innings against Egbers before scoring a pair of runs in the sixth. With two outs, catcher Alex Hurd and left fielder Joe Wright came through with back-to-back RBI singles for the Hornets, cutting the Centreville lead in half.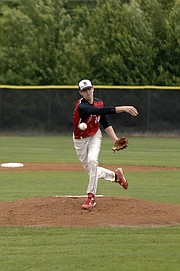 With Herndon trailing 4-2, first baseman Graham Seitz led off the top of the seventh with a solo homer to left off of Bach. With one out, a single by third baseman Ryan Ferguson and a Centreville throwing error gave Herndon runners at second and third with one out. Center fielder Devin Vigneault then tied the score at 4-all with a sacrifice fly.
How were the Hornets feeling after tying the score in the seventh?
"In one word," Menendez said, "I'd say confidence."
Centreville would score the game-winning run in the bottom of the eighth, however, ending Herndon's season.
Menendez, a junior right-hander who is committed to Wake Forest, pitched a complete game for Herndon and suffered the loss. He allowed five unearned runs and just three hits in 7 1/3 innings. The Co-Conference 5 Pitcher of the Year walked two, hit six batters and struck out eight.
"It takes more than just great pitching," Herndon head coach Mark Rueffert said. "You've got to have defense behind, hitters have got to hit at the plate. It's a team game for sure, but Antonio did exactly what we'd expect Antonio to do: keep us in the game."
Hurd and Ferguson each had two hits for Herndon.