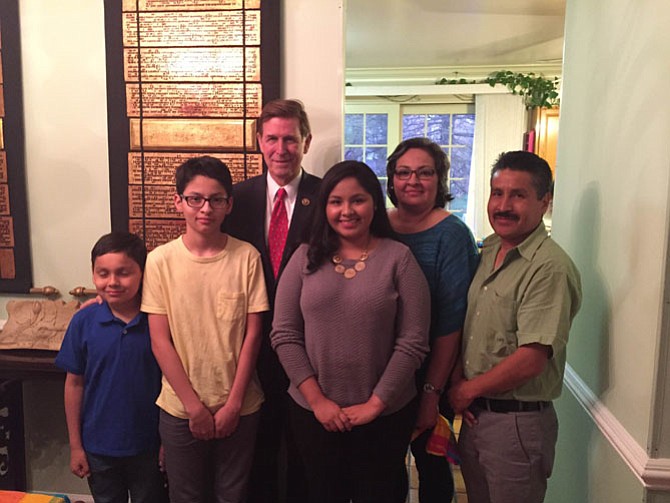 The Pintos are an all-American family. Jerry Pinto, a 50-year-old man with a thick moustache, works in construction. He says he doesn't speak English and he lets his daughter do most of the translating. His wife of 23 years, Elvira Pinto, cleans homes to supplement her husband's income, but she studied tourism and hospitality and still dreams of being a flight attendant. Their daughter Ambar Pinto is preparing to graduate from Northern Virginia Community College and hopes to attend George Mason University to eventually become an immigration attorney. Their sons Jerry (the family calls him Jerry Rodrigo) and Christian attend Fairfax schools and have strong interests in science and technology.
But then there are the ways that the Pinto family is not like the average home: the way Jerry Pinto says that every time he says goodbye to his children as they head out for school, he might be grabbed by the police that day and not see them again.
All of them, except Arlington-born Christian Pinto, are undocumented. While Ambar Pinto and soon the younger Jerry Pinto are protected, a pending Supreme Court ruling leaves their parents in jeopardy.
On April 4, the Pinto family had dinner with U.S. Rep. Don Beyer, hosted by the Virginia Coalition for Immigrant Rights at a home in South Arlington. The Pinto family lived in Arlington until 2009, when they lost their home in a fire and moved to Fairfax. For nearly two hours, Beyer and the Pinto family discussed everything from the possibility of colonization on other worlds to the immediate concerns about Deferred Action for Parents of Americans and Lawful Permanent Residents (DAPA) and Deferred Action for Childhood Arrivals (DACA). The Pinto family is one of 91,000 immigrants who would be eligible for deportation deferral, work permits, and state driver's licenses under immigration programs President Obama announced in 2015. However, the State of Texas challenged the executive action, and the fate of the Pinto family hinges on the results of an April 18 hearing on the case.
Nationwide, DAPA dinners have hosted political candidates, senators, and representatives. Ambar Pinto, an activist for immigrant rights who currently lives in Alexandria, said the meetings were about giving legislators a personal understanding of the impact of the executive action on the life of immigrants.
"My parents have lived here for 10 years," said Ambar Pinto. "My brothers don't have any other home. The fact that my family can't access the opportunities to succeed that any other American can is tough."
Ambar Pinto is already protected by DACA, and her younger brother Jerry is currently applying.
"This makes the plight of immigrant families real and human."
—U.S. Rep. Don Beyer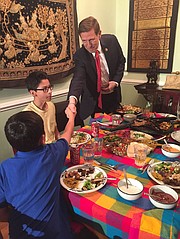 "We live just like other American people. We pay taxes, we follow the laws, but we don't have the same rights."
— Jerry Pinto
Jerry Pinto never studied English, but learned what he knows through work and family. However, if given a chance at citizenship, he said he'd like to go to school to learn more English. Jerry Pinto also speaks Spanish and Quechua, a native South American language spoken in the Andes regions. While all of his children are fluent in English, Jerry Pinto still encourages them to keep up their Spanish to preserve some of their cultural heritage. In Bolivia, Jerry Pinto was an economist and owned a business, but when a real estate project failed, his family lost everything. He decided their best hope was to try to start again in the United States.
In 2004, Jerry Pinto flew to Mexico with plans to cross the border, set up a job and a life in the United States, and for his family to join him. As part of an eight-man group, he was sent on a route across the desert that they were told would be a seven-hour walk. The actual trip took seven days, with the group stranded in the July heat without food or water. Jerry Pinto says the group found a small lake with green, stagnant water, but that they were so desperate they had no choice but to drink from it. Soon, helicopters came, and the remaining group scattered, but Jerry Pinto stayed by the lake. He says he believed he was going to die there, but finally calmed down and decided to keep walking.
Sick, dehydrated, and with his feet covered in blisters, he finally arrived at a town. He went door to door asking for water; the first man who answered threatened to shoot him, the second turned off their lights and didn't answer. At the third, a trailer owned by a Native American man, he was taken in and given water, food, and some medicine. When he took a shower, Jerry Pinto said he looked in the mirror and cried when he saw how emaciated he'd become. Once he obtains legal status, Jerry Pinto says he wants to go back to where he crossed over to try and find the man who saved him and thank him.
Jerry Pinto made his way to Virginia and found work to make sure that his family could afford a different means of crossing. Soon afterwards, the rest of his family arrived in Mexico, where Elvira Pinto is from, and were eventually able to obtain a visa. The Pinto family was reunited in Virginia in 2005 and have lived here ever since.
Jerry Pinto's story stunned the room, and for a long moment afterwards no one spoke. Finally, Beyer asked whether the family lives in fear of deportation.
"We live every day not knowing when we leave home if we'll come back or if the police will take me," said Jerry Pinto. Ambar Pinto added that stories about Immigrations and Customs Enforcement (ICE) raids, like one at an apartment complex along Route 1 last week, have sent panic through the immigrant community.
While Jerry Pinto holds onto his Maryland driver's license, in Virginia, undocumented immigrants are unable to obtain driver's licenses, and his wife is forced to rely on her husband for rides to work. Elvira Pinto does housekeeping work. She worked other jobs, but was always pushed out once management learned that she did not have a social security number.
"I would be in favor of undocumented immigrants in Virginia having driver's' licenses," said Beyer. "We want good drivers on the roads."
Jerry Pinto noted that he has not received a ticket since he moved into the country, and that precisely because of their legal status, some undocumented immigrants tend to be the most cautious on the roads.
"We live just like other American people," said Jerry Pinto. "We pay taxes, we follow the laws, but we don't have the same rights."
An analysis by the Institute on Taxation and Economic Policy found that, in 2012, 8.1 million of the nation's 11.4 million undocumented immigrants paid state and local taxes, totalling $11.8 billion in revenue.
Christian and Jerry Rodrigo Pinto both love math and sciences. Christian Pinto wants to work as an engineer of some kind, while Jerry Rodrigo is currently learning programming and hopes to be a videogame developer. As an avid gamer, Beyer's face lit up at the topic, and the three of them discussed Lego games and other franchises, as well as Star Wars and superheroes. Christian Pinto was frustrated at the cliffhanger ending of "The Force Awakens" and said that he can't wait until he's old enough to see "Deadpool."
It's a familiar scene from any quintessentially American household.
In 2009, Jerry Pinto's father died, and soon thereafter Elvira Pinto's mother died, but because of their legal status, the family was unable to return home and attend the funerals. Despite living in Virginia for over a decade, Ambar Pinto was almost unable to attend college because the family could not afford the out-of-state tuition costs, but was saved in 2014 when Attorney General Mark Herring declared children brought into the country illegally eligible for in-state tuition. The announcement was made at the Northern Virginia Community College, the very same institution Ambar Pinto would later attend.
"It was a big moment for us," said Ambar Pinto, "now we just need to make it law."
After the dinner, Beyer said the meeting left a deep impression.
"This makes the plight of immigrant families real and human," said Beyer. While the decision ultimately rests with the U.S. Supreme Court, Beyer said the meeting reinforced the necessity of the House Democrats' opposition to the Republican majority's amicus brief opposing Obama's immigration reform.
"People look at the numbers of [undocumented immigrants], not the people, not the individuals that made a life here," said Monica Sarmiento, state coordinator for the Virginia Coalition for Immigrant Rights. "They're just like any other family."
More like this story