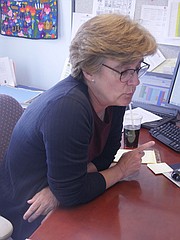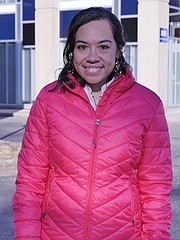 Lourdes (last name withheld to protect the family) came to the United States from El Salvador in 2005 when she was 6 years old to join her parents who had Temporary Protected Status (TPS). Today the tangled web of immigration laws threatens to pull the family in many directions. One family: three different legal categories.
The parents are facing deportation since Temporary Protected Status (TPS) was recently cancelled for El Salvador with an 18-month notice. Unless the law changes, the parents will be forced to leave the country by September 2019. This will affect 200,000 immigrants from El Salvador.
Lourdes will face deportation when her DACA renewal runs out in 2020. This results from President Donald Trump's Executive Order on Sept. 5, 2017 repealing Deferred Action for Childhood Arrivals (DACA). This affects 800,000 immigrants nationwide, with about 2,000 in Northern Virginia since the program was instituted.
The three other children in the family, who were born in the United States, are legally United States citizens.
Lourdes' parents have had TPS for well over a dozen years since El Salvador suffered an earthquake and was just getting over a civil war. This status allows the Department of Homeland Security to designate a country's citizens with TPS if they are already in the U.S. and if their country is suffering a natural disaster, outbreak of disease or armed conflict that would make it dangerous to return.
TPS is not a path to citizenship but individuals are allowed to live and work in the U.S. for the duration of the disaster without fear of deportation. This initial length of the TPS is not less than 6 months or more than 18 months but it can be renewed. Since they arrived, Lourdes' parents have renewed their TPS so many times they can't remember.
The family owns a home in Sterling. Lourdes' father has worked at Costco in Sterling for 15 years, since he came to this country, and her mother has worked at Target for 5 years. The parents have three children born in the United States as well as Lourdes who joined them from El Salvador and has DACA status. DACA is a program that allows individuals meeting certain requirements, that either entered the country illegally or remained, to receive a renewable two-year deferred action against deportation and a work permit. It is not, however, a direct path to citizenship.
So the family lives day to day. Lourdes says she just applied for a renewal of her DACA status on Friday when a Federal judge in California reinstituted the DACA renewal program ordering the administration to "maintain the DACA program on a nationwide basis." But the Department of Justice has filed a petition with the U.S. Supreme Court to overturn this ruling, bypassing the U.S. 9th Circuit Court of Appeals, and that would prohibit DACA renewals once again. Lourdes says the daughter of friends of her parents got caught in the middle. She didn't have the $500 to renew before the Oct. 5 deadline to terminate the program and before the current judge's decision reinstituting the program. She was sent back to El Salvador.
Lourdes says her dad provides most of the family income so when TPS expires he can't work legally. For the past few years, Lourdes says, they have lived like everybody else "but there has been so much indecision lately about what is going to happen. It is very stressful."
She says, "Deportation is in the back of my mind. My parents talk about it so we can be aware of the situation in case they get sent back." But if they were to get sent back to El Salvador, Lourdes said, "There are a lot of gangs, especially in the area where my parents lived. My mom's town was taken over by a gang, and they created basically a gated community to live in because people were so scared."
Lourdes is currently enrolled at Northern Virginia Community College and hopes to become a nurse. Losing DACA status means loss of a driver's license, ability to work legally and state tuition assistance. Erin McKenney, executive director of Just Neighbors Ministry, Inc. said, "You are undocumented; they can make you leave. No protection." Losing TPS for the parents also means deportation and often returning to a country where they have no ties, and maybe no family. "There is definitely a fear factor. These countries are often violent. There is no work opportunity and if you work you are often extorted and have to pay someone off." McKenney says they feel like they have a chance in America; they aren't living in fear of their lives.
Just Neighbors is a non-profit organization providing legal services to low-income immigrants in Northern Virginia. McKenney said, "We had 20 DACA renewal applications in just three days last week when the judge reinstituted the program." Fifty-eight percent of their clients live in Fairfax with 16 percent in Arlington and others in Alexandria, Prince William and Loudoun.
McKenney says DACA recipients live in fear every day. She says comprehensive immigration legislation ranges from one extreme to the other. The hardliners say that anyone who is undocumented should be sent back. Those on the other side say everyone who is here should be able to stay with a path to citizenship. "Then there is everything in between."
Lizzette Arias and her family have their own story in America but face similar daily challenges. Arias is executive director of the Dream Project headquartered in Arlington that gives college scholarships to Immigrants. She says a lot of their students are very depressed. They feel like they are studying but at the same time, will they have a work permit after graduation? She says some are having trouble keeping up with their schoolwork; they are too stressed. "If you hear of a raid, you don't know if your parents got caught."
Arias said her parents came to America on a tourist visa in 1989 and overstayed it. She came from Bolivia when she was 4 months old. She said it was tough here for her parents. They couldn't drive or go back to Bolivia to visit without papers. Her mother had left two children behind there.
Arias said her parents had a life of hiding. They didn't have too many friends because they didn't know who they could trust. Her parents couldn't engage in the children's school activities because "you don't know what will be asked of you."
"Finding a job was tough for my father; it is hard without paper. He went day to day with construction jobs and each time he had to get the next one, they would ask for papers. It was tough to survive." And she says it got even worse after 9/11. She adds that her mother was a housecleaner, which wasn't as hard because in that field they never ask for papers. Back home in Bolivia her parents had owned a clothing shop.
Arias didn't find out she was undocumented until she was in high school and they had a fire in their apartment in Arlington. "My father inhaled a lot of smoke but he wouldn't get in the ambulance because he was undocumented and he didn't know what would happen."
She says after she found out, she got very depressed. "I couldn't talk to anyone. I didn't know who to tell." Now Arias has DACA protection until her current certification runs out in October of this year. She applied for DACA when President Obama began the program in 2012 and has renewed every two years since then. "It has been easy for me to pay the renewal fee of $465 (now $495) because I was working, but for some families it is a big obstacle, especially if you have more than one kid."
Her older sister, born in the United States, turned 21 and was able to legally petition for her parents, and the parents got a green card several years ago. "But they are set on me having that American dream and they won't be happy until I am a citizen. They have spent all of these years doing the jobs no one else wants to do. Just for my future." She says her American dream is to make her parents proud and be successful after all they have done.
It is hard for Arias to see all of her friends who also have DACA. Every day the Dream Act is going to pass and then it isn't. And what provisions will be included? "We were hoping the Democrats would hold out longer. Now a lot of people believe it isn't going to happen. " She says she is part of United We Dream rallies but they have been up on the Hill for one continuing resolution after another. "When is this going to end?"