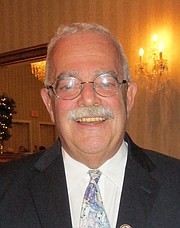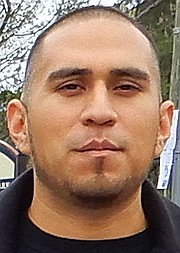 'A Movement of Hearts and Minds'
Immigrants share their stories of struggle and success.
During the Centreville Immigration Forum's (CIF) annual awards dinner, the organization presented gold citizens' awards to three immigrants contributing to their communities and bringing about real change. They are Rodrigo Velasquez, Ilryong Moon and Afeefa Syeed.
RODRIGO VELASQUEZ
Velasquez is Del. Kathy Tran's (D-42) chief legislative aide and was the former head of Dreamers at GMU. Thanking everyone for "this incredible honor," he said life wasn't always so rosy for him — especially when growing up in a home marred by domestic violence.
"Nine years ago, I thought I was going to get deported because I called the police, needing help, and was undocumented," he said. "I was just a sophomore in high school, but I had to help my family. I was fearful for myself, my mom and my brothers."
Luckily, things worked out for Velasquez and, he said, "The one person who's never given up on me – my mom – said I had to continue forward. So I began the long process of being a father to my younger siblings. I worked full time, while going to high school, to provide for them.
"But what my mom told me was engraved in my heart. She and I now have green cards and will eventually submit citizenship applications. We live in very troubling times – Muslim Americans, LGBTQ people and women are being attacked. But we're stronger than any attack, and we will continue forward."
ILRYONG MOON
Ilryong Moon is an attorney and has served on the Fairfax County School Board – including two terms as president – for more than 20 years. He, too, shared his background with the dinner attendees.
"When I first came to the U.S. from Korea, 44 years ago, in 1974, I was a high-school student," he said. "And for about 20 months, I didn't go to a barber shop because I didn't think I could express myself enough to tell a barber what I wanted."
Moon's father came to America, a year earlier. "Because we were so poor in Korea, we saw no future there," said Moon. "Six or seven families lived together under one roof, with no hot water, and one outhouse for about 30 people. And my mother had to sell her rings for tuition so I could go to middle school."
Now, proud of his two decades on the School Board, he said he and his colleagues have worked hard to see that almost 190,000 students a year are educated. "I attend meetings and events, and people ask, 'What keeps you going?'" he said. "My answer is, 'The students, who are trying so hard to be successful.'"
Noting that his mother worked as a cleaning lady when the family first came to the U.S., Moon said, "America is great because someone like me can serve on the school board of a place with 190,000 students. And people think that, if there's an Asian among the leadership of Fairfax County Public Schools, there can be other Asians in similar positions elsewhere."
AFEEFA SYEED
Afeefa Syeed founded Al Fatih Academy – focused on peace education – at the ADAMS Center. She's senior advisor for culture and development at the U.S. Agency for International Development, which administers civilian foreign aid and development assistance. Introducing her at the dinner was her son, Zaki Albarzinji.
He said his mother came from Kashmir, India at age 5 and has "served humanity across the globe. She looks for the common decency and humanity in everyone." Still, he said, after 9/11, because he was a Muslim, he didn't want to draw attention to himself. "But that all changed when she ran for the Loudoun County Board of Supervisors," said Albarzinji. "And she showed me how to build bridges through conversation and compassion."
Syeed, a naturalized citizen who's lived in the U.S. since 1975, said her international work taught her that "it all starts on the local level. So I really appreciate what you do. I didn't consider myself an immigrant, but an American."
In the 1960s, her father was a political activist in Kashmir, working for political freedom. At that time, the Kashmiris were persecuted, and their language forbidden. "From 1967-69, he became a political prisoner," said Syeed. "Then when he was released, he saw how dismal the situation was."
She said her father and others in Kashmir "heard about a man landing on the moon, and something stirred in him. But a Muslim scholar put out an edict saying it didn't happen and people couldn't believe it. Suddenly, my father realized they needed to free their minds."
Her father had received two scholarships – one to the Soviet Union and one to the U.S. – and he chose the latter. "He wanted to be part of a place where people could be free, and where it was important to them," said Syeed. "I was 5 then and spoke three languages, but he told us we were Americans and could not speak Kashmiri anymore."
Then, in fifth grade, she said, "I cried when I heard about Christopher Columbus and the Native Americans and rejected American things. In 1988 – for the first time since we'd left – we returned to Kashmir. I thought we'd be accepted and would be home. But people there considered me an American, so there was no identity for me."
Instead, Syeed had to figure out for herself what it meant to be an American. "And that's what immigrants do," she said. "We're daring, we take risks and we make choices. My religion also became important to me. I studied all religions to figure out what made me who I am. And I'm able to now teach at a school and teach about Columbus in a different way."
Still, challenges loomed, but she overcame them. "When I was going door-to-door, running for county supervisor, a door opened and I saw a Confederate flag and a stereotypical, shaved-head person with tattoos and no shirt," said Syeed. "I introduced myself and said, 'I'd like to hear your issues and concerns.'"
He told her the Potomac River was so polluted, he couldn't fish there, and they had a 25-minute conversation. "I'm a cultural anthropologist, trained not to have stereotypes, but I initially did, that night," said Syeed. "But we went past that."
She said she's inspired that, in Arabic, the word "migration" means to go from one place to another, but that "The more difficult migration to make is a migration of the mind to a state of positivity and optimism. And we can all do something and not be afraid of change."
So, said Syeed, "Migration means a movement of your heart and mind. And if we could then be in the same place – where we're all connected – we can go beyond just tolerating each other to sharing that aspect of what we are."
Proceeds from the dinner support the Centreville Labor Resource Center, the CIF's Commission for Labor Justice and its immigrant-advocacy work in Fairfax County and Virginia. And after the awards and speeches were presented, CIF President Alice Foltz addressed the crowd.
"I know you're inspired by the stories we heard – stories that shape our lives," she said. "And I hope you'll support CIF's vision. Let's make this a movement of our hearts – we will go past this [current divisiveness in the U.S.]." Then, Foltz had everyone say together, "Sí se puede – we can do it."
When the Centreville Immigration Forum (CIF) recently held its annual awards dinner, Executive Director Terry Angelotti welcomed attendees to The Waterford at Fair Oaks. She also got straight to the point of the event.
"In an atmosphere in our country when there's so much negativity about immigrants, you respect immigrants and what they bring to the global community," she said. "And you know that they make our experiences richer."
The CIF runs the Centreville Labor Resource Center (CLRC), which helps local immigrants obtain work, wages, English-language lessons, job skills and other important life tools enabling them to provide for themselves and their families. And fittingly, the theme for the Sept. 21 dinner was "Celebrating our Global Community."
"This is about telling our story and inviting others to be part of it," said Angelotti. "Our board of directors is responsible for our success – and half the spots on it are filled by immigrants. They bring their own experiences to it and know what it's like to stand on a street corner, hoping for work."
U.S. Rep. Gerry Connolly (D-11) also addressed the crowd. "America is at a crossroads again about immigration, and some Americans have forgotten who they are," he said. "America is America because of immigrants."
When he first moved to Fairfax County, he said, its foreign-born population was 3 percent; today, it's 28 percent. And although some people initially feared their influx would adversely affect schools and increase crime, he said that hasn't been the case.
"Fairfax County schools are in the top 100 in the country and have one of the highest graduation rates," said Connolly. "And the crime rate is the lowest of the top 100 jurisdictions in the country. We've created 650,000 jobs and our median income is $106,000 – third in the country."
He also stressed that chain migration isn't something bad, but rather, leads to family reunification. He then told the story of how his Catholic grandmother fled discrimination in Ireland by coming to the U.S.
"Today, her grandson stands before you, a U.S. congressman," said Connolly. "You don't know what an immigrant will become. Immigration leads to a richer fabric, stronger country and more vibrant patriotism. And those who believe in the value of immigrants need to stand up. It's a belief in freedom and the right of everyone to enjoy it. And that's why the CIF is so important – because it's not just words, it's actions – and we need a lot more of it, all over America."
Anh Phan brought greetings and congratulations from U.S. Sen. Mark Warner (D-VA). Noting Centreville's "rich diversity," he said, "Our communities are stronger when we come together with can-do spirit to make a difference in the lives of others."
Similarly, Gaston Araoz-Riveros, brought a congratulatory message from U.S. Sen. Tim Kaine (D-VA). Saying the CIF has made "invaluable contributions" to Centreville, Kaine praised its "remarkable advocacy work" on behalf of immigrants and to change immigration policies. He also thanked the organization for "creating a better community."
CIF Community Organizer John Cano noted the "positive contributions our immigrant brothers and sisters make in the community. Our mission is to recuperate wages [when employers refuse to pay immigrants for completed work], educate the community about immigrants and work with others at the state level to change legislation. Immigrants make communities better."
Speaking about immigrant families at the Mexican border was CIF Board member and immigration attorney Lisa Johnson-Firth. "I was at a detention facility this summer and interviewed parents whose children were taken from them," she said. "One woman had her child taken from her arms, and a man's son was taken while they slept. I witnessed firsthand how our legal system is failing. They moved 300 families with no notification to their legal counsel."
She said that, in September 2019, 300,000 people in this area will lose their temporary, protected status. Besides losing jobs, said Johnson-Firth, the fallout will also affect schoolchildren because "their parents will lose their homes. Every day, people are deprived of their rights and liberty by judges who order deportation with no adjudication."
So, she said, "We need to get involved and hold our local leaders responsible. We also need to support organizations like the CLRC, CIF and Legal Justice Center that are working on the front lines for immigrants. Immigrants need our help; and if we allow the most vulnerable people to have their rights eroded, all people's rights will be eroded."
For more information about the nonprofit CIF, or to contribute, go to http://centrevilleimmigrationforum.org/.