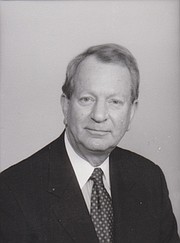 L. Manning Muntzing, 81, of Potomac, died Monday, March 28, 2016, while in Hospice Care, from complications related to Alzheimer's disease. Raised in Moorefield, W.Va., by Judge H. Gus and Virginia Muntzing, Manning graduated from the University of North Carolina at Chapel Hill, Princeton University Graduate School for Public and International Affairs and Harvard Law School. He devoted his legal career and public service to the advancement of safe nuclear power. As Director of Regulations for the U.S. Atomic Energy Commission, he spearheaded the creation of the Nuclear Regulatory Commission. After retirement from private law practice representing the United States world-wide on nuclear power, he founded many international nuclear organizations that continue with his vision.
Manning is survived by his loving wife, Nan Muntzing, of 57 years, four children, Catherine Boyden, Elizabeth McKaig, Nancy Sprinkle and Stuart Skok, and seven grandchildren.
A celebration of his life will be held Saturday, April 16, 2016, 3 p.m., at the National Presbyterian Church sanctuary, 4101 Nebraska Avenue, NW, Washington, D.C., the Rev. Evangeline Taylor officiating. A reception will follow in the Court of Flags. Interment will be private in West Virginia.
In lieu of flowers, contributions may be made to the American Nuclear Society, of which he was president, Lockbox #97781, c/o Accounting Department, 97781 Eagle Way, Chicago, IL, 60678.