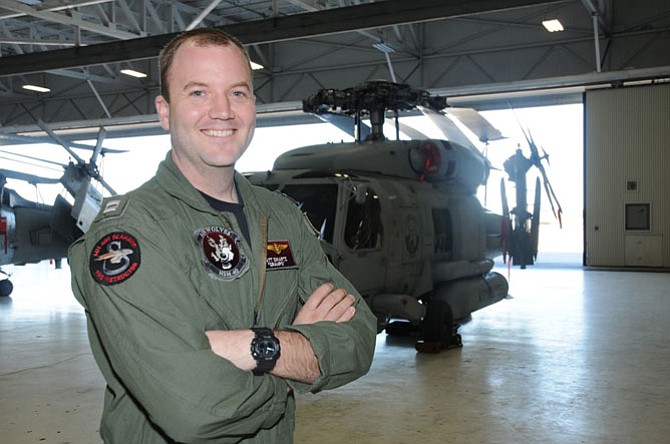 A 2001 Robert E. Lee High School graduate and Springfield native is serving with a U.S. Navy helicopter squadron that flies the Navy's newest and most technologically-advanced helicopter.
Lt. Matthew Swartz is a pilot with the "Air Wolves" of Helicopter Maritime Strike Squadron (HSM) 40, a Mayport, Fla.-based squadron that operates the Navy's next generation submarine hunter and Anti-Surface Warfare helicopter, the MH-60R Seahawk. Each helicopter is nearly 65 feet long, may weigh up to 23,500 lbs. (max gross) and can travel over 120 miles per hour for nearly 320 miles on a tank of gas.
As a pilot, Swartz is an instructor at the command responsible for training the next generation of MH-60R pilots.
"I enjoy sharing my knowledge and teaching students from my own previous experiences," said Swartz. "I get a satisfaction from seeing students complete the emergency procedures and maneuvers effectively and efficiently."
According to Navy officials, the MH-60R is the most capable multi-mission helicopter available in the world today. It is used for a variety of missions, including hunting and tracking enemy submarines, attacking enemy ships, search and rescue, drug interdiction, delivering supplies and supporting the Navy's special operations forces.
It is replacing the Navy's older helicopters because of its greater versatility and more advanced weapon systems.
Swartz said he and other sailors are proud to be part of a warfighting team that readily defends America at all times.
"I enjoy the camaraderie with my fellow pilots at HSM-40," said Swartz. "I love taking on a leadership role and mentoring junior sailors."
"The Airwolves of HSM-40, represent the best and the brightest our Navy has to offer," said Cmdr. David Loo, HSM-40 commanding officer. "HSM-40's mission is to train Fleet Replacement Pilots and Aircrewman for deployed shipboard operations in the MH-60R Seahawk aircraft. The training conducted includes aircraft flights and full visual simulators in Aircraft Operations, Anti-Surface Warfare, Anti-Submarine Warfare, Search and Rescue, and Shipboard Operations. HSM-40's support, maintenance, and instructor staff allow for the completion of over 100 assigned students, year round, operating 16 MH-60R helicopters and 5 simulators."
Serving in the Navy, Swartz is learning about being a more respectable leader, sailor and person through handling numerous responsibilities.
"I've learned to become an effective leader and better mentor since joining the Navy," said Swartz. "I continue to broaden my horizons by learning new roles in the aviation community."