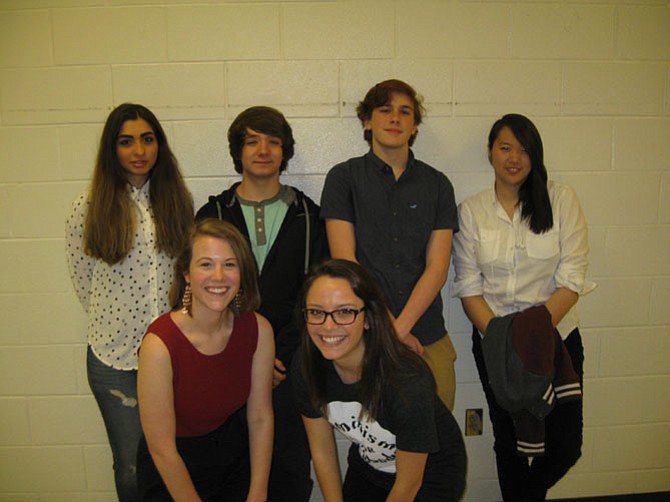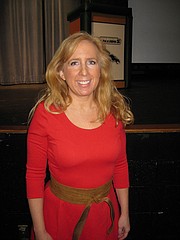 The South County High School English Department held its first Stallion Writing Days on April 7-8 in the school auditorium where students, teachers and professional writers gave presentations and discussed their writing prose.
"We're allowing the student body to hear great writing from their peers and the staff, and learn about the writing process from published authors, and to help the student body get excited about the craft of writing," said Ronielle Romney, English teacher and event coordinator. "We want to celebrate writing from different forms from different ages. And to learn more about the craft itself and really celebrate and enjoy writing."
The event was tailored to virtually the entire school; for two days during each period between 200-350 students of all grade levels filled the auditorium to hear discussions about poetry, personal narrative, short stories, and drama. The talks rotated between staff members, a couple of students and then a professional author would round up the session.
Some of the seven professional writers attending were: Jan Gangsei, a young adult author who is the parent of a student named Sven; Natalie Diaz Lorenzi, a Fairfax County librarian who writes for middle grades; Lisa Maxwell, a young adult author; Steven Scully, who writes for C-SPAN and is a parent of a student; Andrew Smith, who joined via Skype from California; Steve Watkins, a young adult author; and Vera Woodson, a staff member at South County High.
THE SELECTION PROCESS worked like this: students submitted their writing and a committee looked at it "blind" without students' names and determined which students would participate. The goal was to have as many students participate as possible. Students then did a series of rehearsals so they had the opportunity to read their pieces aloud among their peers.
Ariana DeLaurentis, 18, a senior from Fairfax Station, presented her writing on feminists. "My piece is a college essay I wrote about how when I was 16, a teacher told me that feminists were a destruction of American ideals," she said. "I felt really threatened in that situation and felt it was a direct example of sexism in our schools. I felt the school should be an open environment, so my essay is how I persevered and started the Young Feminists Club at South County." Ariana was also editor-in-chief of the yearbook, a member of NHS, French National Honor Society and Model Judiciary.
Sarah Benson, 17, a senior from Mason Neck, wrote two pieces. "My one piece is a personal narrative I wrote about my dad who is an artist. I wrote about his sacrifices he made for the family. And through his sacrifices how I've been able to grow and thrive as an artist myself. My other one is a science fiction piece which is my first foray into science fiction, so it was fun writing it," she said. Sarah is also the editor in chief of the school's Literary Magazine and works on the yearbook.
Evelyn Vuong, 17, a senior from Laurel Hill, entered three pieces. "One of them, which is called "Things Unsaid," I made when I got into an argument with my dad and let all of my frustrations out into that one story. I fused the words you cannot say out loud and turned it into cigarette smoke. When you let out cigarette smoke, people feel more at ease. The other two pieces were just fictional pieces, short stories," she said. Evelyn is also in the Technology Student Association and part of the Vex Robotics Team.
Ryan Lumbert, 16, a sophomore from Laurel Hill, wrote a play about a guy who dies but wasn't ready to die yet. "I wrote a story about a guy who died and he is trying to continue living life even though he's dead. He has an angel that's trying to get him to pass on but he won't cooperate because he's trying to enjoy life." Ryan is also involved in theater, Theater Honor Society, NHS and National English Honor Society.
Joe Hamidy, 15, a sophomore from Lorton Valley, wrote about his mother who passed away last year. Called Oppression of Depression, it's how depression is often related to oppression of the mind. "One way to defeat depression is to release your mind from the oppression of depression," he said. His second story is "Destiny" about trying to understand what destiny is. The third is "Death in Our Eyes," which is about the flow of life and how our lives work. He enjoys writing, sketching and graphic arts.
Dorsa Haftsavar, 18, a junior from Laurel Hill, just moved here six months ago. She wrote about her best friend from Iran and how she misses her. Describing her writing, she says: "It's expository writing; I'm describing the school, the classes, the first day that I was here. Whenever I see the students talking, it reminds me of my best friend. We used to do these things together." Dorsa is also involved in track and field, badminton and guitar.
IN ADDITION to discussing the publishing process, professional author Jan Gangsei of the Barrington community spoke about writing her young adult story, Zero Day. It's like a teen version of "Homeland," about a girl who was kidnapped when she was 8 years old and mysteriously returns when her father is president of the U.S. Its setting takes place in Northern Virginia and D.C. Having written using pen names in the U.K. and Germany, she has 11 books that have been published or are in the process of being published. She used the pen name, I.M. Strange, when she did the Welcome to Weirdsville series.