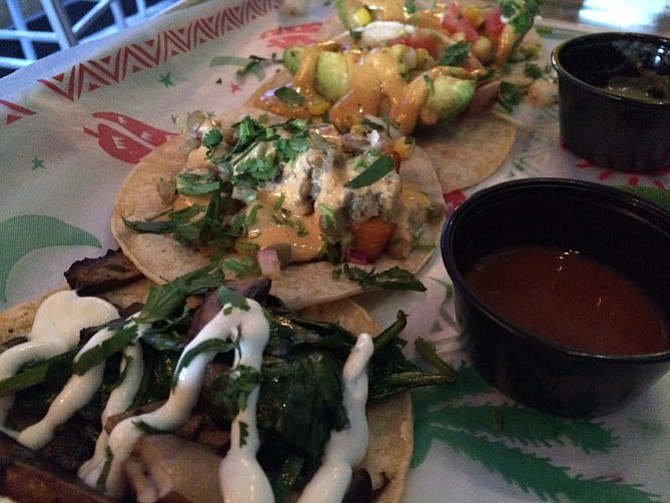 Walk the length of King Street from Route 1 to the river, and you'll see a brand-new restaurant on your stroll. Nestled between Alfred and Columbus streets on the southern side of King, Don Taco Tequila Bar beckons to passersby, inviting the neighbors in for a taco or three and a frosty margarita.
What used to be the Flat Iron Steak and Saloon has morphed into an entirely new identity, eschewing heavy steak dinners in favor of a lighter, leaner variety of dishes ranging from tacos to rice bowls to chips and guacamole. Owned by the same group as its predecessor, Don Taco offers up a fresh take on a family favorite.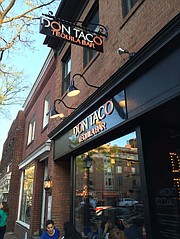 Flat Iron "never really hit the mark we wanted it to," said Don Taco co-owner Scott Parker. "Instead of continuing our run at Flat Iron, why not try a … new concept?"
Parker, who also co-owns Don Tito in Arlington among other restaurants, knows his audience. And his space in Arlington set the course for what Don Taco turned out to be.
"What we realized when we opened Don Tito is that people love tacos and tequila and beer," he said. And so far, Don Taco has capitalized on that market with great success.
"That redesign (from Flat Iron) for us has been just as successful as we thought it would be," Parker said, adding that Don Taco aimed to improve its curb appeal from its predecessor's. "… We added a huge bar to the first floor, so that when you look in you see a bar that goes all the way down the left side of the first floor."
But what diners are really here for are the tacos. And Don Taco has them in ample supply.
"Really the goal for our success … is tacos, tacos, tacos," Parker said. And the restaurant doesn't disappoint: From banh mi pork to roasted chicken Sriracha, from chipotle quinoa sweet potato to fried avocado, Don Taco's namesake offerings are plentiful.
"My personal favorite is the Mexican short-rib taco. The short rib is just smoked to perfection," Parker said. "I could just eat them over and over and over again."
One thing you'll notice upon sitting down at a booth or table is the sushi-like way you'll order up the meal. Instead of a hefty multipage menu, diners are left to their own devices with an index-card-sized, front-and-back menu featuring checkboxes next to each item. Want two surf-n-turf tacos, one grilled portabella, one jerk shrimp and three California rolls? Mark your quantities as you would at a sushi bar and the kitchen will start rolling. (And don't worry; there's always time for a second round of tacos in case you misjudged on the first pass.)
While the tacos are the obvious stars, don't count out the other menu items. The rice bowls, for instance, make for a very nice pairing with the tacos, adding a bit of heft to your lunch or dinner without weighing you down. And to forgo the chips and guacamole prior to the main course would be a crime; the guacamole is fresh, hearty, and flavorful, with just enough onion and tomato to keep the avocado lively.
And, finally, the cocktail menu contains some must-trys, as well – this is a tequila bar, after all. The restaurant sports 33 different kinds of tequila, Parker says, and they make up some of the best drinks on the cocktail list. Don't miss the jalapeno margarita, which brings plenty of spice to every sip without overpowering the rest of the drink.
After six weeks in Old Town, Parker says his team is feeling the love.
"The reception from Old Town has been so warm and so loving," Parker said. "… We are so excited to be a member of the neighborhood and to get to know everybody locally."
Details
Don Taco, 808 King St.
Hours: 11 a.m.-2 a.m. daily
Try this: The Sweet Heat cocktail. "That has jalapeno-infused vodka, blueberries, and house-made lemonade," co-owner Scott Parker says.
Hidden gem: "I wish more people would try our desserts, especially the Nutella banana split tacos," Parker says. "They're in a really soft but crunchy cinnamon sugar shell. ... People are just over the moon for them when they do try them."
Hope Nelson owns and operates the Kitchen Recessionista blog, located at www.kitchenrecessionista.com. Email her any time at hope@kitchenrecessionista.com.