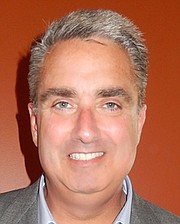 Having served 18 consecutive years on the Fairfax City Council and now completing his fourth year as mayor, Scott Silverthorne definitely has a handle on the city and its issues. So he is running for a third, two-year term as mayor in the City of Fairfax elections on Tuesday, May 3, and believes he is the best person for the job.
"The mayor has to know and understand the community," he said. "And as a Fairfax native and someone who's served this City almost continuously over 25 years, I am proud of what we've been able to accomplish and what I believe is a very bright future for the City."
Silverthorne attended City schools, graduated from Fairfax High and obtained a degree in marketing from Radford University. He's worked in government relations and executive search consulting, but the City of Fairfax has always been one of his top priorities. And under his guidance during his current mayoral term, his and the Council's accomplishments have been many.
"We got $20 million in new, state funding for transportation [projects], including $3 million in new, CUE buses, plus road improvements at Routes 50/123 and Kamp Washington," he said. "We also got body cameras for our police officers – some funded by a Department of Justice grant. And the opening of Old Town Square is, clearly, one of the most successful and enormously popular things we've ever done."
SILVERTHORNE also stressed that, in October 2014, the City of Fairfax was recognized by Google Corp. as the eCity for the Commonwealth of Virginia. The award recognizes the strongest online business community in each state. Nerdwallet.com rated Fairfax the second-best place in Virginia to start a business, and the City was also ranked high by GoodCall as a good place for women entrepreneurs.
Noting that his mayoral opponent took a swipe at City spending and debt per capita, Silverthorne said the debt per capita has actually decreased in the past few years to $6,751 in FY '15 and is projected to be even less for FY '16. And, he added, "The City of Fairfax has the second-lowest, real-estate tax rate behind Arlington County."
Furthermore, according to a story in a March issue of the Washington Business Journal, the City was acknowledged as having the second-lowest overall tax burden on its residents and businesses in the Washington Metropolitan region.
"We're one of a handful of cities in Virginia with a AAA bond rating, demonstrating that we're good, fiscal stewards of the City's economy – which also gets us cheaper rates on borrowing money," said Silverthorne.
As for the debt per capita, it's mostly due to a number of capital-improvement projects funded by bond referendums that were approved before Silverthorne became mayor. But, he said, "I fully support them because they're beneficial to the City. For example, we pay roughly $800,000 to $850,000 a year debt service for building the new library."
The City did improvements in its parks and to the downtown and placed utilities underground. "We also renovated four schools, built a new police station around 2007-07, and built an annex to the 50-year-old City Hall which was busting at the seams." said Silverthorne.
"The police station and annex were both on a 2001, $20 million bond referendum approved by 66 percent of the voters," said Silverthorne. "In 1997, voters approved about $25 million in general-obligation bonds to renovate two elementary schools. And in 2005, 80 percent of the voters approved $85 million in bonds for renovations at Fairfax High and Lanier Middle schools."
So, said Silverthorne, "When my opponent complains about so-called 'out-of-control spending,' what would he not have done? And in the four years since I've been mayor, spending is up an average of only 3 percent annually."
Regarding the rising tax rate, he said contributing to it are $1 million to the schools, $1.8 million to fully fund employee retirement benefits, $500,000 to settle an old lawsuit and $800,000 necessary to double the stormwater fund. And, said Silverthorne, "None of these expenses are frivolous."
He also takes great pride in the quality of life in Fairfax. "I'm an advocate for building sidewalks and making our City pedestrian-friendly, especially as our population ages," he said. "We want more parks, trails and walkability so people can live here as long as they want. All these things are good value for the residents and their tax dollars because they make the City a better place to live, raise a family and retire."
AS FOR ECONOMIC DEVELOPMENT, Silverthorne noted there's "incredible interest in investing in the City, including the new Lowe's, which I helped court. But it's important that the City Council and I manage development closely. For example, on the Paul VI site redevelopment, it's important we work closely with the residents and business leaders to promote a responsible plan the City can be proud of."
He said the Council has thoughtfully examined each development proposal and, in general, "The City is moving in the right direction. When you're six-and-one-half square miles, you've got to continuously work hard to grow your local economy. And one positive outcome of this development is that the City established an affordable housing policy which will eventually become a City ordinance."

Silverthorne said it is important that the mayor "looks at the big picture and leads on long-term, strategic issues critical to the City's future. Most important is the rewrite of our Comprehensive Plan – the blueprint for how the City will grow and develop over the next 20 years."
"I want to make sure we remain the best place for all generations to call home," he said. "And that includes things such as having a robust trail and park system and continuing to hold and create unique, special events that bring people downtown."
So why re-elect Silverthorne? "As a Fairfax native, I've always taken my job as a Council member and a mayor very seriously," he said. "And I believe my experience qualifies me as the best candidate in this race. I grew up in this community, I love it and I've fought on its behalf nearly 25 years and will continue to do so."