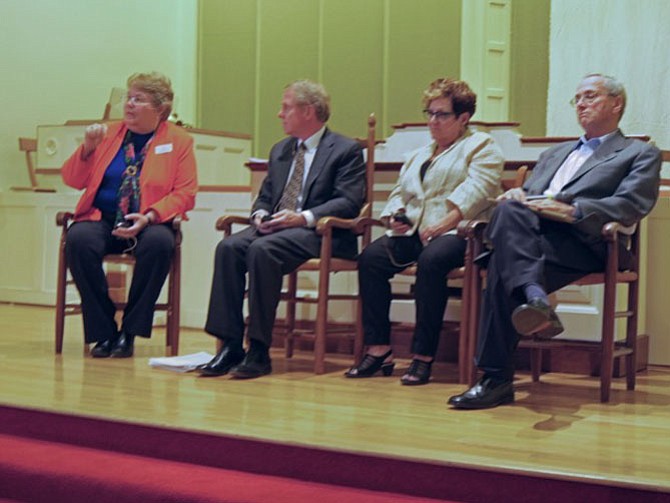 Al Schuman says "three strikes and you're out," instituted in 1995, was one of the biggest mistakes of the country. Twenty years ago, the Commonwealth adopted legislation to abolish discretionary parole and adopted the Truth-in-Sentencing (TIS), which required offenders to serve at least 85 percent of their sentences.
Schuman, speaking to a Panel on Probation held April 20 at Rock Spring UCC in Arlington, said it is important to distinguish between parole and probation. In probation a person is found guilty and sentenced to stay in the community while in parole the person goes to prison and it is his or her way out.
Schuman was warden of the Lorton Youth Center back when "we thought rehabilitation make a lot of sense, not like today." He was president of the American Probation and Parole Association at the time when parole was abolished in Virginia. His association opposed the abolishment of parole.
According to Faye Taxman, "We incarcerate more people than any other country in the world and they are incarcerated 3-5 times longer; it's something about our culture. We love punishment as a vehicle." Taxman is a professor in the Criminology, Law and Society Department and director of the Center for Advancing Correctional Excellence at George Mason University. Taxman served on the Governor's Commission on Parole Review established in June 2015 "to review the 1995 decision to abolish parole and develop recommendations to enhance public safety, and improve outcomes for the offenders, their families and the Commonwealth." "Due to lack of time and some things I won't get into, the question the commission never got to answer was should parole be reinstated," she said. But "what we did get to was very important. Our criminal justice system has grown out of proportion to its relevance." Taxman said that 20 percent of the population now has a criminal record.
Another panel member, Bill Richardson, said that there are 3,000 prisoners who are still subject to the parole system and 33,000 after 1994 that have no prospect of parole. He says the commission made recommendations to figure out how long it is effective to incarcerate people. He added that the Pope said, "No one can be incarcerated forever because that isn't the logic of the Gospel." Richardson did point out there is a geriatric release for prisoners 60 or older but since 2009 there has been an average of one release a year under this provision. Although it would take legislative action to reinstate parole, "it's not a good career move for legislators to address this issue." Richardson is a lawyer in private practice who works for the Federal Communications Commission.

Gail Arnall, who served for 10 years as executive director of Offender Aid and Restoration (OAR) serving Arlington County and the cities of Alexandria and Falls Church, recommended expansion of dollars for evidence-based practices that OAR and others have instituted because it is an effective way to get situated back home. Arnall explained these programs start working with prisoners while they are in prison and continue the transition when they are released. In addition, Arnall said it is important to add dollars for mental health, drop-in centers. She said there are good facilities in this area but in most rural areas in Virginia that's not the case. "And I'm passionate about the situation that under today's law, prisoners come home with heavy court costs that they can't pay. The court costs were assessed every time they had to go to court and there was no way to pay them when they were in prison." OAR is a community-based restorative organization dedicated to strengthening community through second chances.
The panel pointed out that states like Georgia "and Texas of all things" have been leaders in parole reform. This is primarily because even though they have conservative legislatures, they recognized the fiscal advantage to their states with fewer prisoners and secondarily that it was a better way to think about welfare of prisoners and rehabilitation into society. A number of states which have parole have put the savings from prison reform back into education, mental health and other services. Taxman said that in Virginia it costs the state $1,500 for a parolee and $30,000 for a prisoner each year.