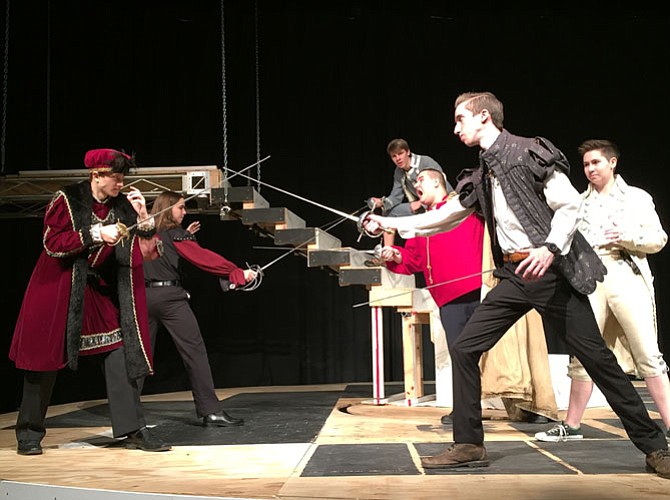 Featuring a cast of 34 and a crew of 12, Centreville High's dramedy, "The Three Musketeers," is all set to burst upon the stage.
Showtimes are Friday-Saturday, April 29-30, and Friday-Saturday, May 6-7, at 7:30 p.m.; plus Saturday, April 30 and May 7, at 2 p.m. Tickets are $10 at the door.
"It's a fast-moving, extremely energetic production with lots of action and sword fighting," said Director Mike Hudson. "It's also an unusual representation and a delightful take on a well-known story."
It takes place in a palace in the French countryside surrounding Paris in the mid-1600s. And what makes this play such a unique version of the story is that the playwright included the "Three Musketeers" author, Alexandre Dumas, into the storyline.
"Dumas is writing a 15-part, newspaper story and his publisher wants it immediately," said Hudson. "So we see Dumas quickly writing it, and then the story loosely follows the 'Three Musketeers' plot. But it's a different and entertaining, new version and a funny show. And there's no blood, so children can come see it."
In addition, he said, "We spent a lot of time creating some unusual tech for this show. We built a 28-foot-wide, floor turntable moved by a computer-program-controlled electric motor. And we're using it to facilitate rapid scene changes and character exits and entrances."
"There's also an 8-foot-tall staircase rising out of the turntable's central portion that doesn't move," continued Hudson. "And via a black curtain, scenery pieces and actors will rotate onto the turntable out of the audience's sight. We're also projecting scenery onto the upstage sky curtain [cyclorama].
Centreville grads Rick Mathews and Will Prescott assisted with the design and building of the turntable and staircase, and another grad, Kyle Artone — studying costume design at VCU — provided some of the costumes from his college. The Musketeers will have a swashbuckler look, such as white, long-sleeved shirts, black leather pants and boots.
Regarding the cast, said Hudson, "We have a number of newbies who auditioned and impressed me with their talent. It's a good show to end a season with because it has parts for both the new people and the veterans."
Portraying Dumas is sophomore Fletcher O'Brien. "'The Three Musketeers' is based on the memoirs of a swordsman," he said. "At times, Dumas is writing it; and at other times, he's in the story, acting it out as Treville, the captain of the Musketeers."
Calling Dumas charismatic and likable, O'Brien is enjoying the role. "It's my first audition and first Centreville play, and it feels great to have the lead," he said. "My character gets to be in control of the story, changing things as it goes along and getting himself into both conflicts and funny situations."
He said cast learned stage combat from a professional, and the audience will love the show because "The sword fights are cool, the story is entertaining and it has lots of funny moments."
Classmate Margot Vanyan plays Queen Anne of Austria — even though she's really the queen of France. "She's very proper and serious and knows what she wants," said Vanyan. "She's also clever and intelligent. She has a royal attitude toward life and can handle conflict well. And she has beautiful costumes; they're colorful satin and velvet with ermine trim and lots of jewels."
Queen Anne is involved in a scandal and, said Vanyan, "Drama's always fun to play. I've played two royals before, so I know how to behave. However, my character has a mature, dignified tone when she speaks, while I'm used to playing more comedic roles."
She said the audience will enjoy "the scandals, witty humor and, most of all, the fighting and fencing. There's lots of action and romance. And Kourtni McNeil, who plans the villainess, Milady, is wonderful. She's both sexy and terrifying at the same time and plays her role very well."
Playing Porthos, one of the Three Musketeers — elite members of the King's Guard — is senior Annelise Jones. "They're all cocky and pompous, especially Porthos," said Jones. "He's unusual in that he's concerned with fashion and thinks very highly of himself. But as a member of the 'Three Inseparables,' as the Three Musketeers call themselves, he also has a noble heart underneath his arrogance."
It's her first, big role as a main character and she's loving it. "With all the sword fighting going on, it's exciting to come to rehearsal and be this character, said Jones. "He's fun to play because he's such an outlandish guy, and getting to be one of the heroes of the story is a great experience." And although she's a female in a male role, she said all the Musketeers will wear wigs, mustaches and beards.
Jones said all the comedy will surprise the audience. "This show's a perfect balance of serious drama and comedy," she said. "And this version written by Charles Morey is funnier than the original."
Junior Jack Moore portrays D'Artagnan, the new Musketeer recruit. "He's overconfident because he's young," said Moore. "He falls in love quickly and easily and is kind of a ladies' man, but noble. He's also confrontational and an excellent swordsman. He joins the group and they fight to return a necklace to the queen to prevent the cardinal from taking over the throne."
As for the show, Moore said the audience will enjoy "the complex plot, excellent acting, the Musketeers, entertaining sword fights and romantic subplot."
He likes his part because "I'm overconfident, too, so it's a good fit. And the sword fighting was fun to learn and practice. I've done theater all three years here, and it's exciting to have a lead in a mainstage play. I get to talk a lot, fight and kiss people onstage — what's not to love about it?"