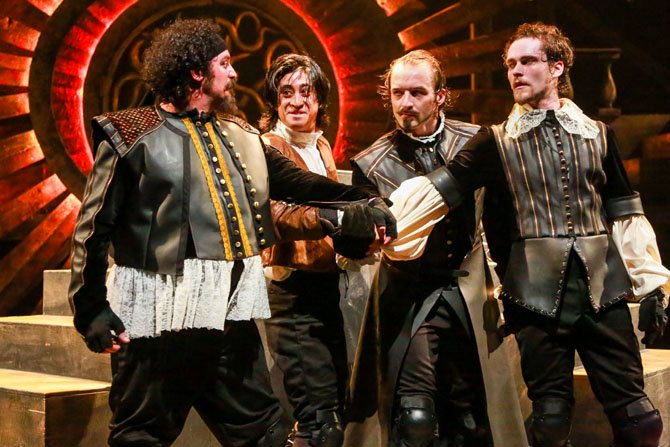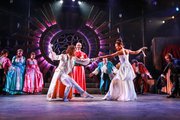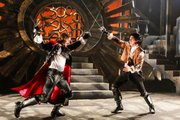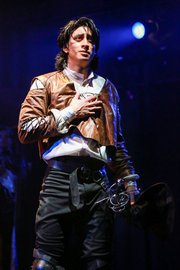 The mantra "All for one and one for all" springs onto the stage as Synetic Theater brings to life the fiery, bombastic ensemble of lovers and fighters in the Alexandre Dumas classic "The Three Musketeers."
In a brilliant adaption by brothers Ben and Peter Cunis, director Paata Tsikurishvili masterfully stages a production that sizzles with adventure as the young D'Artagnan pursues his desire to become that noblest of guardsmen in 17th century France: a Musketeer.
The story of the Three Musketeers revolves around D'Artagnan, a Gascon youth who dreams of fighting alongside the Musketeers. He makes his way to Paris, where he quickly teams up with Musketeers Athos, Porthos and Aramis. The four men become entangled in the plot surrounding the sinister Cardinal Richelieu, the murderous Milady de Winter and a romance between the Duke of Buckingham and Queen Anne.
Dallas Tolentino takes center stage as the swashbuckling D'Artagnan, with Ben Cunis as Athos, Hector Reynoso as Porthos and Matthew Ward as Aramis. Together they form a tour de force ensemble that dazzles the audience with their comedic wit and physical artistry.
Dan Istrate is riveting as the villainous Cardinal Richelieu with Robert Bowen Smith as the eccentric King Louis XIII. The regal Brynn Tucker is Queen Anne with Brittany O'Grady as her loyal confidante Constance.
Synetic's co-founder and choreographer Irina Tsikurishvili returns to the stage as the treacherous Milady de Winter. Her choreography, in combination with Ben Cunis' fight choreography, is pure magic to watch, leaving the audience in awe at the speed, agility and execution of the complex swordsmanship.
All of this mesmerizing artistry is set to an original score by Konstantine Lortkipanidze, with costume and set design by Anastasia R. Simes and lighting design by Brittany Diliberto.
Brothers Peter and Ben Cunis worked on this original adaptation for more than 10 months, taking on the challenge of adapting a complex storyline to the stage and bringing the breathless action of Dumas' novel to life. The result is a smart, witty and comical production filled with intrigue.
"The Three Muskateers" is a must-see evening of electrifying entertainment from one of the area's most innovative theater companies.
"The Three Musketeers" is playing now through June 9 at Synetic Theater, 1800 S. Bell St., Arlington. For tickets or more information, call 1-800-494-8497 or visit www.synetictheater.org.