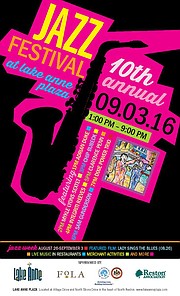 Lake Anne Plaza has announced the return of their Lake Anne Jazz Week and the artist line up for their annual Jazz & Blues Festival, which will be celebrating its 10th anniversary this year. The Lake Anne Jazz Week will take place starting Friday, Aug. 26 and will conclude on Saturday, Sept. 3, Labor Day Weekend, with the 10th Annual Jazz & Blues Festival.
The week will feature a variety of jazz themed events that will take place from live music, merchant activities, to a free feature film classic, Jazz on a Summer's Day, on Aug. 26, part of Lake Anne's ongoing Summer Film Festival series and kicking off Jazz Week activities. The Jazz & Blues festival is a free, family friendly, all-day event that will take place from 1-9 p.m. and will showcase a variety of talented regional and national jazz & blues artists.
Jazz & Blues Festival Line Up (Sept. 3):
1 p.m. Adrian Duke
2 p.m. Mykle Lyons Sextet
3 p.m. Bubeck
4 p.m. Integriti Reeves
5 p.m. Clarence Penn
6 p.m. Sam Gunderson
7 p.m. Dixie Power Trio
Jazz Week Merchant Activities:
Chesapeake Chocolates, Wine, Gifts and More – Sept. 1: Virginia Wine & Cheese Tasting 6 – 7 p.m. Sept. 3: Wine and Chocolate Tasting 2– 4:00 p.m. Free.
PetMAC Pet Nutrition Center – Jazz up your pet with 35 percent off all collars, leashes and apparel.
Reston Art Gallery - Browse locally-created works of art at Reston Art Gallery & Studios at Lake Anne Plaza. Choose from a variety of musically-themed works of art in various media such as acrylics, oils, watercolors, pastels and even mobiles and collages, and get 10 percent off. You may even get lucky and get to see the artist at work creating a masterpiece. Refreshments will be served.
Reston Museum – 20 percent off special edition Robert E. Simon martini and Bloody Mary glasses, each one etched with the signature of Reston's founder.
Reston's Used Book Shop – 50 percent off on all jazz and blues themed books
Samantha Hu, Medical Chi-Kung Therapy – Free consultations during Jazz Week
Small Change Consignment - All musical toys will be 20 percent off at small change off during jazz week
The festival is sponsored by Lane Anne Merchants, Friends of Lake Anne, the Reston Community Center, and Reston Association. For the full schedule of events/times, visit www.lakeanneplaza.com.