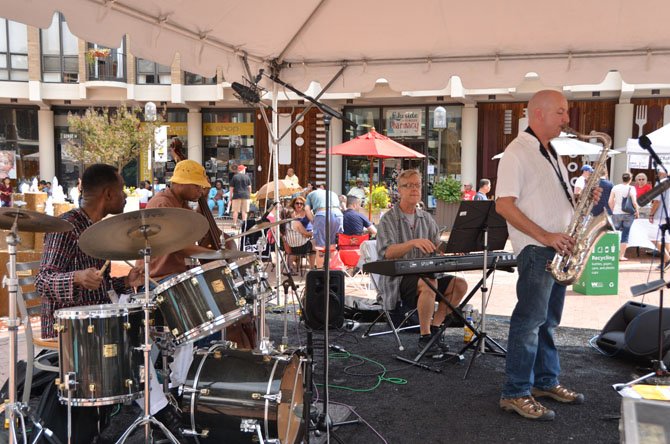 The seventh annual Lake Anne Jazz and Blues Festival was held on Saturday, Aug. 31. Visitors and guests enjoyed an afternoon and evening of "Jazz on the Lake." Reston Community Center was a major sponsor of this annual event presented by the Friends of Lake Anne and the Lake Anne Merchants and hosted by Lake Anne Plaza. The event was free and open to the public.
Eve Thompson, a resident of Reston, helped organize this year's Lake Anne Jazz Festival. "The Jazz and Blues Festival is a great festival and we are thankful to have some local artists who grew up in this area on the stage. This event has grown bigger every year," said Thompson. "We are averaging up to 50 artists a week at Open Air Market on Saturday and we are working on extending the farmers market."
Craft beer by Mad Fox Brewery was available for purchase, and there was fun for children with face painting and corn-hole boards. A paper mural with a design by artist Valerie Theberge was set up behind the water fountain, courtesy of the Initiative for Public Art Reston or IPAR. Adults and children were welcome to contribute to the paint design. Anne Delaney, director of IPAR, provided participants with paintbrushes. "We are very grateful to the friends of Lake Anne to participate in today's events and provide an activity for both kids and adults," said Delaney.
ARTISTS AND CRAFTERS from the Saturday Open Air Market at Lake Anne Plaza also enjoyed the music. Julie Courtwright, owner of Geek Chick Knits brought her knitting gear and crafts for display. Courtwright has been vending at Lake Anne Plaza since June, and was also at the July ukulele show. "It has been really wonderful," said Courtwright. "Today it was warmer than I we expected but it is wonderful to have the jazz music in the background. I love being here."
Jessica Rhine, one of the owners of Booda Boutique, was operating her vending station at the music festival. Jessica and her husband Michael use their business Booda Boutique to sell handmade jewelry, bags and accessories to the D.C. area. "This music is great," said Rhine. "It is my second year vending here in Reston. Last year's festival was a cloudy and rainy day so this is a nice change." Rhine thought the music festival had brought in some more clientele. "The customers are loyal and support local business. This is a good place to vend."
Susan Burwell, one of the owners of the Reston Used Book Shop, welcomed store guests and visitors. "This is the seventh year of the jazz festival," said Burwell. "The store has been here for 30 years. It has been operated by us, the Burwells for 15 years. The festivals are great fun and a way to introduce people to Lake Anne." The Burwells purchased the bookstore in 1999 on April Fool's Day from the store's original owners, Sue Schram and Sue Wensell, who established the store in 1978.
Reminiscent of a European coastal village where people live, work and play, Lake Anne Plaza is a community nestled around a lake, one of the few places in Northern Virginia where visitors can dine or shop at independently owned establishments. Also attending the jazz festival was Cheryl Terio-Simon and her husband Robert Simon, who is most known for founding the community of Reston. "It is nice that there are a lot of local musicians that grew up in this area," said Mrs. Simon.
FOUR OF THE MUSICAL ARTISTS are Reston raised: Mykle Lyons, Sam Gunderson, Peter Fraize and Beverly Cosham.
Cosham, a resident of Reston since 1967, entertained the audience with several songs including "I've Got You Under My Skin" by Cole Porter and "Stormy Weather" a 1933 song written by Harold Arlen and Ted Koehler.
Cosham has remained an active member of the community, currently as president of the Reston Community Orchestra Board and the current board chair of the Reston Community Center. "It [the festival] brings Reston back to when Lake Anne was the center of Reston. It brings together some very interesting music," said Cosham.
The event concluded with a performance by singer-songwriter Rashida Jolley. This was her third year headlining. She's known for her fusion of R&B, hip-hop, classical and pop music, producing a melodic and inspired sound with the use of her harp. Rashida has appeared on The Ellen Show, The Today Show, The Mo'Nique Show, and most recently on NBC's hit show "America's Got Talent."
For more information about Lake Anne Plaza, visit www.lakeanneplaza.com.