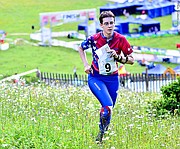 Hannah Culberg, a First Lieutenant in the US Army and Springfield resident, is set to compete for Team USA in the Nokia Tyres World Orienteering Championships. The competition will take place in Stromstad-Tanum, Sweden, August 20-28.
Orienteering, a challenging sport which involves using a map and compass to race across terrain, is highly competitive abroad. Culberg, 26, was chosen for the US team earlier this year. First Lt. Culberg graduated from the United States Military Academy at West Point in 2012 and is now an engineer assigned to the National Geospatial-Intelligence Agency.
Culberg was drawn to the sport in college because it combined her love of outdoor adventure and running. She explained her motivation in the sport, saying "there's nothing more satisfying than reaching the zone where you feel strong, you perfectly understand the map, and everything is flowing perfectly". She will be competing in the Sprint and the Relay race in Sweden and hopes to place well.