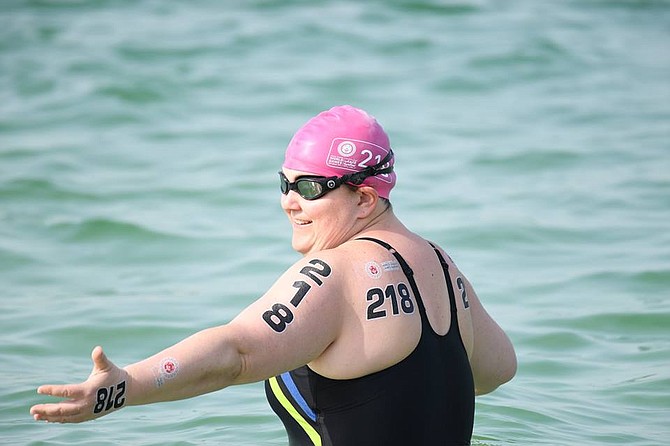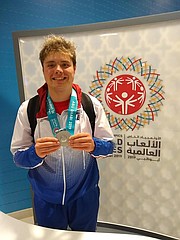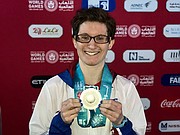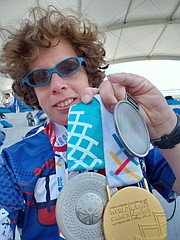 "Local Special Olympics athletes have proudly returned home from Abu Dhabi with an impressive amount of hardware to show off and even more memories to share," announced Special Olympics Virginia.
Four athletes from Northern Virginia competed in the Special Olympics World Games Abu Dhabi 2019 held March 14–25.
Together the athletes picked up a total of eight medals, three golds and five silvers.
Two days after a crushing technical disqualification in the 200m freestyle, Joey Roney of Herndon earned a silver medal in the 100m freestyle finishing with a time of 00:01:20.72. "I appreciate the silver medal from the World Games more than my gold from the USA games because I competed against the best in the world. It was the experience of a lifetime," said Roney.

Jennifer Mitchell of Alexandria set her sights high and dominated the1500m Open Water Swimming competition capturing gold with a time of 00:41:27.00.

Victoria Martin of Woodbridge took two silvers, one in the 100m individual medley and another in the 200m freestyle. Martin ultimately captured gold during her last day of competition as she blazed through the water in the 100m breaststroke with a winning time of 01:35.99.
Runner, Karen Dickerson of Springfield, took home gold in her first of three events with a time of 1:50:12 in the half marathon. Dickerson also earned silver in the 10,000m run. "I'm just doing my best to represent the USA and doing it for a long hard run … Always start strong, finish strong, because that is what counts," said Dickerson.
The USA Special Olympics delegation included 215 athletes, 65 coaches and 34 delegation members who supported team operations. More than 7,000 athletes from 170 countries competed in the event held across the seven Emirates. Special Olympics described it as "the world's largest humanitarian sporting event and a global movement which focuses on the empowerment of People of Determination with intellectual disabilities through the power of sport."