Following the death of retired Alexandria Police Corporal Jim Bazzle in 2003, Dana Lawhorne, then an Alexandria Police detective, honored the contributions of Corporal Bazzle with this tribute published in the Gazette Packet on June 5, 2003. More than a dozen years later and in light of the national focus of policing, this piece offers a still timely perspective on how to develop strong law enforcement-community relations. Today, as Sheriff, Dana Lawhorne still recalls and embraces the legacy of Corporal Bazzle and other law enforcement officers committed to building solid and rewarding relationships with their community members.
I attended Maury Elementary School in the late 1960s. The neighborhood, the school, the people, were like a page right out of Mayberry. I grew up understanding there were three figures of authority that set the tone for clean living. They were School Principal Lillian Beach, Juvenile Court Judge Irene Pancoast, and Alexandria Police Corporal Jim Bazzle. You never wanted to disappoint them.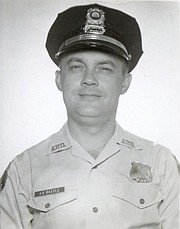 Ms. Beach would read over the PA very important announcements. Letters written to her from former students were filled with words of appreciation and admiration. It was obvious to me they respected her as much as the rest of us did.
Judge Pancoast was known as an influential force in the adolescent world. I recently ordered carpet from Home Depot. They dispatched a man to measure. During small talk I learned he grew up here. At the age of 17 he found himself in front of Judge Pancoast and she had these words of wisdom for him: "Son, you see that recruiter over there. Go talk to him or else."
He spent 25 years in the U.S. Marine Corps.
Corporal Bazzle was the police officer every kid in town knew and respected. He was bigger than life. He died on May 15. When someone you know dies, it causes you to reflect back and think about how they influenced your life.
Corporal Bazzle was in charge of the school safety patrols in addition to all his other duties. He was a frequent visitor to the school. The highlight of the year was when he had an assembly for all the kids. He preached to us the importance of safety. He played the ukulele while he sang and danced. He told stories, made jokes, and best of all he made you laugh. If you were lucky, you got a piece of candy which he always had in his pockets. He never left home without it. It was the best one-man show in town.
To serve under his command as a school patrol was an honor. He made us feel like we were on the front lines of homeland security. Of course those words had a whole different meaning back then. Entrusted to keep the school safe, set the example for all to follow, take pride in what you do, are just a few of the values I learned as a young boy.
One memory stands out in my mind. When you were on post and a police car was approaching, you had to yell down to the next post, "Cherry Top!" The police cars in those days had a single red light on top. This gave your fellow constable advance notice that a VIP was heading your way. After screaming from Oak Street to Chapman, you had to stand at parade rest while the police car drove by. It was embedded in my mind that you were to respect the police. I did.
Corporal Bazzle broke down all the barriers between the police and young people. He knew how to reach you. You knew he was your friend. Community policing was invented well before retired police chiefs started writing books about it 25 years later.
Corporal Bazzle retired in 1975. Not one to stand still, he took the job as a crossing guard at Taney and Pegram. He was a fixture on that corner. Known for waving at everyone who drove by, teasing pedestrians, giving out candy, feeding dogs, dishing out kind words, he never let up. If you met him for the first time, you felt like you knew him all your life. He was that kind of guy.
He lived his personal life in the same way. Married and devoted to his wife Ellen, for over 50 years, a loving and caring father to Betty and Robert, best friends to Charlie, Chip, Chelsea, Karen and Jessica, he was the life of their party. When I visited the funeral home there was a display of photographs depicting his life. It told a story about a man who was constantly surrounded by his family and friends and how he lived his life.
A friend told me the funeral home got crowded that night and the mood was if it was a wedding, a celebration. A good way to remember our good friend.
If Ms. Beach was still at Maury, I'm sure she would turn on the PA in order to make a very important announcement. She would tell the students about the death of Corporal Bazzle and what he meant to all of us. As she did this, the students would be standing at their desks at parade rest. The cherry top that was the top cop deserves no less.