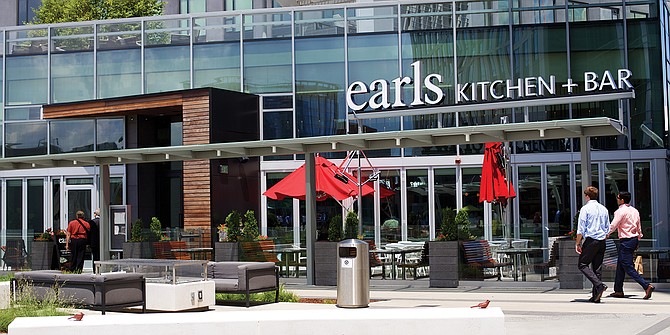 McLean — If you are among the Northern Virginians who have not indulged in the fabulous food at Earls Kitchen + Bar located in Tysons Corner Center then you have totally missed out on some of the area's best cooking. That's all thanks to the energy and dedication of its young chef, Ryan Spicknell, a native of Canada.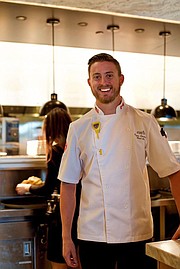 Of course, the parent company is Canadian, so picking this fellow as its executive chef makes sense. Besides, Spicknell has been a foodie his entire life. As he noted, his mother was always in the kitchen preparing family meals, and as a youngster, he sat in the kitchen, either watching her cooking techniques or doing his homework.
As luck would have it, Spicknell had dinner at the Vancouver location of the Earls group, and learned that management was looking for summer help. So he jumped at the chance, and from dishwasher to kitchen help, the youngster, perhaps unintentionally, launched his culinary career. After attending a two-year culinary program at the age of 20, he earned the Red Seal of Accreditation—a Canadian trades designation—and started working fulltime with Earls.
Now in Virginia, Spicknell adheres to the company's standard recipes—all of which are topnotch—but also tweaks dishes to appeal to the Virginian palate. "My cooking is so diverse," he said. "It is really interesting to see what people want, and seeing how it has changed. There is still a lot of demand for Asian cuisine, like my sushi and bibimbap, and also for Latino flavors, like the chimichurri skirt steak," adding he works with many different providers so that even the seafood, from scallops and salmon to codfish, is ultra-fresh.
As he reflects on this past year in Earls Kitchen he noted that he has really loved working with such great ingredients—and with figuring out American culinary preferences. "It has been great working with such excellent ingredients," he said. "There are things I have had to change, such as portion sizes, and listening to what patrons are asking for." And to date, he lists as the most asked-for recipes the Dynamite Mango Sushi Roll appetizer, the chimichurri skirt steak entrée with the house-made chimichurri sauce, and the sticky toffee pudding with warm molten toffee sauce poured over the chocolate cake for dessert.
Delighted with his Northern Virginian life and working scene, Spicknell said he loves meeting new people every day, being welcomed by the community, seeing how the staff has come into its own, and on his days off, hiking. And, of course, heading into DC to explore the culinary scene there. "And the weather? I cannot complain much," he said.
Earls Kitchen + Bar, Tysons Corner Center, 7902 Tysons One Pl, Tysons. Phone: 703-847-1870. Hours: Lunch & Dinner daily, Brunch weekends.