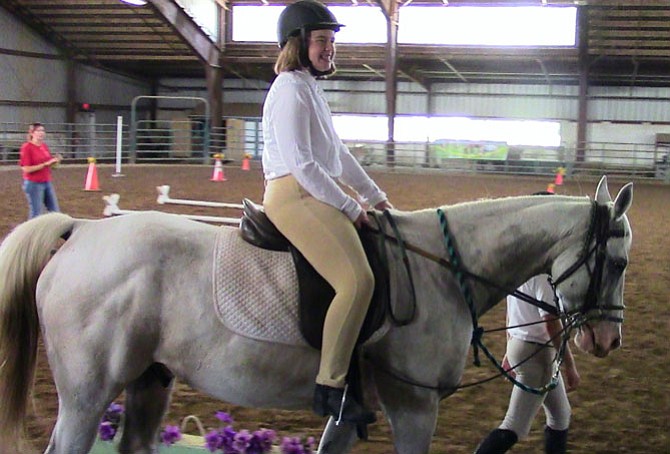 Herndon — As a certified therapeutic riding instructor, Davorka "Dada" Suvak has given lessons to at-risk children, senior citizens and people with disabilities in Fairfax County for almost 10 years. But when she was told that her small nonprofit had to vacate its rented property, she panicked.
"We received the notice to vacate the property exactly one week before Thanksgiving and they wanted us moved out by Dec. 31," she says. "We really need a Christmas miracle to go through this transition and survive it."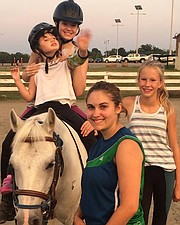 The SPIRIT Equestrian Program in Herndon has rented a farmhouse on West Ox Road next to the Frying Pan Farm Park for the past three years.
It was a month-to-month lease and Dada knew from the beginning that the owner was looking to sell.
"There was no space to fight or blame anybody," she says.
Slowly, the organization, which has 14 horses, raised money so that it would be prepared. The "Home for SPIRIT" campaign on Indiegogo, an online fundraising website, has raised more than $17,000.
Meanwhile, more than 300 clients spent nearly 4,000 hours riding horses with the organization last year, according to its annual report.
John Stubbs, a single parent of Falls Church, enrolled his 14-year-old autistic son Wilton into the program a year ago. It was a "desperate" attempt to find something for his son to enjoy.
"Once he hit puberty, there was absolutely nothing except for looking at his iPad or playing with toys that he seemed to enjoy in life," Stubbs says.
HORSEBACK RIDING quickly became a passion for Wilton. Ice skating, bowling and many other activities were tried, but horseback riding is the only thing that has stuck.
"It has to do with that bond with the horse, I'm sure," he says. "It's really improved his self-esteem. He can't ride a bike, but he can make a horse turn left and right, trot and stop."
When his 8-year-old son Christopher, who has no disabilities, saw his brother Wilton riding one day, he demanded to participate as well.
"Now my sons for the first time have a shared activity and it has been absolutely wonderful that they have this thing in their life," Stubbs says.
Laura-Jeanne Springer's 16-year-old daughter Nicole has been riding with Dada and her volunteers for the last seven years.

Springer enrolled Nicole in classes to help develop her core muscles, since she was born with Hypotonia, a syndrome that affects muscle tone.
"The confidence it's given her, I can just see a change," she says. "Not only does she have confidence when she's on a horse, it spills over into other aspects of her life like in school and here at home."
She says Nicole would be heartbroken if she could no longer ride Max, her favorite horse.
In anticipation of losing the farmhouse, Dada and her volunteers were looking to raise enough money to purchase a mobile office trailer and horse trailers and pickup trucks to transport the horses.
But they ran out of time.
There was not enough funding for these goals when the property was purchased by McLean developer Scimores Corporation.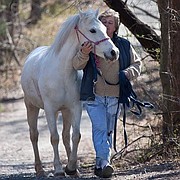 Fortunately for Dada and the people who rely on her program, they received good news.
On the morning of Dec. 1, Dada got her Christmas miracle. The Fairfax County Park Authority called her and said that it was considering allowing her to rent and use some of its fields in Frying Pan Farm Park to continue her work and house the horses.
BY THE END OF THE DAY, an interim agreement had been reached.
Judy Pedersen, a spokesperson for the Fairfax County Park Authority provided this statement to the Connection:
"The Fairfax County Park Authority and SPIRIT Equestrian are hard at work on a cooperative agreement that will ensure the continuation of equestrian therapy services for the community. We have reached agreement on an interim use agreement that will allow SPIRIT to relocate to Frying Pan Farm Park and are currently working on a long-term solution. We anticipate closure on this agreement in time to meet impending deadlines for their departure from their current location to a spot on our farm in Herndon. We appreciate the many members of the community who have spoken up in support of this remarkable program."
While the details of the long-term agreement are being worked out, Dada is thankful that her organization will survive.
"We are so thankful to the Park Authority that they considered us as a vendor that is good enough to deserve a place in the park," she says.