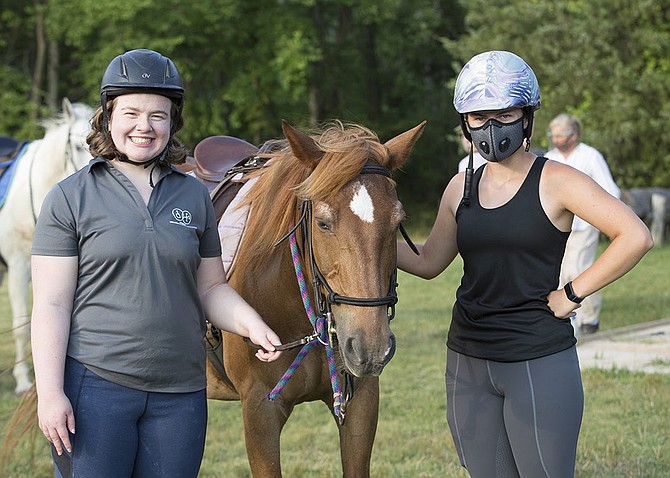 "The ability to be aware to have compassion; to be confident, but not arrogant; and to take joy in helping to create someone else's success."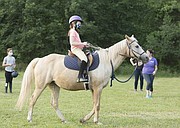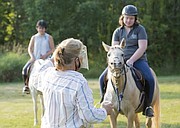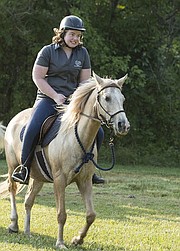 Davorka (Dada) Suvak, co-founder and director of Spirit Open Equestrian Program at Frying Pan Park in Herndon, made Equine Assisted Learning a top priority. The programs, available for youth, families and corporate and other groups, each use the interactions between horses and humans to encourage personal growth and development and to improve basic life skills, according to Spirit's website. But after interviewing a few of the teenagers and their parents who participate in the youth program, that barely scratches the surface of the value this program can bring.
Learning basic riding skills, grooming, tacking and barn skills as well as providing assistance for the therapeutic riding program are merely a backdrop for what is happening.
Riders in the Equine Assisted Learning program have significant responsibilities, "We get here before classes start, feed, groom, tack and exercise horses," Meagan Hosker, 16, explained. "The best part is getting to hang out with awesome people, like Nicole."
Her mom, Claire, got to the heart of what it has meant as a parent. "The program teaches excellent time management skills without even having them aware. How else would these students be able to accomplish all their successes with higher grades, horse management, other school commitments, and learn and support the Spirit program?"
When therapeutic riding classes are in session, the more experienced EALs side-walk (spotting and/or physically supporting riders), lead horses for riders who are not able to fully control them and some EALs are in training as assistant instructors.
Danielle Springer, who is getting ready to go off to college in the Fall, has watched her sister's joy of therapeutic riding for many years. So a few years ago, when she was looking for an activity for herself, getting involved at Spirit was an obvious choice.
Danielle values having had the opportunity to develop her leadership skills, "I feel like I have the personality for a leader. But I sometimes need help in focusing my attention," she said. "[As an assistant instructor] you have to watch at most five kids [at the same time]," which she acknowledged can be a challenge, "You learn to look at both the small things and the bigger picture." And communication is critical for keeping everyone moving and safe, "You are in charge of the five riders, then you have volunteers and EALs walking with them," and that can be a lot, she says.
Danielle recognizes how those skills translate to an office job or the hospital she hopes to work in when she completes her nursing degree. There are going to be times, she says, "where [I] may have a task and need to manage and motivate a group to reach an end goal."
Abby Schwall of Oakton is just 16, but with the grace and poise of a much older young woman. "One thing that is special about the horses here," says Schwall, "is that the majority of them are rescue horses. So you don't know how they are going to react to certain situations, [which means] you have to make sure you can handle whatever they are going to throw at you. [That has taught me] to be able to maintain my cool. So now it's a lot easier to handle situations I'm not used to or comfortable with."
And while these EAL girls, as the young clients refer to them, are growing themselves, they are providing wonderful role models for young riders there, who cherish their friendships and aspire to one day become EAL's themselves.
Nicole Springer of Sterling treasures the friendships she has made with the EALs, who help out during her riding sessions. When the virus hit, it was very hard. She choked up as she described what it was like for all those months. "I was sad. I cried a few times. Because that is one of the biggest things I miss during this whole thing." Her mom, LJ, agrees that it had been hard, sharing that Nicole had missed Buttercup, the horse she rides and the EALs equally.
Born with low muscle tone (hypotonia), which impacts both her fine and gross motor skills, Springer's parents recognized how important it was for her to build key muscle strength and signed her up for therapeutic horseback riding when she was nine years old.
A bubbly college student now, Nicole is proud of how far she has come. 'It made me stronger. I can jump rope now and I can play basketball more easily." And now she is an independent rider, which is a big achievement, Parents of therapeutic riders echo the same joy that while riding has improved physical strength and skills, it has also had an impact on confidence and self esteem.
During the stay-at-home order, Suvak hosted a weekly Zoom where the entire Spirit community could come together. According to Susan B., her daughter, 10-year-old Sarah couldn't wait to catch up with Suvak, the EALs and the horses. Her calendar marked each week, Sarah made sure her homework was done and the table was set in time.
When hippotherapy, horse related physical therapy, was recommended as a companion to Sarah B's traditional physical therapy, her parents knew they had their work cut out for them. At three years old, she wasn't very steady on her feet, which made her fearful of things that might knock her over, and horses are big, especially when you are so little.
So for the year she was on the Spirit waitlist, they found every opportunity to get Sarah excited about horses. Pony rides available at the fair, they were on it. Vacation pony rides, sign them up. Sarah started to enjoy the ponies. But despite all of the preparation, on that first day at Spirit, Sarah's parents were apprehensive and then, suddenly she was up on the horse, "excited and comfortable," her mom says.
Alongside traditional physical therapy, there has been great improvement over the years. Parents can all relate to having to nag their children, and being ignored. For Sarah's mom, Susan, it was heartening to see Sarah respond immediately to Director Davorka (Dada) Suvak's admonishments to sit up straight on the horse. Now ten, Sarah's posture is perfect and she rides independently, controlling the horse herself.
Her confidence has grown and she has set goals for herself. She aspires to one day be an EAL and she hopes to transition from therapeutic riding to traditional riding.
In addition to the therapeutic riding clients served by Spirited Open Equestrian Program, Spirit's equine-assisted psychotherapist works with children referred by Fairfax County's Children's Community Services Act. The CSA helps children and families access support services when a child struggles with serious emotional or behavioral problems and equine assisted psychotherapy is one of the therapies used in that effort. Private pay clients can also participate in equine assisted psychotherapy at Spirit. You can read more about it here.