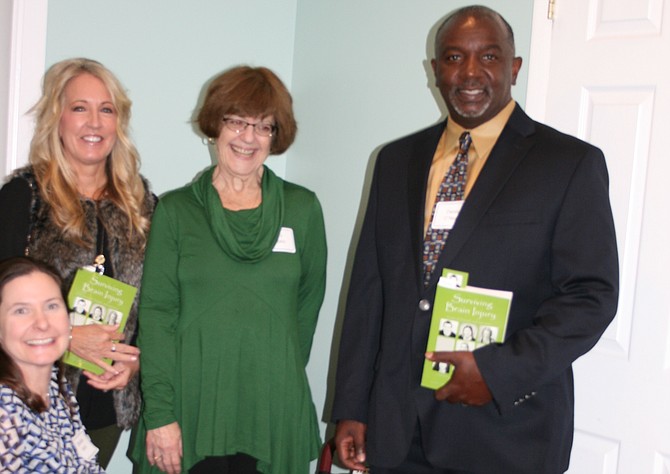 Burke — A new resource is available to those who've been touched by traumatic brain injury (TBI) called "Surviving Brain Injury: Stories of Strength and Inspiration" by Amy Zellmer.
A collection of 90 stories, mostly by TBI survivors, "Surviving Brain Injury" personalizes life's trajectory after a blast to the head, a fall or stroke.
Statistics
TBIs (traumatic brain injury) occurring in Virginia annually is 28,000.
Disabled as a result of brain injury in:
•City of Alexandria: 3,191
•Arlington County: 4,694
•Fairfax County: 22,587
Source: Brain Injury Association of Virginia
It is a resource for providers, caretakers and a growing population of TBIs, according to Alexandrian Toni Popkin, one of the contributing writers. About 2.5 million Americans annually will enter the world of TBI, which is often misunderstood, undiagnosed and overlooked in severity.
"Your identity flips," said Popkin, who suffered four car crashes over the years and a concussion due to a fall in 2016.
Popkin, who lives alone, relies on a full-service dog named Bud and the kindness of others to help her get through the day. Her essay "Ten Things I Learned to Help Someone with a TBI" offers practical advice for friends and family. Ask, for example,"Do you have any upcoming doctor appointments I can drive you to?" Call and say, "I'm on my way to the grocery store …. What else do you need?"
For Popkin, keys to her survival are practical assistance and greater awareness of TBI. She's an advocate, something she never thought she'd be in her entire life. She pays attention to things now, like snow hindering streets, she speaks out, writes op-eds and organizes events, like the one held in November at the Marina Towers in Alexandria to launch "Surviving Brain Injury."
Others joining Popkin at the November book launch told similar stories of TBI symptoms: headaches, fatigue, depression and short-term memory loss. But no story is alike because the brain is as uniquely complex as is the rehabilitation and recovery process.
Derek O'Neal, also from Alexandria, discovered music therapy and relied on the love of his wife and five children as forces behind his survival. O'Neal described himself as an overachiever: a well-educated man, a Desert Storm veteran, a vice president at an automotive group in Michigan looking for the next step up. And then in 2004, a deer ran into his car.
"You can never get back to what you were," O'Neal said. "I put things in verse and tune to help me remember things." And he counts on songs like "Life is a song worth singing" by Johnny Mathis to keep him motivated. O'Neal is now a board member of the Brain Injury Association of Virginia and practiced as a paralegal after his car accident.
"Your identity flips."
Toni Popkin, "Surviving Brain Injury" contributing writer
The will and ability to give back seems to be a part of the cathartic way to heal for O'Neal, Popkin and both Molly Raymond of Fairfax Station and Danielle Houston Karst of Burke, who also spoke at the book launch.
"[The car] accident took everything," said Raymond, formerly a registered nurse for 26 years who lost her math and speech abilities for more than two years. "It is a huge thing for me to help others." She has turned adversity around to help injured veterans with her adaptive sports program, No Boundaries: Changing Disabilities into Abilities of Our Heroes. She announced at the book launch that she had two daughters with her husband and 70 sons from her eight-year program.
Karst, a TBI survivor since 1997 (she was 16 at the time), brings insight to the TBI experience with her blog TBItriumphs.com.
For those who may need help: "Just call," said Karen Luffred, chief operating officer of Brain Injury Services, a local nonprofit committed to empowering TBI survivors on their journey of recovery. "Don't be alone. We can put you in the community," she said.
"Surviving Brain Injury: Stories of Strength and Inspiration" by Amy Sellmer. Published and copyright 2016 by Amy Zellmer. 357 pages.
More like this story