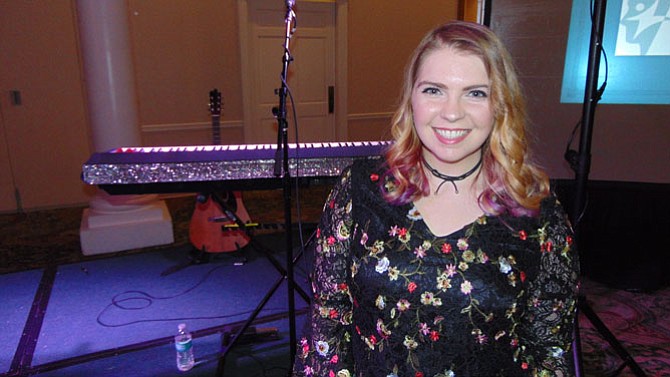 A few hundred people attended the annual reception for The Brain Injury Services on Monday, March 19, 2018, at The Waterford in Springfield. Using a "Wizard of Oz" theme, the evening honored volunteers, clients, caregivers and staff from Brain Injury Services as well as key corporate partnerships.
Started in 1989, the organization based in Springfield helps more than 600 children and adults with brain injuries build the skills and confidence they need to lead productive lives. They offer services through their clubhouse/day program, case management and pediatric programs.
"We are honoring our volunteers who have given back so much to the community; volunteers who themselves have a brain injury; volunteers who want to help people with a brain injury," said Denise Hyater, Executive Director. "It's about recognizing them, thanking them, and hoping that they are able to continue to support so many people in Northern Virginia with brain injuries."
MICHELLE THYEN, Director of Volunteer and Community Engagement, said: "Tonight's event is an annual reception that we put on every year in honor of Brain Injury Awareness Month, in particular to honor all of the community volunteers, the consumers who are survivors of brain injury, and the community partners, the corporate partners that help Brain Injury Services to propel survivors forward in their recovery process."
Added Samuel Knight, Vocational Specialist: "What we're doing today is acknowledging our volunteers, and everyone who went through our Volunteer Placement Program, PALS (Providing a Link for Survivors), Person-Centered (Volunteer Program) and also acknowledging the people who worked in the Supported Employment Program with Brain Injury Services."
The first to be recognized was the Speaker's Bureau, comprising 16 survivors who inspire and educate the community on brain injury, stroke, and concussion through their stories. Speaker Amy Hobbs shared her story of recovery.
"They speak at universities, rehab centers, hospitals and corporations. They want their stories to matter and to make a difference. By sharing their experiences, other survivors have been inspired to speak out for the first time," said Thyen.
Other programs that were honored were the PALS Program, which enables clients to develop a mutually enriching friendship with a community volunteer; the Person-Centered Volunteers that enables clients to develop a friendship with a volunteer while engaging in an activity; the Volunteer Placement Program, which helps clients secure fulfilling volunteer work in the community; and the Supported Employment Program that helps survivors achieve their employment goals by transitioning from volunteering to returning to work. The Outstanding Community Partners and volunteers were honored as well as Cindy Furman, who won the Volunteer of the Year Award.

DURING THE RECEPTION, Cristabelle Braden, a brain injury survivor who is also a singer/songwriter, entertained guests and told her story. "I had a traumatic brain injury a little over 10 years ago and doctors said I'd never finish high school. I had to re-learn how to get dressed and take a shower and all these things that were once simple," she said.
After her rehabilitation, she began to write music and share her story of brain injury awareness. She has a CD called "Hope Survives" about her journey with brain injury and tours nationally. "I believe it's all by the grace of the Lord that I was able to finish high school and I went on to graduate from Lebanon Valley College. Now I tour nationally as a singer/songwriter and advocate and speaker for brain injury awareness. I do concerts at hospitals, rehab centers, prison ministries, homeless shelters and I do a lot of church concerts."
Scott Perry, a PALS Volunteer who is also a corporate sponsor through his law firm, Perry Charnoff, added: "We have a person (Diana) that we meet with at least once a month and we've actually become very good friends with her family and our family. And we love to take these family outings and go to local parks. And we find that while we do it for volunteer work, we get just as much out of it as hopefully they do."
Attending the banquet was Kelly Radford, 39, a brain injury survivor from Alexandria. After a car accident in 2000 that left him disabled, he has been volunteering at the Adapt Clubhouse in Alexandria as well as Mount Vernon Estate where he stamps the adventure maps for the kids and provides wheelchairs and listening devices to tourists from all over the world.
"I still go to the Adapt Clubhouse where we do things like gardening and cook, and still go to George Washington University where I help with the speech and hearing Master's Program," he said.
For more about the organization, visit the website http://braininjurysvcs.org.