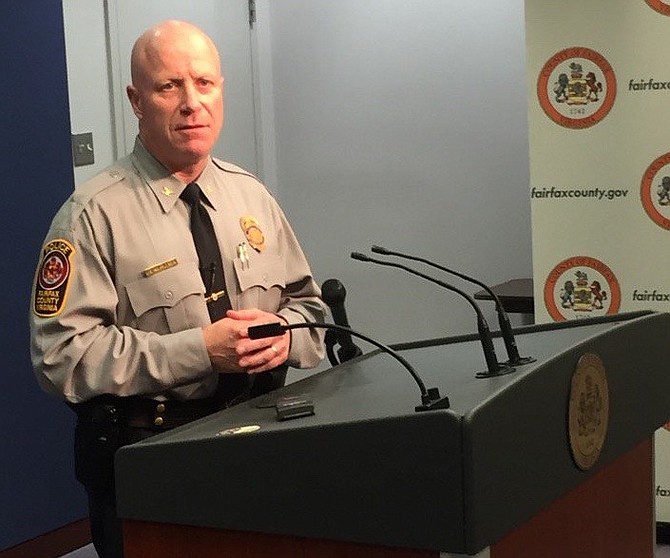 Fairfax County — Fairfax County Police Department Chief Col. Edwin Roessler Jr. was rear-ended by a drunken driver in Centreville on Monday night, Dec. 12.
Roessler experienced minor injuries and was taken to Inova Fair Oaks Hospital for evaluation and treatment. He was released later in the night and was back to work the following morning.
A 40-year-old Centreville woman, who was driving the Nissan SUV that struck Roessler's unmarked police cruiser, a 2017 Ford Explorer, was arrested at the scene. A passenger in her SUV, a 48-year-old man, was released at the scene of the accident.
The driver was taken to the Fairfax County Adult Detention Center in Fairfax where she was charged with a DWI. She was released the following morning on Tuesday, Dec. 13.
Roessler was driving southbound on Lee Highway around 8:40 p.m. when he stopped for a red light at the intersection of Stone Road when he was struck.
While he was waiting for the traffic light to turn green, he was thinking about getting home to eat dinner and later going to pick up one of his children from the airport who was flying home for the holidays, Roessler said at a press conference the following afternoon.
"It was a very long day … That's all I was thinking about and the next thing I know, I'm being jolted real hard," he said. "It took me a few seconds to realize that I was just rear-ended at full speed while I was stopped in traffic waiting for the light."
He immediately approached the SUV to see if the driver and her passenger were OK.
"I went and checked on them and asked them if they were injured," he said. "They said, 'No.'
He then reported the crash to dispatchers.
It was then that he started experiencing a headache and pain in his back and legs. He told reporters that he had replacement surgery on his left hip on Aug. 30 and was afraid that he was experiencing complications.
"I was kind of in shock," he said. "I didn't feel anything and as I sat [in the cruiser] … I started getting a headache, and my back started tightening and my legs started cramping."
Though he feels "very sore," he thanked God that he was OK. "The X-rays were good, CAT scan's good … just glad for my health."
He said that it could have been a different story had he not worn his seatbelt.
"If I wasn't buckled in, I don't think I would be here," he said.
He had serious words for drivers, especially during the holidays when there are parties and festivities going on.
"Drinking and driving don't mix … Spend a little money and plan," he said. "Take a taxi. Don't get behind a wheel. You're going to kill someone."