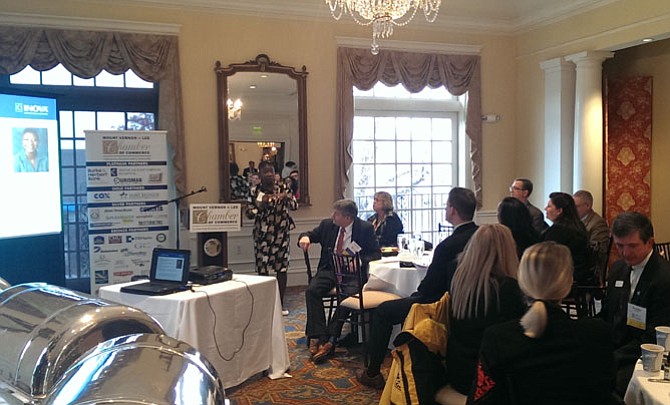 At 3 a.m. Nov. 16, the new Veatch Family Emergency Department at Inova Mount Vernon Hospital opened its doors to patients. The time was meant to be a slow one for hospital work, Inova Mount Vernon president and CEO Deborah Addo said — intended essentially to be a "soft open."
Things didn't go as planned, Addo explained while addressing the Mount Vernon-Lee Chamber of Commerce during a Biz Breakfast event at Belle Haven Country Club on Dec. 8. There was more traffic than they expected, but she said staff was prepared to handle it and all went well.
In fact, Addo said, a woman had planned specifically to be the very first to deliver a baby in the new department.
The state-of-the-art facility which features 35 all-private rooms, new "fast track" rooms to treat less serious injuries, improved ambulance access, new cardiac emergency rooms and a specialized pediatric treatment area, is named for primary donor Jeff Veatch and his family.
Addo explained how Veatch, an entrepreneur from the Mount Vernon area, was impressed with the care his family received during a visit to Inova. "He said 'I want to ensure where I bring my family to receive care, health care is state of the art,'" Addo said.
Veatch made a matching gift of just over $2 million for the department, she said.
Having a state of the art facility "allows us to attract and retain providers," Addo said.
Over the next three years, Addo and Inova plan to enhance and upgrade the Inova campus with a new parking structure and medical fitness facility.
For more information, click here.