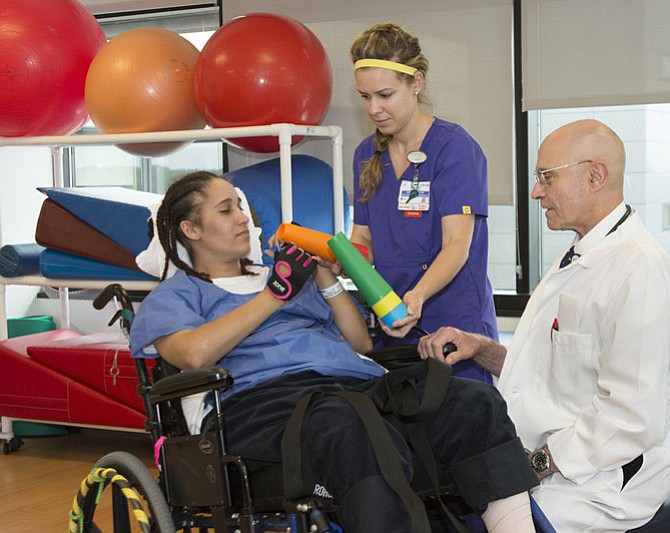 Mount Vernon-Lee Chamber of Commerce and Inova Mount Vernon Hospital partnered to co-sponsor Community Day and the hospital's 40th anniversary celebration on Saturday, Sept. 24.
This is the fourth year the chamber sponsored a Community Day to recognize and celebrate local businesses, non-profits and Mount Vernon and Lee residents. Since Mount Vernon Hospital was planning to celebrate its 40th anniversary, the chamber decided to join celebrating Community Day simultaneously with Mount Vernon hospital.
"Mount Vernon Hospital is the heart of our community and we were very excited about the opportunity to celebrate the Hospital's Anniversary with them," said Holly Dougherty, executive director of the Mount Vernon-Lee Chamber of Commerce.
A crowd of over a thousand families, business representatives, and nonprofit organizations, entertainers, former patients, hospital staff, and community and political leaders gathered Saturday on Mount Vernon Hospital's grounds to celebrate 40 years of health care service to the community. Those who came enjoyed music,children's games, food, and visited business and non-profit promotional tables. Jay McConville, member of the Mount Vernon-Lee Chamber of Commerce board of directors, served as master of ceremonies.
It was more than an anniversary celebration; it was celebrating a rebirth and a renewal of the hospital. For long-time residents, this year's celebration marked a turning point in the history of the hospital's on and off decades-long struggle to establish a permanent presence in Mount Vernon. As part of the presentation of county and state resolutions commemorating the hospital's 40th anniversary, Supervisor Dan Storck, state Sen. Scott Surovell, and Del. Paul Krizek acknowledged and paid tribute to those former political and community leaders who played a crucial role over the years to preserve the hospital's present location. In addition, those former political leaders — former Supervisor and U.S. Rep. Herb Harris, former Supervisor Warren Cikins, and former Supervisor Gerry Hyland — acknowledged and thanked community activists such as Anne Andrews and Louise Cleveland who many years ago participated in preparing the report recommending that the hospital stay open and remain in Mount Vernon.
As the community has matured, a growing number of residents have emerged as donors and vocal advocates of the hospital.
Jeff Veatch and his family chose to donate to the creation of the Veatch Family Emergency Department that will be opened at the end of this year. He explained why he chose to donate a $2 million matching gift to the hospital: "This is my home. This is where I've spent most of my life. I developed into the man I am today because of the people in this community. My family, great teachers, great coaches, great leaders, and great friends all impacted me greatly. … Every great community needs a great hospital. I wanted to find a place where I could give back and make a real difference. Where better to help build a world class facility? Inova Mount Vernon Hospital is a place that will one day likely serve every person in this community or someone they know. The emergency department is the front door of any hospital. It's the only part of the hospital 90 percent of the people in this community will ever see. … This is going to be a place that will help keep the amazing doctors we already have and attract new ones. And it might be a place that will one day save your life. … I could not think of a better way to say thank you."
Patients came forward during the anniversary celebration eager to comment on the care they received at Mount Vernon Hospital. Francis Imbriglia, a patient diagnosed with West Nile virus encephalitis, said, "My wife transferred me in a comatose state from a Maryland hospital to Mount Vernon Hospital. The infectious disease doctors established a medical care plan to care for me and treat the West Nile virus. I eventually came out of the life-threatening condition and it was because of the conscientious and intense monitoring, repeatedly icing me down to avoid dangerously high temperatures, and applying medications. Then the rehabilitation staff helped me to begin to improve and gave me hope and dignity. … I can't thank Mount Vernon hospital enough for their compassionate and quality medical care; they saved my life."
40 Years
Deborah Addo, CEO of Inova Mount Vernon Hospital, spoke at the anniversary celebration:
"Forty years is a major milestone for this organization and community. This is a partnership that has been cemented over time. As the community grows and evolves, we want to ensure that we are nimble enough to address those unique needs. Also, as the community ages, our service lines need to grow and intentionally address those unique needs.
"Patient needs have changed, be it a need for quality, service, privacy, enhanced technology or aesthetics. The opening of the Mark and Brenda Moore Patient Tower in 2014 provided 40 new patient rooms. Additionally, the fast approaching opening of the Veatch Family Emergency Department in November will provide 35 emergency Bays, up from the present 20.
These initiatives align with all of the Inova Mount Vernon Hospital goals. I am pleased that our employees, volunteers, physicians, the Inova Health System, donors, and the community have all joined forces to help deliver the kind of health care our patients and families deserve. Inova Mount Vernon Hospital has a proud past and a promising future. 40 never felt so good."
Details
MOUNT VERNON HOSPITAL
In 1976: 76 Beds
In 2016: 237 Beds
2013: Opening of the new Lorton Health Plex, a Mount Vernon Hospital Emergency and Referral Service
2014: Opening of the Mark and Brenda Moore Patient Tower that added 40 private patient rooms
2016: Opening of the Veatch Family Emergency Department which expands the number of emergency room Bays from 20 to 35.
Inova Mount Vernon Hospital is now the home of the nationally recognized Joint Replacement Center, the Inova Rehabilitation Center, and Wound Healing Center.
2015 Hospital Statistics
1,015 employees
532 physicians
312 registered nurses
300-plus volunteers
36,417 volunteer hours
12,125 chaplain volunteer hours
Annual Mount Vernon Hospital Activity
11,177 admissions
2,826 inpatient surgeries
1,443 outpatient surgeries
42,437 emergency department visits
Contact Information
Inova Mount Vernon Hospital
2501 Parkers Lane
Alexandria, VA 22306
www.inova.org
703-664-7000
Inova Healthplex-Lorton
9321 Sanger Street
Lorton, VA 22079
Inova.org/Lorton
703-982-8400