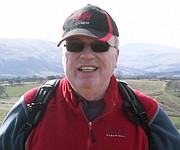 What a lucky find in a local farmers' market in Chantilly: Nyall Meredith of Celtic Pasties, a one-man operation making and baking several variations of the pasty. What is that, you may wonder. If you have not sampled a pasty, you are in for a treat. (Note: A pasty is pronounced to rhyme with "fast-y.")
These filled and crimped-closed pastries, which resemble large fruit turnovers, are the traditional British Cornish hand pies, whose origins are unclear but whose popularity has now spread from Cornwall, England to Australia, Mexico, Jamaica, and the U.S. Tradition does attribute these savory treats to the Cornish coal miners who took their wrapped-up pasty along for lunch during the workday. But at least one historical site notes that pasties were described in the 1100s in the legends of King Arthur and a few centuries later in the ballads of Robin Hood.
Regardless of their true origins, because of modern tastes and inventive bakers, the pasty has emerged as one of today's go-to foods in some parts of the U.S. After all, what could be more convenient, succulent, and delicious than a hand-held pie filled with any one of several different flavored meats and vegetables?
Although traditionally made from cubed beef and potatoes, pasty makers today have opened up their imaginations and refrigerators to concoct delicious treats. Just ask Meredith, whose pasty options include Beef & Guinness, Cottage Pie Style, Chicken Curry, Chicken & Leeks, Colcannon (mashed potatoes and cabbage or kale) and Cheese & Onion pasties. For someone who spent most of his working life in an office, taking on this cooking profession may seem rather challenging.
"I wanted to do something else," said Meredith. "I had an idea for the pasty business, so I thought give it a try. I have been doing this since 2011. I taught myself." As he added, in the UK, pasties are now more popular than ever in the last 20 years, making this business choice seem sound. But as Meredith has discovered, making pasties is very time-consuming, varying from recipe to recipe. "The cheese and onions are very simple," he said. "The filling is just cheese and chopped onions."
With his wife as helper who fills the pasty, Meredith said that he has learned ways to speed up the process, from the first days when he did all prep work by hand. "I now have a vegetable chopper, which save me 3 or 4 hours a week," he said.
He has found that his most popular pasty is the cottage-pie style, which consists of ground beef, onion, carrots, mashed potatoes, tomatoes and cheddar cheese. The second most popular: the mango chicken.
"Practically everything I do someone's favorite," he said. "The demand is now more diffuse."
As he tries to decide whether to open a store front, Meredith is delighted that pasties have become so popular in the metro area. As he noted, the pasty store in Vienna and his business are the only sellers in the area, and before them, locals had no idea what a pasty was. How delicious we now can buy some.
For more information contact Nyall Meredith and Celtic Pasties, email celticpasties@gmail.com.