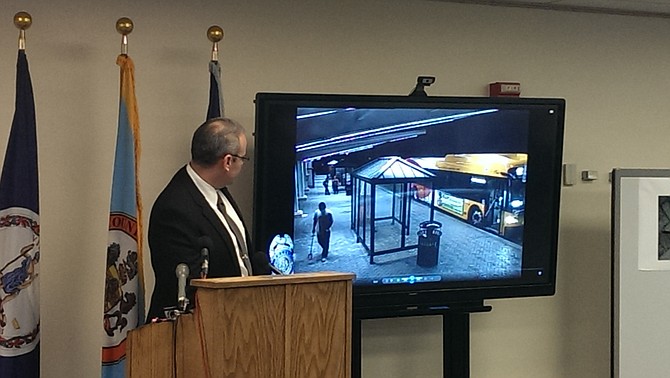 In a decision released Dec. 16, Commonwealth's Attorney Ray Morrogh cleared Fairfax County Master Deputy Sheriff Patrick McPartlin of any criminal wrongdoing in the fatal shooting of Yovani Amaya Gomez that took place Aug. 15 outside Inova Fairfax Hospital.
Morrogh's decision comes after receiving the results of the Fairfax County Police Department criminal investigation on Nov. 15.
McPartlin was one of the sheriff deputies involved in the death of inmate Natasha McKenna at the the Fairfax County Adult Detention Center. McKenna, a woman with a history of mental illness, died in February 2015, a few days after she was restrained, shackled, hooded and shocked with a taser four times in an attempt to move her to the Alexandria jail. Morrogh decided against any charges against the deputies, including McPartlin, in that case as well.
Police had previously released some details of the chain of events leading up to McPartlin shooting Gomez in August. Morrogh's report added further information to the timeline, which included Gomez being taken in for medical attention for possible dehydration and/or mental health episode, and his discharge with no diagnosis for either. After being escorted to the bus stop outside Inova by a security guard, another pair of guards responded to a report of Gomez wielding a weapon.
Gomez hurt one of the guards, Morrogh says, who also requested backup from law enforcement. MDS McPartlin was one of two deputies guarding a prisoner at the hospital and responded to the call for help.
Gomez charged at McPartlin, who Morrogh says attempted to back up and then began firing.
MORROGH'S REPORT quotes McPartlin as saying, "... before I shot I think I was trying to get back but he was too close so I had to shoot."
McPartlin did not remember giving Gomez any commands prior to shooting, Morrogh says, though other guards who were at the scene said the deputy did ask Gomez to calm down and stop charging and put the apparent weapon down.
Earlier in the day, Gomez first approached Fairfax County Police officer K. Woodward in his cruiser on Little River Turnpike on what was an extremely hot afternoon. Morrogh said it was clear to Fairfax County Police officer K. Woodward that "Mr. Gomez did not speak English proficiently."
Woodward attempted to ask him if he wanted to hurt himself using the Google Translate cell phone app. Woodward had also summoned paramedics to check Gomez out physically.
Rescue determined Gomez's vital signs were within normal ranges, Morrogh reports.
But when Gomez appeared to answer in the affirmative with "Sí," he did want to harm himself, Woodward asked that he be taken to Inova Fairfax Hospital.
Morrogh says the medics described Gomez as non-combative, mumbling in Spanish and at one time pointing to his head and saying "voices."
Gomez was examined at the hospital by a physician and Spanish-speaking nurse, the report continues.
"They advised Officer Woodward that Mr. Gomez denied any mental health issues and further said that he did not want to hurt himself," Morrogh said. "They also told Officer Woodward that Mr. Gomez told them that he had a stomach ache and didn't feel well."
Gomez's diagnosis after a physical examination and mental condition assessment was that he was not in distress but suffering from "general weakness," according to Morrogh's report.
Old Dominion Security guard Ezra Carter found Gomez in the lobby after he was discharged some time between 8 p.m. and 9 p.m. Carter used an interpreter to find that Gomez wanted to be taken to a homeless shelter. The guard then walked Gomez to the bus stop, Morrogh's report says.
In the conclusion of his seven-page investigation report, Morrogh reiterates Gomez charged at McPartlin with what appeared to be a sword but later turned out to be a sign post pulled from the ground.
"Reasonably perceiving himself to be in imminent danger of death or great bodily harm, MDS McPartlin, while retreating, discharged his weapon until the threat was abated," Morrogh says in the report. "In my legal opinion, this is a case of justifiable homicide and no individual is criminally responsible for the death of Yovani A. Gomez."
IN A RESPONSE STATEMENT, Sheriff Stacey Kincaid said, "Our condolences go to Mr. Gomez's family. Now that Commonwealth's Attorney Ray Morrogh has released his findings that no criminal charges are warranted, the Sheriff's Office will conduct an administrative investigation."
Supervisor John Cook (R-Braddock) chairs the Board of Supervisors Public Safety Committee, which has recently voted to establish an office of independent police auditor to review all use of force cases, as well as a civilian review panel to look at complaints of police misconduct.
Cook's office declined to comment on Morrogh's decision.
Cook previously commented that while the Sheriff's office doesn't fall under the administrative purview of the supervisors, they have been invited to present and field questions related to recommendations for policy changes from the Ad Hoc Police Practices Review Commission at the Public Safety Committee Meeting in March 2017.
Board of Supervisors chairman Sharon Bulova did not respond to a request for comment before print time.
Fairfax County Chief of Police Col. Edwin Roessler Jr. said FCPD had been made aware of Morrogh's decision. "The Sheriff's Office was fully cooperative with our detectives throughout the process," Roessler said in a statement.
Author and blogger Pete Earley of Fairfax was a member of the Ad Hoc Police Practices Review Commission and that group's mental health subcommittee.
In response to Morrogh's report, Earley said in a statement he was concerned that it failed to answer basic questions about the encounter "that would reassure Fairfax residents with mental illnesses that they are safe when seeking help."
Earley raised a number of issues, including whether Gomez's doctor and Spanish-speaking nurse were qualified to diagnose psychiatric issues; why there is no mention of Gomez being observed by a psychiatrist despite Inova having a psychiatric unit; the way in which the nurse questioned Gomez about his psychiatric condition; and what about Gomez's behavior after being discharged prompted the security guard to approach him.
"Just as we were told in the Natasha McKenna case, the reason why Mr. Gomez was fatally shot was entirely his own fault [according to the report]," Earley says. "Blaming an individual with a mental illness is an easy out. Asking tough questions about why a man who sought help from the police and ended up dead hours later is much more difficult and, sadly, this report appears to have failed to ask and answer those questions."
Natasha McKenna, 37, of Alexandria died in February 2015 after being tased multiple times by Sheriff's deputies who were trying to restrain her and transport her to the Alexandria jail. McPartlin was among that group of deputies.
McKenna, police said, had a history of diagnosed mental illness including schizophrenia, bipolar disorder and depression. In McKenna's case as well, Morrogh made the decision none of the deputies were criminally liable.
Cayce Utley is a lead organizer for the organization Showing Up for Racial Justice (SURJ) Northern Virginia that has demonstrated over the Gomez shooting and McKenna's death.
"Commonwealth Attorney Ray Morrogh and Police Chief Ed Roessler have made it clear they have no interest in holding Stacey Kincaid's sheriff's deputies responsible when they kill people," Utley said in a statement. Natasha McKenna and [Yovani Gomez] deserve justice and we will keep pressing Fairfax County until this racist policing is stopped. We are tired of watching this county celebrate so-called 'reforms' that leave all the power in police hands. It's time for Fairfax to be accountable to the people who live and work here."
The full report from Commonwealth's Attorney Ray Morrogh is available online here.