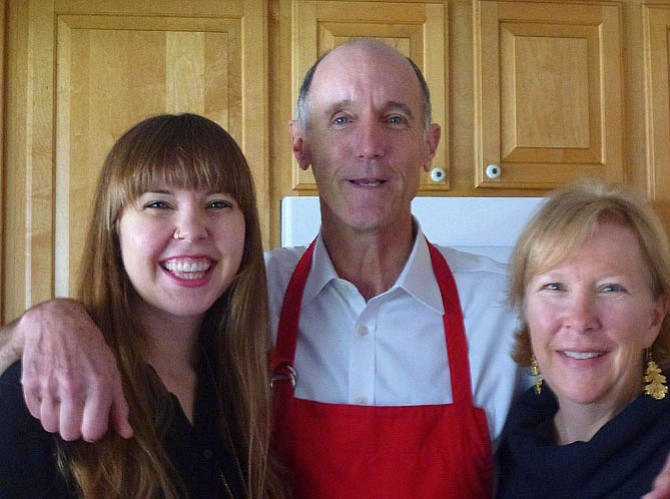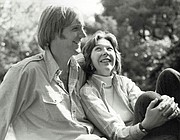 Mention Jamie Netschert to people in Clifton, Centreville or Chantilly, and they'll either know him as a longtime friend and neighbor or their trusted veterinarian — or in many cases, both. He and his family lived in the Town of Clifton for more than three decades, and he owned the Clifton-Centreville Animal Clinic in Centreville since 1984.
So when Netschert died of cancer, Nov. 29, at age 66, the loss hit the community hard. But no one misses him more than Donna, his wife of 40 years. and their only child, daughter Caroline. As a husband and father, said Donna, "He wasn't perfect, but he was close. And he was always a gentleman."
The couple met at a party in Oakton in August 1975 when Jamie was 25. After graduating from Weber State University in Utah with a master's in zoology, he moved back to Virginia. He'd been working at a Reston lab while applying to veterinary school and was leaving Oct. 1 for England where he'd just been accepted to Cambridge University's Department of Veterinary Medicine.
"I spotted him across the room and he caught my eye," said Donna. "I was fascinated with this tall guy with the big, blue eyes. We started talking and hit it off right away; we had a lot in common. Later, he said, 'I'll call you,' and he did, the next day."
The following day, they each announced to their parents that they'd found the person they wanted to marry. "We were head-over-heels in love," said Donna. "By Christmas, we were engaged, and then I joined him in Cambridge."
Part of Netschert's appeal, she said, was that he was so attentive and really listened when she spoke. "He saw and acknowledged me," said Donna. "He was present and I could feel it. And I think that was part of his success, also, as a vet and as a friend. He was an introvert, but he just had a special way about him. He also had a great sense of humor and loved a good joke."
Describing him as knowledgeable and well-read, she said he could hold his own on any subject. "And through the animals, people would often pour their hearts out to him, and he listened and made them feel better," she said. "He saw his clients as people with feelings about their animals. He hurt with them when their animals died, and he even attended their burials, when asked."

Netschert also loved living in Clifton. Standing 6 feet, 7 inches, he played pickup basketball games with his buddies in the town park. "He also served hot dogs and chili with the Clifton Gentleman's Club on Clifton Day," said Caroline. "And our home was a must-stop, Halloween destination with the infamous talking spider of Chestnut Street, operated by my dad and friends."
Calling him a "renaissance man," she said he brewed his own beer, practiced amateur meteorology and grew flowers and vegetables. "He was also fond of history and cooking for his family," said Caroline. "Science was his religion and he believed in the goodness of humanity. He was a diehard Democrat and advocate of equality, and he had a natural ability to make everyone he met feel special."
Netschert even participated in Clifton theater productions and enjoyed singing karaoke and dancing to Motown music. A lifelong baseball fan, he rooted for the Washington Nationals. And he was passionate about photographing birds.
"His art talent came out in his photography," said his wife. "He planned our vacations around where the birds were. We've been to every rain forest in the world, and Jamie especially loved birding in New Zealand — every day, he saw a new bird."
But in April 2014, Netschert was diagnosed with mucosal melanoma, an aggressive form of cancer. "After having a tumor removed, he got the news at lunch, over the phone, and told me, 'I could be dead by Christmas,'" said Donna. "Then he went back to work. He had the same cancer as President Jimmy Carter, and the doctor told Jamie, if there was anything he wanted to do, to do it."
Netschert was treated at the Lombardi Cancer Center at Georgetown University Medical Center, but didn't have traditional radiation or chemotherapy. "The quality and length of his life were improved and extended by new immunotherapies to stimulate his own, immune system to fight the cancer," said Donna. "Combined with Cyberknife radiation — robotic, targeted radiation just hitting the bad stuff — it was the magic bullet for Jamie for two years."
But, she said, his cancer kept mutating and, at some point, "It just broke through. They tried new drugs, but they didn't work, and the side effects were terrible. In the end, his body just wore out. The last couple months, we knew the end was coming, but all Jamie wanted to do was get back to work; he'd had to stop working, Oct. 15."
All his life, said Donna, Netschert was always planning for their next adventure. "We were looking forward to Christmas and had a trip booked to Hawaii for the end of January," she said. "We were hoping for another year of decent health, but it wasn't to be."
Toward the end, tumors had spread throughout his body. The cancer and stress took their toll on him, and he was frail and tired. "He was leaving me, one day at a time," said his wife. "And I was saying goodbye to him, one day at a time. In the last couple weeks, when we knew we were running out of treatment options, he said, "'I love my life and I love my wife, and I don't want to leave.'"
Netschert was able to eat a bit on Thanksgiving and visit with their dinner guests. But two days later, he had trouble standing and was rushed to Inova Fair Oaks Hospital. "I asked him, 'Do you know what's happening?' and he nodded," said Donna. "And I told him, 'You've been a great friend and a great husband and I love you.'"
He was then discharged and returned home where, three days later, he died. "He was going to sleep and his heart just stopped," said his wife. "Initially, I was relieved he wasn't suffering anymore. But now, I'm completely numb; it still hasn't hit me, yet."
Meanwhile, she has a lifetime of memories to comfort her. "I'll always remember Jamie at Cambridge on his bicycle with a backpack," said Donna. "And in New Zealand, with the biggest camera, photographing birds. Playing basketball, hugging people, making beer every Saturday morning, working in his garden and reading the New York Times on Sundays. He loved music — everything from rock to classical — animals and people. He loved his life and did not want to die."
The night of Nov. 29, she wrote on Facebook, "He was a prince among men. There will never be another you."