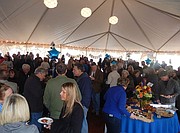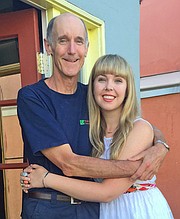 Jamie Netschert may not have been at his celebration-of-life party in person, but he was certainly there in spirit. On Saturday afternoon, Dec. 17, more than 300 people gathered in a huge tent in his yard to remember him, share both fond and funny memories of his life and take comfort in the fact that he'd been a part of theirs.
"This town and his community where he practiced had such love for him, and he loved them back," said his sister, Julie Netschert. "His dying wish was to have a celebration with all the people he loved so well."
But, she said, "I had no idea just how brilliant he was, because the measure of brilliance is the number of people whose lives he affected. He connected with so many people in such a profound way. He was my little brother, so his death tears me up because I always thought he'd be taking care of me. He was just an extraordinary person."
Clifton's Steve Botts knew Jamie Netschert for 30 years. They were friends and neighbors, played Thursday night and Sunday evening pickup basketball games in town and played on the same Fairfax County softball and basketball teams. "He was also the vet for our dogs," said Botts. "I was away on travel when our dog died, and Jamie even came over to the house and buried him. He was that kind of guy, as well as being sharp, literate and well-read."
Bill Fritz was also a three-decade, Clifton friend who played softball and basketball with Netschert. Calling him a "gentle giant," he described Netschert as a "friendly, nice, laid-back guy, intelligent, giving and professional. He took care of all our six dogs over the years. When we got our new puppy, he took one look at her and said, 'You're going to have your hands full with this one,' and he was right."
Netschert and Clifton's Rick Dygve were friends for 35 years. "Caroline and our younger daughter were in preschool together, and our wives would get together," said Dygve. "Jamie and I would talk about sports and play basketball, one-on-one. Our families also vacationed together."
"He was like a brother to me," continued Dygve. "I'd see him three or four times a week. I shared laughs with Jamie and cried with him when we put away a dog. He was very caring and grew attached to the dogs; he was a great vet. He was also someone you enjoyed being with; he was a lot of fun and just a good man."
On the basketball court, said Dygve, Netschert's nickname was "The Saint." That's because, during a county league game, the referee called the ball out of bounds on the other team. "But Jamie said, 'No, it was because of me,'" said Dygve. "Everybody wants to leave a skid mark on the highway of life, but Jamie left one in our hearts. We're much better off for having known him."
Centreville's Meg Crossett, who lost her daughter Rachel to cancer at age 6, also came Saturday to honor Netschert. "I loved Jamie," she said. "He always supported me and gave me donations for childhood-cancer research. His death is a tragedy — another cancer victim."
Netschert was also the veterinarian for Diane Reddy's cats for 25 years. "He always had a smile on his face," said Reddy, of Chantilly. "He treated my cats systematically, rather than changing too many things about their care — and he was always right. He was well-loved and was a genuine individual who will certainly be missed. It's a huge loss, but we celebrate the fact that we had the pleasure of knowing him."
Fairfax's Penny Moore worked 13 years for Netschert as a veterinary technician. "He was wonderful to work for," she said. "I started there at age 26, and he and the other vet, Anna Tucker, shaped my life and my world view about kindness and the way you should treat people and animals. It's so sad; we've lost a very kind and wonderful person."
Caryn Franca, whose son Nick died of cancer at age 21, knew Netschert 35 years. "We bonded raising our daughters, and Donna and Jamie and [my husband] Jim and I even vacationed together," said Franca. "They turned into family for us."
She said the Netscherts supported her family throughout Nick's cancer journey, so she was able to offer Jamie's family some wisdom as he "crossed over. He had such an amazing attitude; he didn't stop living, but lived each day to the fullest."
"Jamie had the ability to take in everything and never judge," continued Franca. "He was benevolent and accepting of everybody. He wasn't much for chit-chat, but loved to have conversations about politics, history, the environment, the weather, animals and other things that motivated him. He and Jim had many passionate discussions, and we were both with him the day he died. He was one of the icons of Clifton; you don't think of this town without him in it."
Netschert's family started a memory book, and anyone wishing to write anything to or about him may do so at lorenarsalvidar@gmail.com until the end of the year. Memorial donations may be made to the National Audubon Society.