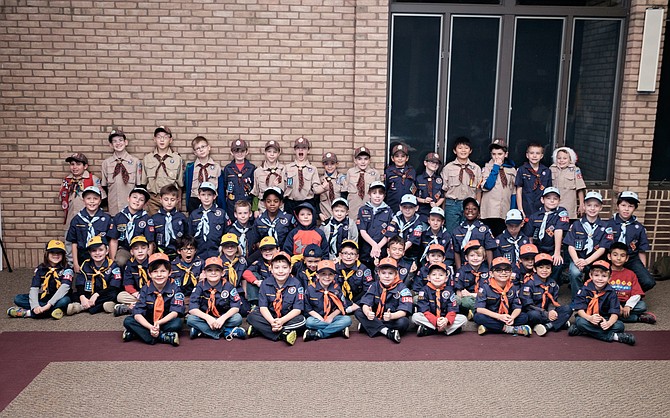 On Dec. 13, members of the Cub Scout Pack 1346 donated toys to the non-profit organization Burke CARES, that will then distribute them to children in need around the Burke Community.
In addition to the annual gift drive, Burke CARES (Community Action Resources for Empowerment and Support) also partners with St. Mary of Sorrows Catholic Church in Fairfax each year to provide donated backpacks and school supplies to between 35 and 45 children in Burke.
Linda Cottrell of Burke has served as Burke CARES director for nearly the last three years. She said the organization was founded in 1996 and incorporated in 1997 to serve residents in the community that were not part of the Burke Centre Conservancy -- and who were in need -- gain access to some of the community's amenities.
Cottrell is one of half a dozen volunteers who have been reviving Burke CARES after participation in the organization petered off. They've kept the most popular programs, which include the toy and backpack drives, as well as subsidizing community pool memberships for families who spend two hours volunteering on Earth Day.
"We love to see toys we donate go to kids in need in Burke," Cottrell said, "to take care of our own and support, help and build a stronger local community."
Burke CARES sole revenue for operating comes from donations from the Burke Centre Stingers and Penguins summer league swimming teams.
The teams hold a swim-a-thon fundraiser each year that benefits the Leukemia and Lymphoma Society as well as Burke CARES.
Rachel Pak is a sophomore at Robinson Secondary School who sits on the board for Burke CARES. Her father John is also on the board and recruited her.
Pak said she loves helping and being part of something bigger than herself. Pak is a swimmer herself, competing for the Robinson Swim and Dive team.
"Just knowing that I helped some people be on this team, enjoy something I enjoy, makes me happy."
Pak is spearheading updating the Burke CARES website. She said she wants to increase the size of the organization, to do more things for the community.
"There are so many things you could do," Pak said, "this is something in my life I want to make time for."
The Burke CARES website is under construction but does have additional information at www.burkecares.org.